Pictures, Postscripts, Performance, Pimpage, & Pus…
…Being not the name of the most unfortunately-named law firm in history, but rather a collection of reasons explaining my disappearance from the crawl this past month while we entered the second decade of the twenty-first century (still without personal jet-packs, I note with ongoing disgust).
When last we left the 'crawl I was en route to Germany, where I ended up posing with Richard Morgan and a bouncer from the local fetish club: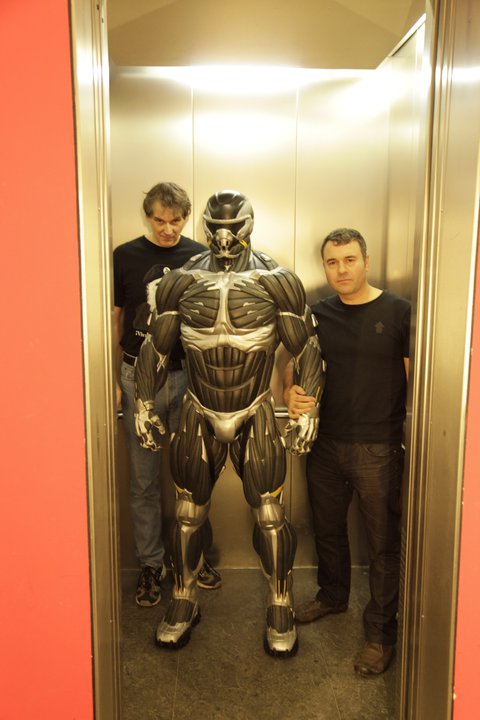 I'm the guy in the center.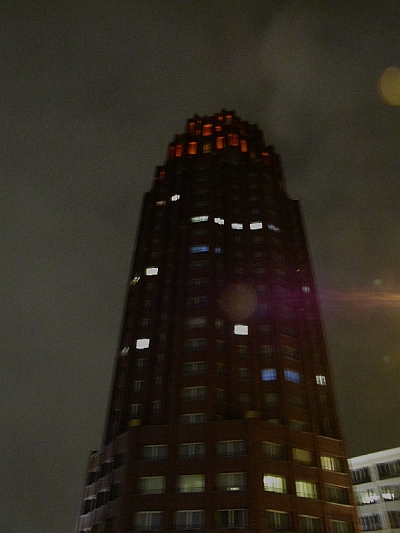 This was actually the first time I'd met Richard in the flesh; Crytek put us both up in Mordor's finest hotel, where we ate and drank and tried to figure out how many Euros to feed the mass-transit system for a cross-town fare. If anything, Richard is more charming and eloquent in person than he is on paper; having been introduced to the man largely through the secret diaries of Takeshi Kovacs, I was half-expecting every second word out of his mouth to be "fuck". That actually turned out to be me.
Upon my return I spent the whole bloody holiday getting moved into the new digs, where after four years I have a proper office again, not to mention a home for the pet scrambler Siri Keeton snuck back through customs on his way home.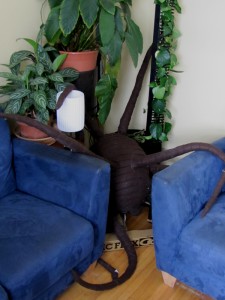 I also discovered that "The Things" has now made it into four Best-of-Year anthologies: Gardner Dozois's Best SF 28 and the third iteration of Allan Kaster's audio series The Year's Top Ten Tales of Science Fiction, in addition to the two reprints I crowed about last month. That was nice.

Performance and Pimpage. This is kind of short notice I guess, but ChiZine — microgods of small-press speculative fiction, the same guys who held last fall's SpecFic Colloquium and who seem to be congenitally incapable of releasing a bad product — are hosting the first instalment of their reading and workshop series, "Midwinter Tales" this coming Tuesday evening (i.e., January 11th) at Hart House [update/correction: Augusta House, not Hart.  On Augusta Avenue.  Apparently the lighting is crap.]  here in downtown TO. Three of us will be reading: Karin Lowachee, Caitlin Sweet, and myself. I cannot speak for Karin or Caitlin (although admittedly I frequently do speak for Caitlin, just to piss her off), but I myself might be trying something a bit more experimental this time around. You'll just have to show up to find out what I mean; suffice to say, it'll be something never read in public before (and, if it doesn't go well, possibly never again afterwards).
I think there's also some deal where you can have drinks with us for an hour beforehand if you're a student. Or if you're willing to sacrifice your left gonad on a platter. I'm not entirely sure of those details. You'll have to check out their facebook page to get the deets on that.
What's left, what's left, what's — oh, right. Pus.
Anybody know what this thing is?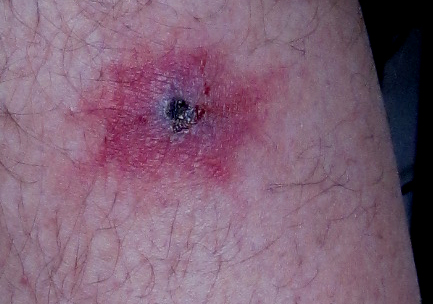 It appeared on the inside of my right calf about a week ago. It's kind of a teat that dispenses bloody pus instead of milk. At first I thought it might be a message from aliens, because it looks a little like the Trifid Nebula. But then other smaller copies started erupting on my other leg — so if it is aliens, they are very small and building a perimeter below the knees. Once they've established that beachhead, they'll presumably advance up the body, rotting my flesh as they go. I hope to get laid at least one more time before that happens.
Suggestions to date include an infected furbuncle (whatever that is), lymphoma, or the bite of a brown recluse spider. Can't really rule any of them out at this point except the whole spider thing (although I did play footsies with Scott Westerfeld a couple of months back, and as I recall he's had some bad arachnoid experiences downunder. Maybe I picked up a hitchhiking larvae or something). The crimson corona might have receded a bit over the past day or so; or perhaps I've just gotten so used to it that it no longer jumps out at me when my legs glue themselves to the sheets overnight.  Anyway, I'll keep you posted.
Or maybe not.