Cats. Bags. Nanosuits.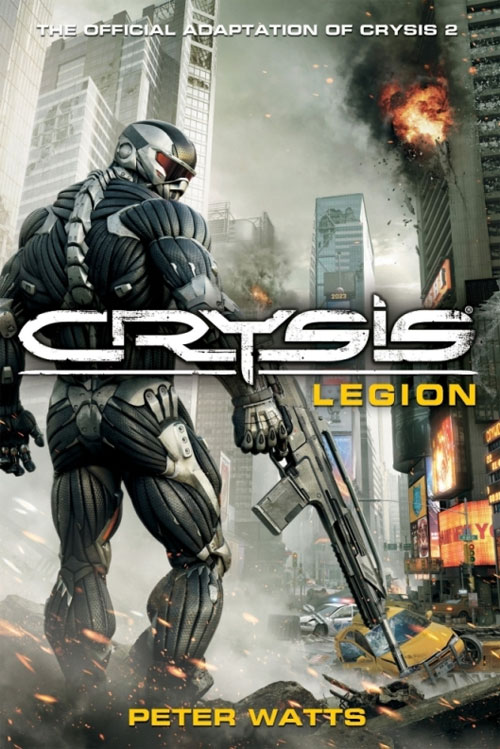 So, uh, yeah.  I see they announced it this morning, so I guess the embargo's lifted.  I've written the official adaptation of Crytek's Crysis 2, which was scripted by Richard Morgan.  The novelization is coming out next March from Del Rey.
The bio notes accompanying that announcement are a bit, well, milder than I would have written.  (In fact, they're milder than what I did write; my editor, Mike Braff, told me that the version I submitted would never make it past something called "corporate", so he toned them down).  Here in the more intimate environs of the crawl, though, I suppose it wouldn't hurt to share my original notes:
Biologist, author, and convicted felon, Peter Watts (author of Blindsight and the Rifters trilogy)  appears to be especially popular with people who have never met him. At least, pretty much every award his work has received comes from overseas (with the exception of a recent Hugo, which likely won on a sympathy vote in the wake of recent encounters with the Department of Homeland Security).  His science fiction, oddly enough, has been used as a core text in science and philosophy courses as well as the usual gamut of sf electives;  he only wishes his actual science had been taken half as seriously, back in the day.  Both he and his cat have appeared in the prestigious journal Nature.
Also I see they refer to me as a Hugo nominee, which suggests that — as that little voice in the back of my head has long been saying — the events of last summer were nothing but a glorious, ego-boosting dream.  Ah well.
A bit of a challenge, this gig:  the time pressure, the constraints of a universe built by others, the translation of one medium into another.  Fortunately,  every FPS has a vested interest in keeping its protagonist utterly transparent as a character, the better for players to project themselves into the action; and that, shiggies and codders, is the access point that allows a novelization to complement its source material as opposed to merely rehashing it.  Take the "official" thumbnail of the novel's plot, for example, which pretty much had to have been based on the game since the number of folks who've actually read my manuscript so far can be counted on the fingers of one hand (assuming that the owner of that hand is mildly polydactyl):
Armored alien invaders stalk the streets of New York, while a nightmare plague strikes down its human population with brutal speed. The city is in chaos, its streets and skyline in smashed and flaming ruin. Nothing can stand against the invaders, leaving New Yorkers with a stark choice – flee or die. Just to survive in this inferno will require technology and armor beyond anything any modern soldier has ever seen. One man will inherit that means to survive. His mission: shake off death, carry the fight to the aliens and drive them back.
Pretty straightforward FPS scenario, right?  Here, on the other hand, is the summary text I sent off to Del Rey the other day:
[Redacted for Reasons That Remain Unclear]
You can see the difference.  (Well, not any more you can't.)  I have no idea if Del Rey is going to use that text or not (update:  apparently they are), but it's certainly more reflective of the written work.  Whether the gamers like it, well, time will tell.
Looks like I'm in Frankfurt next week.  I'll keep you apprised.
This entry was posted on Wednesday, December 1st, 2010 at 12:19 pm and is filed under
Crytek/Crysis
,
writing news
. You can follow any responses to this entry through the
RSS 2.0
feed. Both comments and pings are currently closed.