They have an entire wall of prog-rock albums here, replete with listening stations.  They have a dealer's room which  puts a lot of real bookstores to shame.  They have cool sculptures and a shitload of guest authors in whose shadow I pale; I have drunk and snarfed at length in the company of China Miéville, Scott Westerfield, Justine Larbalestier, and Brandon Sanderson (you know, the dude who took over the Wheel of Time series).  Of course I would probably have spent all this time just sitting in my room if not for Caitlin's influence;  that woman hits it off with everyone.  I swear she'd have Osama bin Laden eating out of her hand if she could just lure him into range.
So far, everyone has been awesome.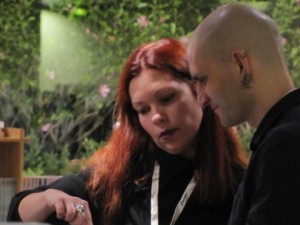 Finally met Bénédicte Lombardo: my publisher in France, who named her cats after "Aliens" characters.  (That's her chatting with China to the right).  In public she is elegant and charming and unflappable; I have yet to see her behind the scenes but I'm thinking she must be an adrenalised caffeine junkie at such times, given the fact that she's got me lined up for no fewer than six interviews over the next couple of days, and I'm nowhere near her headline act.  The Utopialés folks have also got me slotted in for eight signing sessions, which strikes me as a bit extravagant (judging by my sales rankings on Amazon.fr, scheduling even one is hopelessly overoptimistic) but at least I'll have time to write while sitting at the table.  (Late-breaking edit:  just came back from first signing.  There were actual people there, carrying copies of my books in three languages.  And one of them gave me a t-shirt with "We Don't Give A Fuck" emblazoned across the front. )
Seriously.  I'm getting more promotion over three days in France than I got over ten solid years in N'Am, for a market a fraction of the size.  I have no idea why.  My only complaint is, I have no complaints.
Some stuff from the first night:
Now I gotta go to that last place again.  Second panel.
Later.
18 Responses to "Fast Forward"