In Which I Passionately Lament the Absence of Bestiality in First Person Shooters.
Brief follow-up to my last, strangely-popular post.  Someone going by the name of W. Flynn has started a list on Amazon.com: "Authors Who Have Maced a Restaurant". And while I am honored to be in such esteemed company, I can't help noticing that the list itself is awfully small. I wonder if I could prevail upon those authors in the audience to maybe help Hunter S. and I out a bit and, you know, join the cause.
Another well-deserved award for courage in the face of adversity: over in France, the winners of the Grand Prix (Prixes? Plural, anybody?) de L'Imaginaire were announced at the top of this month, and Gilles Goullet won the best-translation award for Blindsight: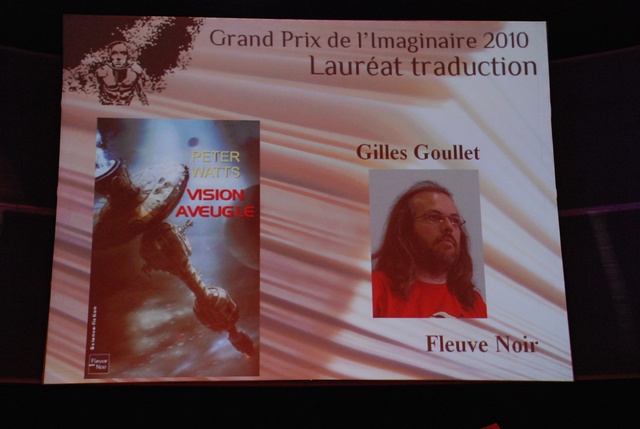 I am losing track of the number of awards Blindsight's translators have won. The fact that the translations keep winning awards, while the actual source material doesn't, says it eloquently: the rotation of such a dense work into another language represents a Herculean effort quite apart from any merits Blindsight itself may embody.  You'd almost need to be a synthesist to pull it off (would you know how to convey "Trunclade" in French? How about "pull your eyes over my wool"* in Russian?)
I'm just waiting for someone to do an English translation. That ought to be good.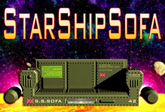 Finally, Tony Smith at Starship Sofa has posted a long, rambling, multifaceted conversation between himself, Paul Di Filippo, and me, over at The Sofanauts. It's more than an hour long.  My voice fails, even once, to acquire that Manly Announcer Baritone I've been trying for all these years. We covered a shitload of topics: Cory Doctorow's latest project in self-publishing, the narrative potential of computer games, and whether it would be a good idea to cast a talking dolphin in the roles of Susan Calvin or Jesus of Nazareth. The subject of testicles came up, not once but twice. I compared our own Squeak Ashby to a lima bean, and misrepresented her fiction. Tony told me how much he didn't like Blindsight. Paul dumped a secretary off his lap.  And as was perhaps inevitable in a freewheeling conversation lasting over an hour, I let slip a couple of heretofore unreleased details on the subject of a certain publishing house and its schizoid attitude towards the Creative Commons.
Check it out, if you've got 70 minutes to kill. Oh, and don't worry about something I say early in the interview: I don't really live in a cardboard box on Jarvis Street. Not yet.
That's only the dream.
————————————
*In the interests of full disclosure, I should admit that I ripped off this line (with minor changes) from a Jethro Tull song.  Brownie points to the first person who identifies it.
This entry was posted on Tuesday, November 10th, 2009 at 11:21 am and is filed under
interviews
,
public interface
,
writing news
. You can follow any responses to this entry through the
RSS 2.0
feed. Both comments and pings are currently closed.