Worth the Price
If wifi were water, this place would be Arrakis. Free bandwidth is an alien concept in Australia. A minute of internet is treasured more than the rarest jewel (or at least, it costs as much).
Notwithstanding which, this country rocks.
I could go on about the fact that the neurotoxins that developed in this place are, for reasons which remain unclear, the most powerful on earth. I could rave about the fact that — at least here in the east — nonhumans have rights, that there are strict limits on how far you can displace a marsupial that's living in your chimney because after all, they were here first. I could go on about how it must rock to have a prime minister who is female, single, childless, and proudly atheist (often all at the same time), except for the fact that this country has not actually had a prime minister the whole time I've been down here. (I'd be more than happy to give them ours, but I like these guys too much.) I could reflect on the nature of an sf community that actually has an award for "Best Fannish Cat", that categorises their lower-end contributors as "Cheapskate Members", the $50-contributors as "Rescuers of Kittens", and officially designates $100-plus contributors as "Absolute Fucking Legends". I could talk about clean streets, and street art (all following pics are courtesy of Cat Sparks, btw, unless otherwise noted):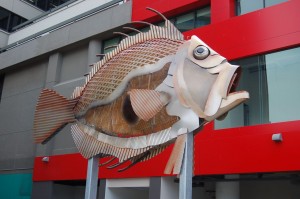 …and the sheer joy of dealing with Australian border guards.
I am not being ironic. I would almost be tempted to purchase an Expedia vacation package that consisted entirely of going back and forth through Australian Customs for a few days straight. Yes, I got rerouted to Secondary (they pretty much had to, given the check mark in that little "Are you a felon?" box), but the whole lot of them were friendly and welcoming even so. Mostly they spent my wait time chatting with me about the kind of books they liked to read. (I mean, just imagine: literate border guards. Not a species you're gonna find anywhere in the US, I'm betting.) And finally, when they waved me through and I pointed to the big sign saying Your Luggage WILL be X-rayed and wondered why they weren't doing that to mine, the nice lady's response was "Would you like me to?" She was willing to go out of her way to be extra intrusive, just to make me feel at home.
And we haven't even got to the con itself yet.
This is Cat Sparks and Rob Hood (not to be confused with the guy in the green tights):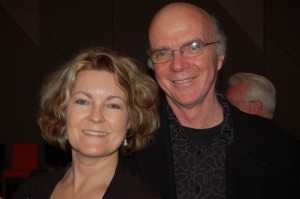 they are writers and photographers and graphic designers and bloggers and reviewers and fans ("Strange Attractor" subspecies) respectively. They live with a trinity of cats at various stages of disrepair, in a house jammed with Godzilla models, enough Ditmars and Aurealises between them to build an igloo out of, and a plastic donkey that shits cigarettes out its ass when you squeeze it the right way. They hang out with shapeshifters who appear to be muppets and martial-arts instructors but who are really visceral horror-fantasy authors underneath. It was Cat Sparks who is entirely responsible for my presence down here. She had the idea to get me to Australia; she spearheaded the fundraising; she booked my hotels and scammed me a comp membership to Aussiecon, and she and Rob put me up in their home for a couple of days before we flew down to Melbourne. Without her, this would still have been The Summer I Do Not Take For Granted; but it would not have eclipsed 1981 as The Best Summer Evar.
Some highlights of the past few days:
Finally getting to meet China Mieville, fellow Ceph-head.
Hanging out with the likes of Charlie Stross and John Scalzi. I've run into these guys before, but I'm still vaguely surprised when they talk to me.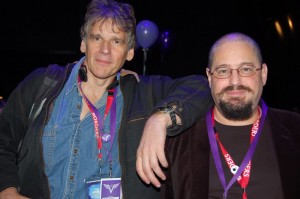 (Cory's different: I've known him since he was just a little tyke.)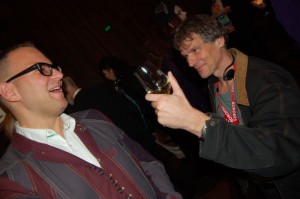 Learning from John Clute that an updated edition of the Encyclopaedia of Science Fiction is in the works.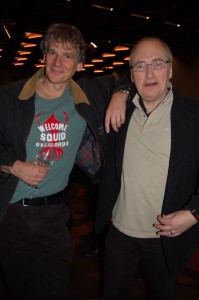 Gregory Benford. Who knows my stuff. Who wanted to pick my brain on consciousness issues!
A good half-dozen talks and panels on climate change, with a heavy emphasis on geoengineering stopgaps. Got me all excited about writing Intelligent Design again.
Americans stopping me in the hall to shake my hand and apologise (needlessly, I assured them) on behalf of their whole country. Australians stopping me in the streets of Melbourne (literally, in one case; I nearly got ran over by a tram) to tell me how glad/relieved they were that I'd been able to make the trip. Someone of indeterminate origin stopping me to say that Oreo or Orzi or Azreal or someone was an idiot. (Not quite sure what that was all about.)
Comparing notes on international diplomacy with Cheryl Morgan, and wondering what it would take to reach critical mass for a "Banned In America" Cub.
Getting to talk to an actual Doctor Who Screenwriter over omelets;
Pointing out to Charlie Stross that I am more of an optimist than he on the subject of human nature;
Discovering the work of Shaun Tan;
Oh, and there was that Hugo thing.
I honestly wasn't expecting to win. I would have at least worn a shirt with buttons if I had (although the whole Squid-Overlord thing actually seems to be going down pretty well in Twitterville). And looking afterwards at the voting trail, I almost didn't: I was running a distant second to Charlie Stross for the first four rounds. It was only in that fifth and final shuffle, when everybody else's favorites had been stripped away and their second choices divvied up amongst the survivors, that I managed to pull ahead. By three measly votes.  As victories go, it was razor- thin.
But you know what? I don't care. I've got a fucking Hugo, and so do my new friends. The complete list is here, but Charlie took home the prize for Best Novella, China Meiville and Paolo Bacigalupi tied for Best Novel (China's acceptance speech kicked ass with a scathing indictment of the illicit trade in Sea Monkeys), Clarkesworld and Starship Sofa (both venues in which is has been my privilege to appear) won for Best SemiPro and Best Fanzine respectively. Not to mention the fact that Cat won this year's Ditmar for Best Short Story; Rob won for Best Fan Writer, Kaaron Warren (the muppet shapeshifter) for Best Novel (and I got to present that one) — and Janine Stinson from Michigan, whom I still have not met after a decade of pixelpaldom, co-won a Ditmar for Best Fan Publication.
We all won. I would have won anyway, I would've won even if "The Island" had come in dead last; I win by virtue of simply not being an involuntary guest of the state of Michigan right now (speaking of which, those cocksuckers are still trying to bill me for room and board. Good luck with that, fellas.) But we won.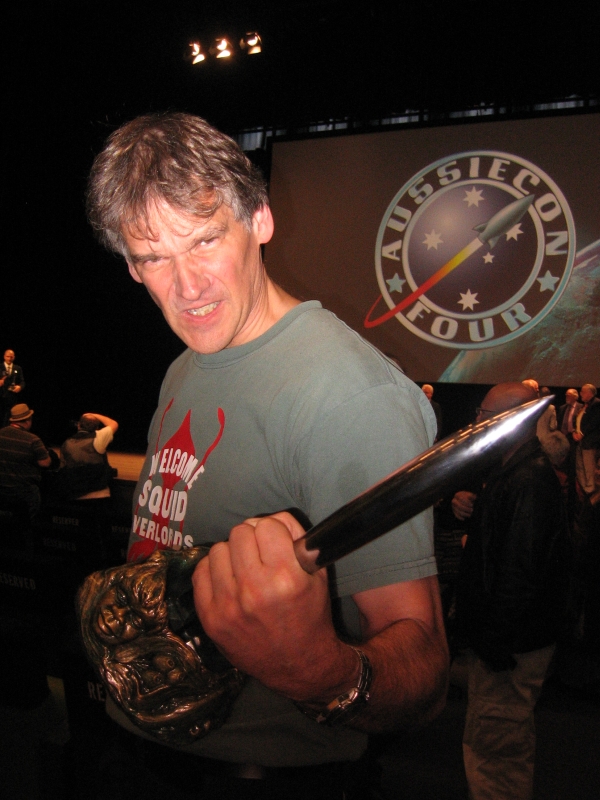 (That last pic, by the way, is from Allan Weiss.)
And now it's over. The disease that "Hairy Lemon" has been holding at bay all week (oh yes, Australia is just full of things that aren't available above the equator) is starting to get the upper hand. My sinuses are congesting, my throat is sore, I've lost half my voice. When I blew my nose a few minutes ago, it started bleeding. And I've got a 26-hour trip ahead of me tomorrow. Perhaps I'll give Ebola or Andromeda Strain or whatever this is to the whole damn airplane; if I'm lucky, it'll kill the inevitable screaming baby that always seems to end up one row behind me before we pass Hawaii. Maybe the whole plane will go down, its pilots felled by contagion.
Doesn't matter. We won. Suck on that, Beaudry, you miserable fucktard.
Here are some more of Cat's stream-of-con pictures. Cat is an extremely talented photographer. I hardly look Banana-headed at all in these…
Finally, a few repeats for those of you who haven't been following along on facebook: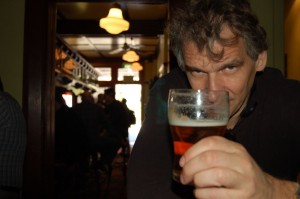 This entry was posted on Monday, September 6th, 2010 at 6:15 am and is filed under
On the Road
,
public interface
. You can follow any responses to this entry through the
RSS 2.0
feed. Both comments and pings are currently closed.