The Neurology of Transcendence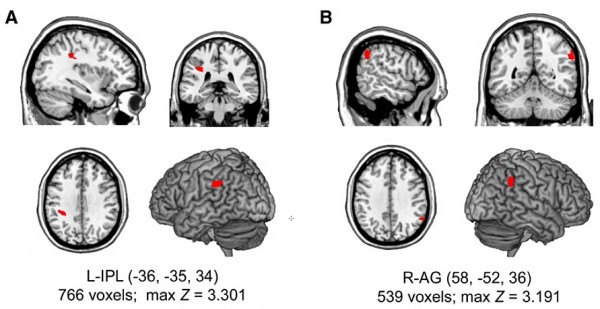 So just a day or so after we revisit "A Word for Heathens"  — a story exploring the social ramifications of neurotechnology that induces Rapture On Demand — here comes a paper by Cosimo Urgesi and his buddies showing a relationship between the posterior parietal cortex and something called "Self-Transcendence" — an index, if we are to believe the psych types, of spirituality.
What are the odds.
Urgesi et al's paper (popsci reports here and here) doesn't really tell us anything unexpected. The literature's already rife with evidence that everything from "oneness with nature" to out-of-body experiences derive from the part of the brain that keeps track of where our various body parts are at any given time (our physical sense of self, in other words). The pious protagonist of "Heathens" remembers it thusly:
It's like a magic trick, they said. Like static interfering with a radio. It confuses the part of your brain that keeps track of your edges, of where you stop and everything else begins—and when that part gets confused, it thinks you go on forever, that you and creation are one. It tricks you into believing you're in the very presence of God. They showed us a picture of the brain sitting like a great wrinkled prune within the shadowy outline of a human head, arrows and labels drawing our attention to the relevant parts. They opened up wands and prayer caps to reveal the tiny magnets and solenoids inside, all the subtle instrumentality that had subverted an entire race.
Not all of us got it at first. When you're a child, electromagnet is just another word for miracle. But they were patient, repeating the essentials in words simple enough for young minds, until we'd all grasped the essential point: we were but soft machines, and God was a malfunction.
I wrote those words almost a decade ago, and the research I ripped off was old news even then. What sets Urgesi et al apart is that they have moved beyond mere correlation and noninvasive MRI studies; this was manipulative, controlled experimentation on cancer patients, the surgical removal of neurons from that critical sliver of self, the comparison of spiritualistic tendencies both before and after the knife. And guess what: reduce the number of neurons in the posterior parietal, and transcendence — faith, sense-of-oneness,  even equanimity over your own medical plight — all that stuff increases.  Not so much, though, if you just cut around in there without removing any neurons.
It's an elegant little study, and another carpet-tack in the casket-lining of the supernatural — yet still we tread so very lightly to avoid giving offence, to reassure the world that we sit atop some pinnacle. "We're dealing with a complex phenomenon that's close to the essence of being human,"neurojock Salvatore Aglioti tells Scientific American, as though we're the only species on the planet whose brain has a subroutine for keeping track of body parts. "They need to be very careful how they word things as they proceed," warns one of the comments on the same page, "there are people who will take great offense otherwise. It's going to be important to make clear the FEELING may be biologically based, and make NO comment on the stimuli leading to the feeling." Even Urgesi et al refer to spirituality, in their introduction, as "a view of the human condition in transcendent contexts and in relation to unseen realities/supernatural agents" (italics mine).
It's cool, but it's also a little bit sad. Still, there's only one other neurological human-interest story this weekend: one of the pioneers working on those neural computers that will one day grow up and — ever-resentful of that hurtful nickname "head cheese" — turn against their creators to spread βehemoth across the globe, went all mavericky and gunned down three colleagues in what was initially reported to be a dispute over tenure but evidently wasn't.
Man, I miss academia.
——————
Thanks to Bryan Allen and "rm3154" (aka, "plate of shrimp", for reasons which remain unclear) for the heads-ups.  Given how preoccupied I've been lately, it might have been months before I stumbled on this work otherwise.
Illo taken from Neuron 65, 313, February 11, 2010
This entry was posted on Sunday, February 14th, 2010 at 12:40 pm and is filed under
ass-hamsters
,
neuro
,
sentience/cognition
. You can follow any responses to this entry through the
RSS 2.0
feed. Both comments and pings are currently closed.