Defective.
Ancient. Capricious.
Vengeful.
They lived among the stars and they hurled firebolts that would destroy any world they touched. We could see their tracks, once we knew how to look: faint wisps of ionized hydrogen out in the Oort, barely detectable after cooling for a dozen years; warmer footprints smoldering in the Kuiper and inside the orbit of Neptune. The ghosts of footfalls past. Something stamping across the heavens, releasing a million megatons with each step.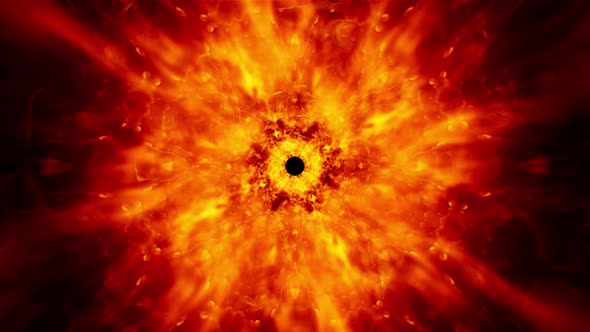 They were omnipotent and unknowable. They used suns as weapons and wormholes as delivery platforms. They drew ever closer, and there was little we could do except name these gods as we had all the others.
We called them Agni.
Our priests scanned the heavens for portents and signs. Over time that smattering of footprints grew into a cloud, a sample, a population large enough to warrant focii and frequency distributions. It grew thicker in its center; its confidence limits contracted past the Earth and continued to clench around the sun instead. It was as if some vast forest creature, never clearly seen, had roared and crashed toward us and then passed in the night, never noticing the small terrified beings cringing underfoot.
Down from their mountain the priests brought word that perhaps the Agni were not angry or vengeful after all, but merely indifferent. Maybe they didn't even know we existed.
Still to be feared, of course. A boot will crush an ant just as dead even when its wearer hasn't bothered to look down. But maybe if the ants called out. Maybe, if the Agni knew the threat they posed to eight billion sapient beings, they might step a little to one side. Maybe these gods were moral.
Maybe Ondrej Bohaty could ask them nicely.
Then came the refinements, and the predictions, and all those eyes staring along all those wavelengths when the heavens opened. Then came the emission spectra: and whatever sun gave birth to these flares, it was unlike any predicted by the usual models. Hints of strontium and terbium on its breath. Overtones of cerium and europium. Doubly-magic atoms, long-lived nuclides that seem to hint at the existence of stable quark matter: dark denizens of some fabled Continent of Stability, rumored to lie beyond the limits of any Periodic Table known to Man. Light from Here There Be Dragons.
So the priests threw away their sensible models and started building nonsensical ones instead. They built them further and further from common sense; by the time the models actually fit the data, the implications were too crazy to take seriously.
Maybe the Agni didn't just use suns. Maybe they lived in them.
No one believed it at first. But the wormholes kept opening, and the fit kept improving. Something was altering reactions in the core of that distant star. Something was hastening its demise. Maybe something like those fabled cosmic strings said to span the whole universe, but—smaller. Much smaller. Small enough to make a proton look big.
And so Models begat Predictions; and Predictions begat a whole new breed of machinery. And now, here we are: the machines have seen something.
Magnetic fucking semipole pairs.
So now it looks like all those fires in the sky aren't a weapon but a transit system. Now it looks like the Agni aren't gods but just beings from some polluted hellhole, looking for a new home. Now, they are only immigrants.
At least we know how to deal with those.