Long Shots and Long Lists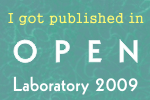 Huh. I've just been informed by someone codenamed "SciCurious" that my Climategate posting has been chosen as one of the "50 Best Science Blogging Posts of the Year" by an elite cabal of judges running something known as the Open Laboratory! Competition. (I do not know the purpose of the exclamation point. If it is a typo, it did not start with me.) Evidently these Top-50 are anthologised in dead-tree format for posterity, which is pretty cool.
Just to be clear: we're talking about that rant in which I claimed that science depends at least partially on the pettiness and vindictiveness of scientists, and in which I proclaimed my fond desire to see the Pope immersed in nitric acid. One of the best science posts of the year, tube-wide.
I don't understand it. I write about space vampires. I haven't published a peer-reviewed technical paper in more than a decade. And yet, these troublesome vestiges of credibility continue to haunt me.
It is, of course, an honor (albeit an unexpected one; whoever put me up for this, thanks). And looking down the list of other finalists, I see that "Because As We All Know, The Green Party Runs the World" is in august company indeed. I'm rubbing elbows with posts like "Brain and behavior of dinosaurs" and "The Cuttlefish Genome Project"; Wired's piece on sleep paralysis, and Cognitive Daily's "Does faking amnesia permanently distort your memory?"; reportage on cytokine storms, genital mimicry, and protowhale fossils; and of course, Southern Fried Science's immortal "Blood and brains — can vampires survive a zombie apocalypse?" That last title alone is worth the price of admission.
But wait! There's more! The list of noms for the British Science Fiction Association's "Best Short Story" nod is almost as long, and presumably still growing (the nomination period ends January 16), and "The Island" seems to be on it. This also was completely unexpected; I didn't realize that non-UK publications were even eligible. But there I am, buried in amongst 37 other contenders. Obviously my odds are long; but given that I didn't even think myself eligible, I've already got farther than I was expecting. I ain't complaining.
Now how much would you pay? Don't answer yet, because…
Oh, wait. Yeah, go ahead and answer. This third thing doesn't cut nearly the profile I thought it did. I got all excited when informed that the 'crawl had also been nominated for some shiny-new juried Canadian weblog award in the "Arts & Culture" category, but looking closer I see that the nomination period has just begun and extends until December. So my name on this site doesn't mean that I've made any kind of cut or passed any particular muster. It just means that one person put my name forward (thanks to you as well, whoever you are) in one of thirty-plus categories. It also means that the list will probably have a couple thousand names on it by the time the nomination window closes.  So, never mind.
But while I have your attention, I'd like to wind up today's news cycle by putting a Squidgate-related question out there. I've been getting an unusual amount of traffic hailing from my Wikipedia page (which is to say, someone went there) — so I dropped by and noticed there's been some back-and-forth editing over the whole "Border Detention" subsection. That whole subsection has a pretty low signal:noise ratio, but one line in particular jumped out at me:
"Watts was reported to have been verbally abusive towards the US CBP Officers prior to choking one of the Officers."
The line doesn't surprise me — the claim's bullshit, of course, but I've no doubt that it was "reported" somewhere. Still, the source of that claim isn't cited, and having seen the police reports I know it didn't come from there. I'd almost wonder whether one of the guards might have a literate friend willing to spread such chaff as a favor, but they'd have to be pretty dumb to contradict testimony already on the record. So, does anyone know where that particular "verbal abuse" gem came from? Newspaper story? Blog?
Divine Revelation?
This entry was posted on Wednesday, January 13th, 2010 at 8:08 am and is filed under
Squidgate
,
writing news
. You can follow any responses to this entry through the
RSS 2.0
feed. Both comments and pings are currently closed.