Revenge of the Pangolins
(Or, The Epidemiology of Understatement)
I'll admit I didn't really see it coming.
I mean, sure: I've been harping on Dan Brooks's epidemiological musings (and, as it turns out, those of the US DOD) for years now. I've written articles both magazine- and 'crawl-based; ranted on panels from Sofia to Tel Aviv (and possibly Berlin, assuming international flights are still a thing a few months from now); given solo talks in Toronto and Montreal and Koszeg. I've incorporated them into scenarios I'm not allowed to talk about for companies I've signed NDAs with. Check out recent fiction like "Incorruptible" and "Cyclopterus" and you'll find them exposited right there in the backstory.
So you might find the scenario familiar: a warming world drawing old pathogens into new habitats, full of new and vulnerable hosts. A series of rolling pandemics starting to hollow out the world's urban cores within the decade, characterized by low mortality but high contagion; societal stresses and fractures due not so much to die-offs as to sick days, a whole subsidiary cascade of collapse where the people who maintain the ATMs and drive the food trucks and take out the garbage start calling in sick, and their replacements call in sick—and before you know it the whole damn house of cards has collapsed with hardly anyone even dying, and the water's off and we're all sitting in our home-made forts, counting our remaining tins of Puritan Irish Stew with Formed Meat Chunks.
At first glance, COVID-19 certainly seems to be a terrific case of I Told You So, giftwrapped with a whole bunch of optional extras I hadn't thought about much. Stock markets are imploding the world over. Half the conferences and festivals on the planet are either in jeopardy or been canceled outright. Italy has gone China one better and locked down the entire country. COVID is expected to overwhelm the US health-care system in about a month (assuming a 6-day doubling rate— although the sheer hilarious buffoonery of the US response might well render that prediction hopelessly optimistic). Oil prices have nosedived (at least partly due to reduced global travel which, I dunno, I can't help but see as a good thing), even though airlines—teetering on the brink of collapse— have resorted to flying empty planes in and out of European airports to keep their flight slots. (They've also started demanding that imminent emission taxes be rolled back, claiming that they won't be able to afford them when travel rebounds. Hey, just because the world's in a panic over one crisis doesn't mean we can't gratuitously make another one worse.) The global economy has already, by some accounts, begun to implode; best-case scenario at this point seems to be global recession. And just as this post was going to press, the World Health Organization finally caved and used the P-word.
On a dumber note, an inevitable contingent seems bent on press-ganging the outbreak into the service of pettier, more ideological goals. Over at Wired Roxanne Khamsi spends an entire article raging about "viral whataboutism", and flinging terms like "ableist" and "ageist" at anyone who dares compare COVID-19 to other bugs with bigger kill counts. Facebook grows increasing infested with a meme claiming that the only reason we care so much more about Coronavirus than starvation is because COVID infects the rich—and not, just maybe, because starvation is a problem that's been with us for millennia, COVID just popped onto the radar last Thursday, and we're hardwired to react strongly to novel and unexpected threats. (At least such folks have been distracted for a while from complaining about the fact that Greta Thunberg is a privileged white girl.)
Here's the thing, though: COVID-19 isn't nearly as bad as what I'd been expecting.
I'm talking about the actual virus here, not the social impact. The Cassandra prognosis—admittedly a purely theoretical, what-if scenario—imagined a bug with a 10-20% mortality rate, ultimately infecting around half the world's human population. COVID-19 isn't anywhere near that lethal. Even the 3.5% kill rate you've seen bandied about must be way too high, because it ignores both active cases still pending (42% of the total at this writing, according to the Johns Hopkins Amazing Coronavirus Dashboard) and—more significantly—the proportion of infections that haven't been detected because they're asymptomatic. Asymptomatic cases could account for two thirds of the total according to Mizomuto and Chowell, based on the Diamond Princess outbreak (which provides an unusually comprehensive data set, since the entire population was tested for the virus whether they showed symptoms or not).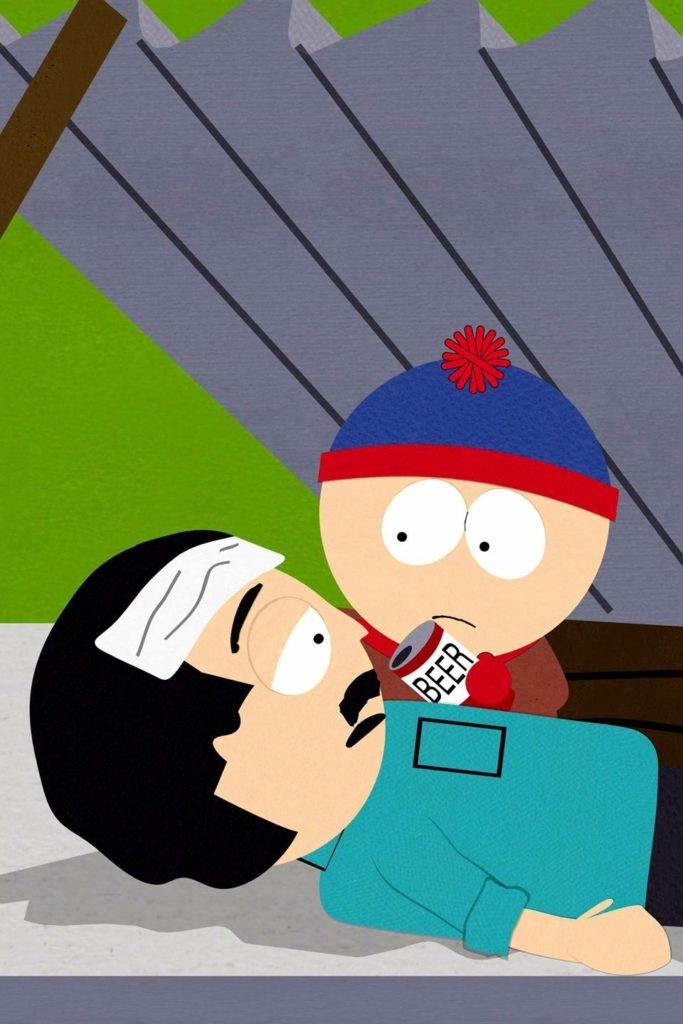 "Soon…only 98% of us will be left…" —Randy Marsh, following exposure to SARS-infected blankets provided by the Three Feathers Indian Casino
Yes, the prevalence of asymptomatic carriers increases the infection rate—but that's a higher infection rate for a much more benign strain of the disease. (There are, so far, at least two strains of COVID-19, the younger and more virulent "L-Type" being responsible for most of the symptomatic cases. But L is already waning—probably because of active control measures— leaving the more benign "S-Type" to outcompete it in the wild). Once the dust clears and asymptomatic cases are fully accounted for, I'd be surprised if this bug racks up a mortality rate much higher than 1%—which, by comforting coincidence, is in the same ballpark as the 0.6% South Korea reported after daily testing thousands of their own citizens, symptomatic or not.
I suppose it's possible that things are far worse than anyone's letting on. I've heard one third-hand "inside information" rumor from virology circles that China may have been dealing with around fifty thousand new cases per day, back during COVID's halcyon days in that country. Which would at least explain why they've been frantically building so many hospitals from the ground up to fight a bug with a measly 2% kill rate (and which leaves anyone under 60 pretty much unscathed). Still: if that were the case, you'd think we'd be seeing higher transmission rates in other parts of the world by now.
So most likely we're faced with a far less-devastating disease than the one I was hitching my talks to. And yet, the social impacts have been just as catastrophic. A measly one percent mortality rate and entire countries get locked down.
But let us not forget the up sides. Carbon emissions can't help but decline around the world (apparently China's have already dropped by 25%). Surely, the sudden monkey-wrench thrown into all those international conferences should provoke massive investment in telepresence tech (right here in Toronto, the Collisions tech conference was canceled in real space but resurrected in virtual); hopefully that will lead to a persistent increase in online conferences and reduced air travel moving into the future. China's just banned the eating of wild animals. Toilet paper manufacturers have never had a better year. Hell, given the imminent shit-kicking US medical infrastructure is in for—not to mention the inevitable political fallout—COVID-19 might even be enough to dislodge Trump from the buttocks of the western world. (It's got a better shot than Biden in that regard, if you ask me.) All thanks to a bug which is turning out to be way more candy-ass than the one I'd been expecting.
So I'm conflicted. Do I trot out the same old line, describe myself as "delusionally optimistic" because the current implosion results from a kinder, gentler pathogen than I assumed? Or do I allow myself some real optimism, because a relatively mild pathogen— however nasty in the short term— might kickstart so many beneficial effects downstream?
It probably doesn't matter. This isn't a single big-name stadium concert after all, and COVID-19 isn't the Main Act. This is a festival: an epidemiological Woodstock with no expiration date. COVID—like SARS and MERS and the various flus before it— is only the beginning. And if history is any judge, future acts will come increasingly thick and fast.
Brace yourselves. You ain't seen nothing yet.
This entry was posted on Wednesday, March 11th, 2020 at 11:26 am and is filed under
In praise of biocide
,
scilitics
. You can follow any responses to this entry through the
RSS 2.0
feed. Both comments and pings are currently closed.