The Clipperton Conundrum
.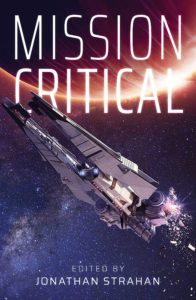 .
Two obscure yet related things happened this month:
Jonathan Strahan's Mission Critical anthology was released, containing (among many other worthy works) my story "Cyclopterus"; and

The IUCN announced the first species to receive "endangered" status due to deep-sea mining.
For those who haven't read "Cyclopterus" (pretty much all of you, judging by MC's current sales ranking on Amazon), it's set entirely underwater— there's a kind of rifters vibe to the thing— and takes its lead from the prospect of deep-sea mining. It unfolds against a backdrop in which hurricanes, fueled by warming oceans, last for years; in which the last of the tipping points has been passed and the worst-case scenario is now inevitable; in which the world's environmental laws have largely been scrapped because it's too late now anyway, so what's the fucking point? It's a world where doomsday partiers burn down national parks and mobs of jes' plain folks tear the ultrarich limb from limb (on those exceedingly rare occasions when they get the chance, at least).
As with most of my writing, it is almost childishly optimistic— and not just because it imagines the rest of us getting our hands on the occasional plutocrat. It's childishly optimistic because it takes place 15-20 years from now, when deep-sea mining is about to expand into the vast pristine stretch of the Pacific seabed known as Clarion Clipperton Zone. It's childishly optimistic because it assumes the Zone has 15-20 years before things go south, while here in the real world the International Seabed Authority has already doled out 16 permits for mineral prospecting within its boundaries. The CCZ has been described as "the most likely test bed for deep-sea mining".
Ninety percent of the species collected there by one research team were new to science. After recent surveys covering only 0.01% of its total area, a thousand new species have been discovered. Thousands more are surely waiting to be, in the unlikely event that the robots don't get them first.
Deep sea mining has been on my radar every since I was a kid in the sixties, devouring all those breathless utopian books about how we were going to farm the oceans and talk to dolphins and live in underwater cities by the turn of the century. By the time that century was actually about to turn I'd discovered the industry's grubby underside, while researching Starfish. And my first trip to Norway in 2012 really brought it home when I met a guy who'd actually discovered a number of hydrothermal rift vents himself, and who was profoundly worried that deep-sea mining was on the cusp of explosive expansion.
And now, here we are. Imagine giant robots— like combine harvesters on steroids— scouring the bottom, hoovering up minerals from manganese to molybdenum and shitting out everything else, pulverized, in its wake. Although you don't really have to, because they're already building the fuckers:
Very little research has been done on the environmental impacts of deep-sea mining. The only real study was undertaken thirty years ago, led by a dude called Hjalmar Thielon. It was a pretty simple experiment. They basically dragged a giant rake across 2.5 km2 of seabed, a physical disturbance which— while devastating enough— was certainly less disruptive than commercial mining operations are likely to be. Today, thirty years later, the seabed still hasn't recovered.
You might think that such results would provoke a flurry of follow-up tests prior to unleashing the Giant Robot Army. However, while mining contractors are required by law to document the species that live in a habitat prior to mining, there is apparently no commensurate requirement to document the impact that mining would have on them. In fact the ISA actually regards commercial mining itself as a kind of impact-assessment process: "Once you have mining, you have monitoring, then you can develop standards and you can progressively tighten those standards once you have a feedback loop from monitoring your activity."
Uh huh. Back in my undergrad days I actually spent a few months working for Ontario Hydro's Aquatic Biology department while it was "environmentally assessing" the impact of the Darlington nuclear reactor— as it was being built. Buy me a beer some day and I'll tell you how well that worked out.
The mind-blowing irony is that all this imminent deep-sea devastation is being driven by our appetite for renewable energy. That's what's finally driven deep-sea mining out of the realm of wide-eyed speculation into red-hot profitability. Rare-earth metals are an essential part of the batteries required for energy storage in solar and wind-energy systems, not to mention the burgeoning population of electric cars. They're scattered like doubloons across places like Clipperton, just waiting to be scooped up. This grand new vista of environmental destruction has been incentivized by the environmental movement.
But hey, I'm an optimist. I can end on an upbeat note. It's all going down at the bottom of the ocean, after all.
At least none of us will have to see the damage.