Flyswatter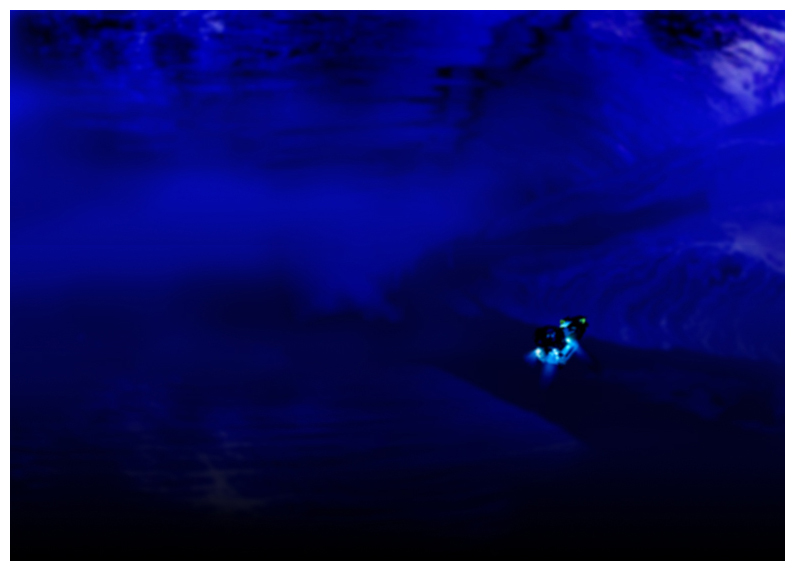 Something reaches down and lifts Cyclopterus like a toy in a bathtub.
Inertia pushes Galik into his seat. The vessel tilts, nose down: slides fast-forward as though surfing some invisible wave. Moreno curses and grabs the stick as Cyclopterus threatens to turn, to tumble.
Wipe out…
In the next moment everything is calm as glass again.
Neither speaks for a moment.
"That was one hell of a thermocline," Galik remarks.
"Pycnocline," Moreno says automatically. "And we passed it a thousand meters ago. That was— something else."
"Seaquake?"
She leans forward, interrogates the board. "Sylvie's transponder isn't talking." She conjures up a keyboard, starts typing. Out past the hull, the metronome chirp of the sonar segues into full-throated orchestra.
"Technical glitch?" Galik wonders.
"Dunno."
"Can't you just call them up?"
"What do you think I'm doing?"
Acoustic modems, he remembers. They can handle analog voice comms under normal conditions— but what's normal, with Nāmaka churning up the Devil's own background noise? Down here, the pros use text.
But judging by the look on Moreno's face, that's not working either.
She drags her finger along a slider on the dash; the pointillist seabed drops away around some invisible axis as the transducers swing their line-of-sight from Down to Up. Static and confusion rotate into view; the distant surface returns a blizzard of silver pixels to swamp the screen. Moreno fiddles with the focus and the maelstrom smears away. Closer, deeper features stutter into focus. Moreno sucks breath between clenched teeth.
Far overhead, something has grabbed the thermo— the pycnocline as though it were a vast carpet, and shaken it. The resulting waveform rears up through the water column, a fold of cold dense water rising into the euphotic zone like a submarine tsunami. It iterates across the display in majestic stop-motion, its progress updating with each ping.
It must be almost a thousand meters, crest-to-trough.
It's already passed by, marching east. Patches of static swirl and dissipate in its wake, clustered echoes whose outlines shuffle and spread in jerky increments. Galik doesn't know what they are. Maybe remnants of the Garbage Patch, its dismembered fragments still cluttering up the ocean years after Nāmaka tore it apart. Maybe just bubbles and swirling cavitation. Maybe even schools of fish; there are still supposed to be a few of those around, here and there.
"What—" he begins.
"Shut up." Moreno's face is bloodless. "This is bad."
"How bad?"
"Shut up and let me think!"
Her visor's back down. She plays the panel. Scale bars squeeze and stretch like rubber on the dash. Topography rotates and zooms, forward, aft; midwater wrinkles blur into focus and out again as Moreno alters the range. Her whispered fuck fuck fuck serves up a disquieting counterpoint to the pinging of the transducers.
"I can't find Sylvie," she admits at last, softly. "Not all of her, anyway. Maybe some pieces bearing eighty-seven. Swept way off-station."
Galik waits.
"She was ninety meters down." Moreno takes a deep breath. "The tip of that— thing reaches up to fifty. Must've slapped them like a fucking flyswatter."
"But what was it?"
"I don't know. Never seen anything like it before. Almost like some kind of monster seiche."
"I don't know what that is."
"It's like—when the pycnocline sloshes back and forth. Standing wave. But the strong ones, they're just in lakes and seas. Basins with walls the wave can bounce against."
"Pacific's a basin. Pacific's got walls."
"Pacific's fucking huge. I mean sure, ocean seiches go on world tours sometimes, but they're slow. Stretch the mixing layer a few meters over a few years. Maybe kickstart an El Niño now and then. Nothing like this."
"There was nothing like Nāmaka ten years ago either."
"Yeah."
"Hurricanes can't even dissipate any more, so much heat in the oceans. Maybe it's amping your seiches too."
"Dunno. Maybe."
"Maybe they're even feeding off each other. Nothing's linear any more, it's all tipping points and—"
"I don't know, I said. None of that shit matters right now." She slides her visor up, eyes a red handle protruding from the ceiling. A tiny metallic hiccough and a soft bloop carry through the hull after she yanks it. Something flashes on the dash.
"Emergency buoy?"
Moreno nods, downs visor, grabs the joystick.
"Shouldn't we, you know. Make a recording? Send details?"
"It's in there already. Dive logs, telemetry, even cabin chatter. Beacon stores it all automatically." The corner of her mouth tightens. "You're in there too, if that helps. Sub commandeered by NMI, prospecting dive. Maybe they'll move faster, knowing one of their errand boys is in danger."
She edges the stick forward and to port. Cyclopterus banks.
Galik checks the depth gauge. "Down?"
"You think anyone's gonna fly a rescue mission through Namāka? You think I'd be crazy enough to surface even if they did?"
"No, but—"
"Any rescue's gonna come in from the side. And since you wouldn't have dragged Sylvia all the way over from the Cafe if there'd been anyone closer, I'm assuming it's gonna have to come from further out, right?"
After a moment, he nods.
"Could be days before help arrives even if our signal does manage to cut through the shit," Moreno tells him. "And I for one don't feel like holding my breath for a week."
Galik swallows. "I thought these things made their own O2. From seawater."
"Lack of seawater isn't the problem. Need battery power to run the electrolysis rig."
He glances at their bearing; Moreno has brought them around so they're following in the wake of the superseiche.
"You're going after the Earle."
Her jaw clenches visibly. "I'm going after what's left. With any luck, some of the fuel cells are still intact."
"Any chance of survivors?" Most habs come with emergency pods, hard-shelled refugia for the meat in case of catastrophe. Assuming the meat has enough advance warning to get to them, of course.
She doesn't answer. Maybe she's not allowing herself to hope.
"I'm— I'm sorry about this," Galik manages. "I can't imagine what—"
Cowled Moreno hunches over the controls. "Shut up and let me drive."