A Christmas Carnivore.
I thought I'd give you graphics for Christmas. Pieces of fan art have been accumulating over the year, and— while a lot of it is truly impressive— I feel weird using a blog post to do nothing but highlight one piece of art.  Seems too easy, somehow. Blogs should be more— substantive.
And then you wake up one day and realize that you've got twenty pieces of art waiting to be posted.  That substantive enough for you?
First off, though: for those who don't follow me on Facebook (and I salute you; Facebook's the only social medium I'm on and I still feel vaguely dirty when I go there), the team at Blindsight.space recently released a 30-second teaser that really is spectacular. The only complaint I have is that I've seen some of the footage that didn't make it into this cut, and I wish all of it was ready for prime time right now. Art and stills are fine, but there's  nothing like  watching Charybdis cruising through Rorschach's tangled topography, or watching Theseus's hab module blow up. Go, if you haven't yet. Marvel.
Sketches,  screen grabs, and other renderings have been posted in the galleries: two in the Rifters Gallery (under "Fan Art"), the rest in the Blindopraxia Gallery  (the Japanese Echopraxia covers under "Official Cover Art", everything else under "Fan"). Scroll down on this page for a subset of the new acquisitions—  an oil painting, a bit of anthropology, a couple of screen grabs— even an animated anime gif— but if you want to check out the whole lot you'll have to click on a couple of links. It's worth it; there's some nice stuff behind the front page.
As always, you can click the pic to embiggen it. Really I shouldn't have to tell you by now.
Start with a Valerie triptych, all three by an artist going by the handle KeeNahMee: Echopraxia's vampire at three stages of her life. Upper left she's still wearing the smartweave tunic of a Simon Fraser lab rat, although she appears to have just fed (you can tell by the subtle flushing of the cheeks), and is thus probably about to leave the campus to seek other opportunities.  Upper right she looks feral and eager and pretty much the way I imagined her throughout most of her trip down to Icarus, playing with her food.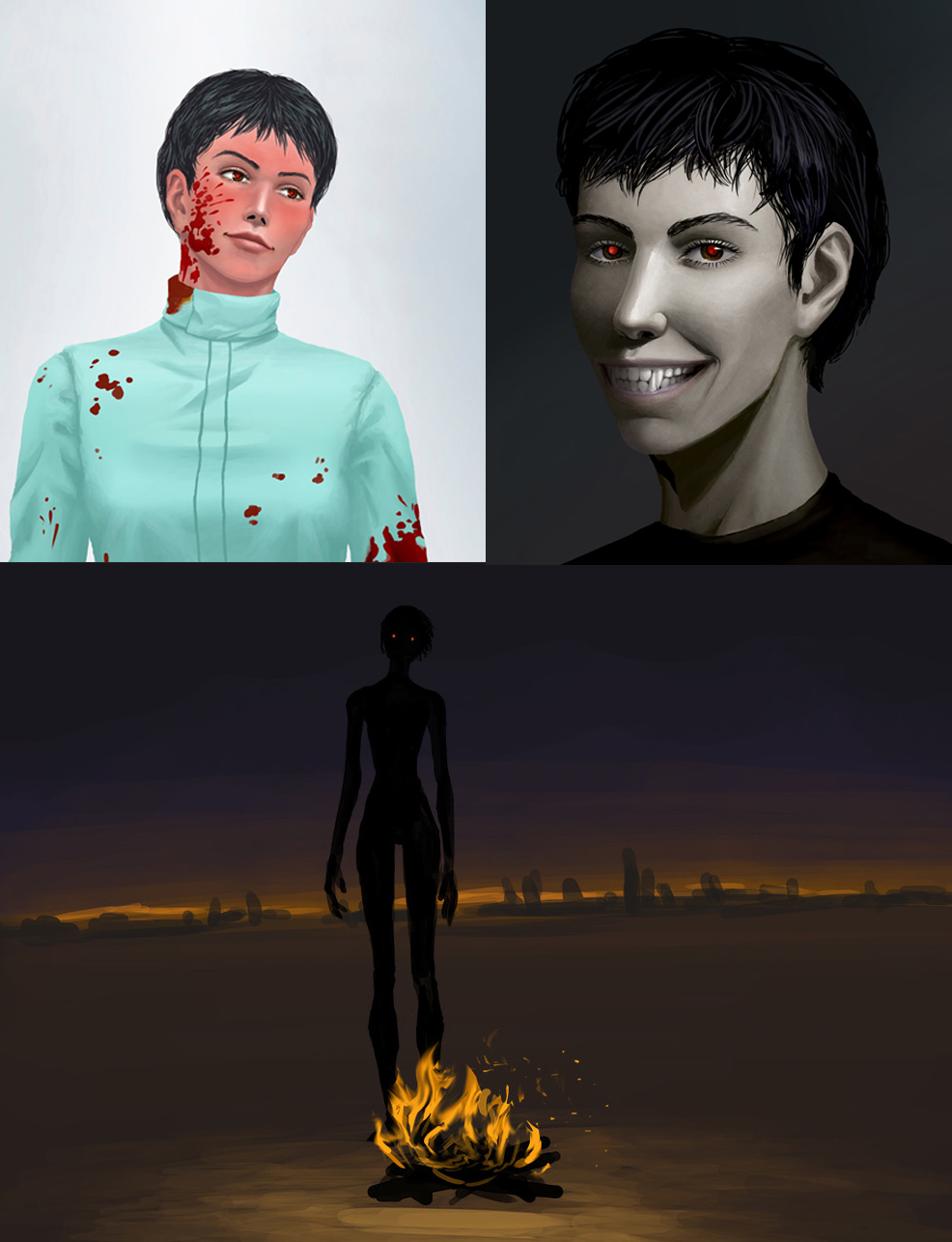 Bottom, though, she's back in the desert with Dan Brüks while the world burns around the horizon. As far as I know, no one has illustrated this part of the novel before; while I'm enraptured by all KeeNahMee's art, I think this relatively simple sketch is my favorite.
 

A deep-sea duet, courtesy of Marek Paterczyk. This is one of my favorite rifters pictures ever.

 
So there you have it— or at least half of it, with links to the rest. Looking back, it's a bit, well, Valerie-heavy, isn't it? A certain preponderance of predators and bloodbaths. Then again, this is that time of year: when the predatory prey on the gullible, when the bloodsuckers come for your money and your brains. Really, vampires fit right in at Yuletide.
Why do you think Santa wears red?
This entry was posted on Thursday, December 21st, 2017 at 9:00 am and is filed under
art on ink
. You can follow any responses to this entry through the
RSS 2.0
feed. Both comments and pings are currently closed.