Occasional demons.
It's pretty much done. We even have a tentative publication date: June, 2018. All I need to do now is figure out how to embed a coded message into the text.
In the meantime, a final fiblet. The Freeze-Frame Revolution. From Tachyon.
---
It was the Monocerus build that broke her. The gremlin came out of the gate a split-second after we booted it up: as if the fucking thing had been waiting the whole time, hunger and hatred building with every second of every century we'd been crawling across the void to set it free. Maybe it was whatever Humanity turned into, after we shipped out. Maybe it was something that came along after, something that swallowed Humanity whole and raced along our conquered highways in search of loose ends to devour.
It doesn't matter. It never matters. We birthed the gate; the gate birthed an abomination. This one stirred something in me, a faint familiar echo I couldn't quite put my finger on. That happens more often than you might think. Rack up enough gigasecs on the road and you're bound to start seeing the same models in your rear-view eventually.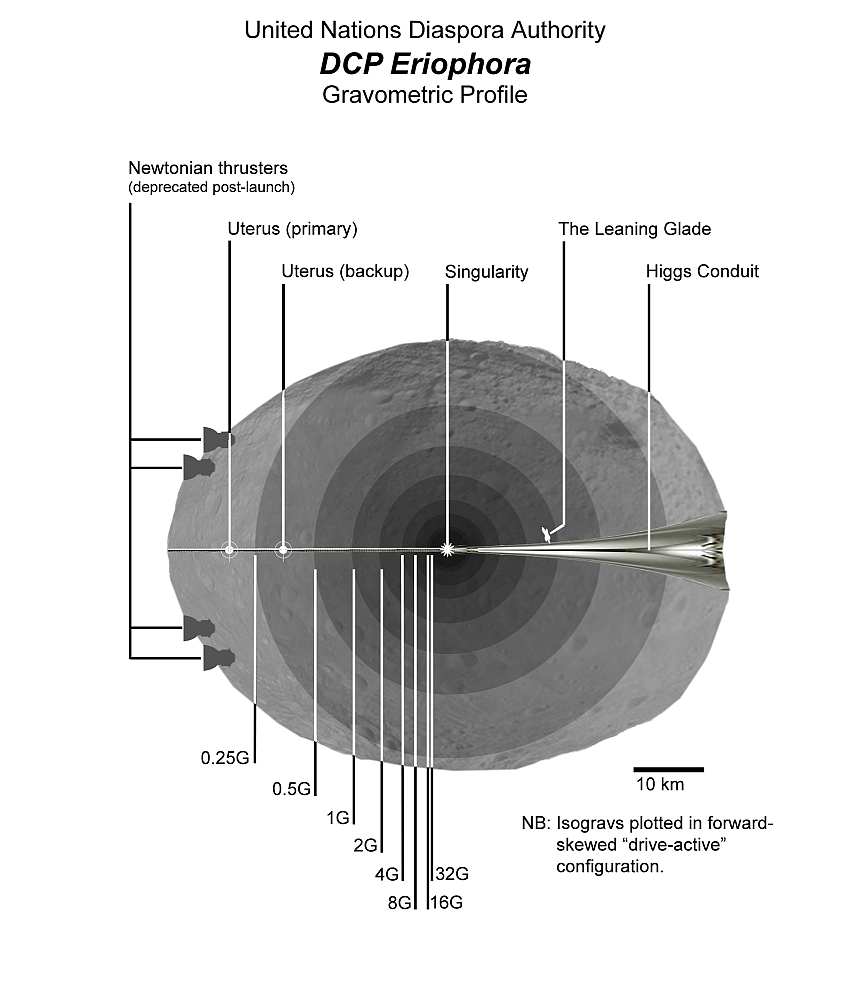 The usual protocols saved us. Deceleration in the wake of a boot is just another word for suicide: the radiation erupting from a newborn wormhole would turn us to ash long seconds before the occasional demon had a chance to gulp us down. So we threaded that needle as we always did: rode our bareback singularity through a hoop barely twice as wide as we were, closed the circuit at sixty thousand kps, connected there to here without ever slowing down. We trusted the rules hadn't changed, that math and physics and the ass-saving geometry of distance-cubed would water down the wavefront before it caught up with us.
We outran the rads, and we outran the gremlin, and as two kinds of uncertain death redshifted to stern Chimp threw a little yellow icon onto the corner of my eye—
Medical assistance?
— and I didn't know why, until I turned to Lian and saw that she was shaking.
I reached out. "Lian, are you—"
She waved me away. Her breathing was fast and shallow. Her pulse jumped in her throat.
"I'm okay. I'm just…"
Medical Assistance?
I could see a fragile kind of control trying to assert itself. I saw it struggle, and weaken, and not entirely succeed. But her breathing slowed.
Medical Assistance? Medical Assistance?
I killed the icon.
"Lian, what's the problem? You know it can't catch us."
She gave me a look I'd never seen before. "You don't know what they can do. You don't even know what they are. You don't know anything."
"I know they'd have maybe ten kilosecs to get up to twenty percent lightspeed from a standing start to even try to catch up. I know anything that could pull that off would've been able to squash us like a bug long before now, if it wanted to. You know that too."
She used to, anyway.
"Is that how you do it?" A small giggle, a sound too close to the edge of hysteria.
"Do?"
"Is that how you deal with it? If it never happened, it never will?"
Five of us on deck for the build, and I have to be the one at her side when she loses it. "Li, where's this coming from? Ninety-five percent of the time the gate just sits there."
"As if that's any better." She spread her hands, a paradoxical gesture of defeat and defiance. "How long have we been doing this?"
"You know as well as I do."
"Furthering the Human Empire. Whatever it's turned into by now." As if this was any kind of news. "So we build another gate and nothing comes out. They're extinct? They don't care? They just forgot about us?"
I opened my mouth.
"Or—" she went on, "we build a gate and something tries to kill us. Or we—"
"Or we build a gate," I said firmly, "and something wonderful happens. Remember the bubbles? Remember those gorgeous bubbles?" They'd boiled through the hoop like rainbows, iridescent and beautiful, dancing around each other as they grew to the size of cities and then just faded away.
Their invocation got me a small, broken smile. "Yeah. What were those things?"
"They didn't eat us. That's my point. Didn't even try. We're still alive, Lian. We're doing fine— better than fine, we've overperformed on any axis you could name. And we're exploring the galaxy. How can you have forgotten how amazing that is? Back on Earth— they never could've dreamed of the things we've seen."
"Living the non-dream." She giggled again. "That's just fucking aces, Sunday."
I watched some biomechanical monstrosity fade behind us. I watched a swarm of icons flicker and update in the tac tank. I watched deck plating glint in the dim bridgelight.
"Why can't they just— talk to us? Say hello now and again? Just once, even?"
"I dunno. You ever hop over to Madagascar before we shipped out, look up any tree shrews, thank them for the helping hand?"
"What's that supposed to mean?"
"Nothing. Just—" I shrugged. "I think they've got other priorities by now."
"It should be over. They were supposed to call us back millions of years ago. No—" she held up a shaky hand— "we were not supposed to go on forever. How many times have we tunneled through this fucking ring already?" She threw an arm wide: Chimp, misreading the gesture, sprinkled the local starfield across the backs of our brains. "We could be the only ones left. And we still could've gated the whole disk ourselves by now."
I tried for a chuckle. "It's a big galaxy. We'll have to go a few more circuits before there's much chance of that."
"And we will. You can count on it. Until the drive evaporates and the Chimp runs out of juice and the last of us rots away in the crypt like a piece of moldy fruit." She glanced back at the tac tank, though its vistas floated in our heads as well. "We've done the job, Sunday. We're way past mission expiration, Eri was never supposed to last this long. We weren't." She took a breath, let it out. "Surely we've done enough."
"Are you talking about killing yourself?" Because I honestly didn't know.
"No." She shook her head. "No, of course not."
"Then what do you want? I mean, here we are; where else can we be?"
"Maybe Madagascar?" She smiled then, absurdly. "Maybe they left us a spot. Next to the tree shrews."
"I'm sure they did. Judging by that last one we saw."
"Oh Jesus, Sun." Her face collapsed in on itself. "I just want to go home."
I gave physical contact another shot. "Lian— this is—"
"Is it really." But at least she didn't shake me off this time.
"There's nowhere else. Earth, if it even still exists— it's not ours any more. We're—"
"Tree shrews," she whispered.
"Yeah. Kind of."
"Well then, maybe there's still a warm wet forest somewhere for us to hole up in."
"That's you. Ever the fucking optimist." And when she didn't respond: "Build's over, Lian. Time to stand down.
"I promise: Things'll look brighter in a couple thousand years."
This entry was posted on Wednesday, August 23rd, 2017 at 5:49 am and is filed under
fiblet
,
Sunflowers
. You can follow any responses to this entry through the
RSS 2.0
feed. Both comments and pings are currently closed.