"You Tried So Hard", The Toilet of Poking, and Other Tales of Adrenaline Week.
Three days in Warsaw.  Three in Poznań. Four days in Berlin. Fifteen hours travel time stapled to either end.
It rained the whole time.
I'm typing this 15000 meters over the Mid Atlantic Ridge. Behind us, Europe is turning bright and sunny after its long deluge. Ahead of us, Toronto braces to evacuate waterfront homes in anticipation of extreme flooding. After that, they say there will be snow. As I recall, the same thing happened a few years back when we returned from Helsinki.
I don't even care. It was great.  It was all great.
I cannot tell you what I was doing in Warsaw— contractually, what happens in Warsaw stays there— beyond the fact that while I was doing it the BUG found this great little café where you could eat strudel and drink coffee and be swarmed by resident cats. It was hard, though, to avoid a certain sullen sense of resentment: Cat Cafes were one of two sure-fire get-rich-quick schemes I had back in the eighties, and everybody told me it would never fly because you'd have to bribe too many health inspectors.
*
I can tell you about Poznań. Poznań blew my mind.
Of course, Pyrkon's organizers had told me that this was one of the largest cons in Europe when they first extended the invite. I guess I never really internalized that. I'd been to Polish cons before. They were cool. I was happy to go back. When they sent me a map of the venue I thought, huh: big building, a lot of odd-shaped rooms. Typical convention center.
I was wrong.
The Map showed a big campus. Each room was a convention-center-sized building. This motherfucker weighed in at somewhere between forty and fifty thousand attendees.
That's a big con. I thought Utopiales over in France was huge, and that only weighed in at a tenth the size. Next to Pyrkon, Worldcon is a bake sale at Altadore Baptist Church.
When a con is this big, it doesn't matter if the vast majority of the attendees don't even know who the hell you are; even with the infinitesimal fraction who do, you sign a lot of books.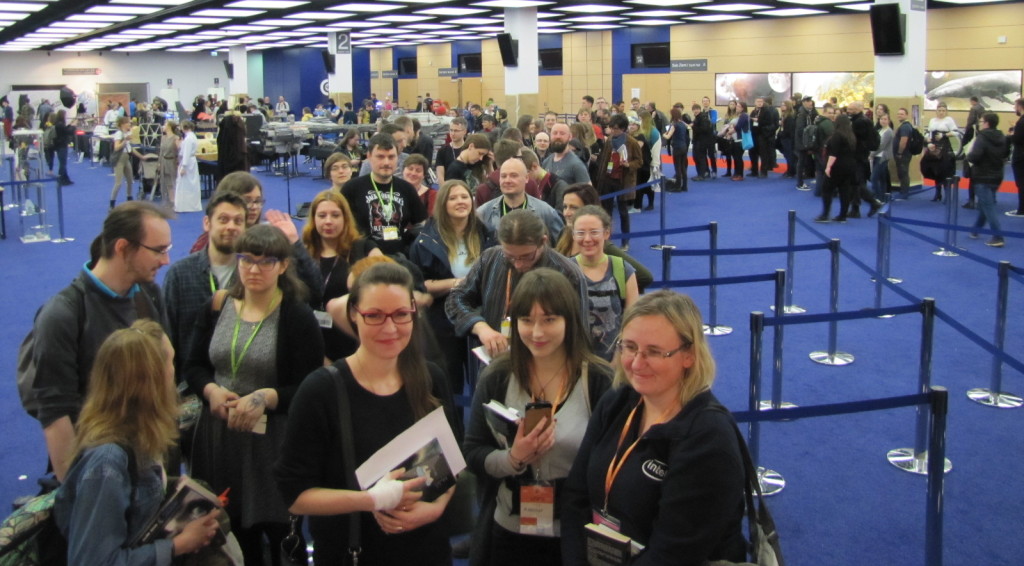 This session went a half hour overtime, and by the end the line wasn't any shorter than it was at the beginning.  I ended up having to do additional signings; I figure somewhere between 5-6 hours all told. The up side is that it did wonders for my ego.
The down side is, I didn't eat on Saturday.
There were the usual author-fan selfies, which degraded over time from the usual arm-drape down to a series of pics on Saturday night in which I was stabbing supplicants in the eye with my Tuff-Write Tactical Pen ("We think our pens are cooler than sharks with lasers"). I wanted to build a collage documenting that progression. Strangely, though— while I had no trouble scraping up arm-drapey pics online— I couldn't find any eye-stabby ones.  The closest I got was that shot down near the lower-right corner, where— having regressed to the emotional age of ten— I rabbit-eared the guy with the beard: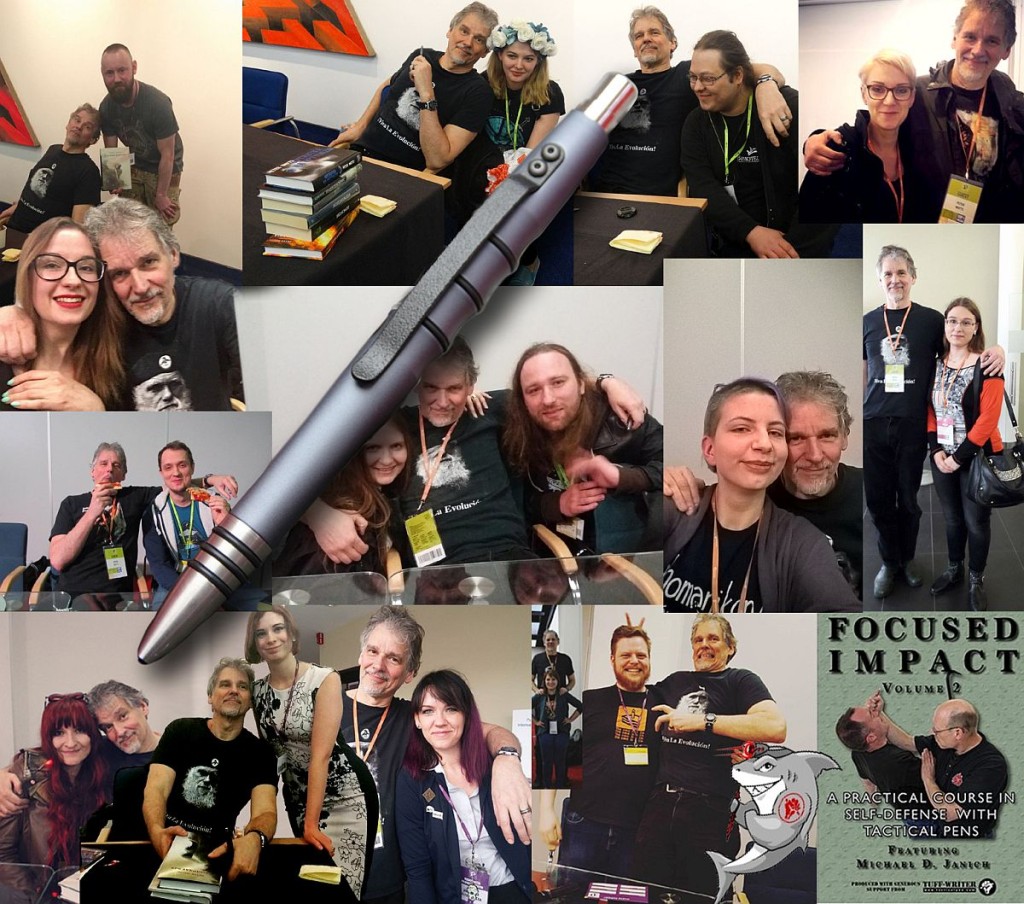 I had to settle for symbolism, grabbing a graphic from Tuff-Write's website— which sells, I shit you not, instructional DVDs on How To Stab Someone In The Eye With A Tactical Pen.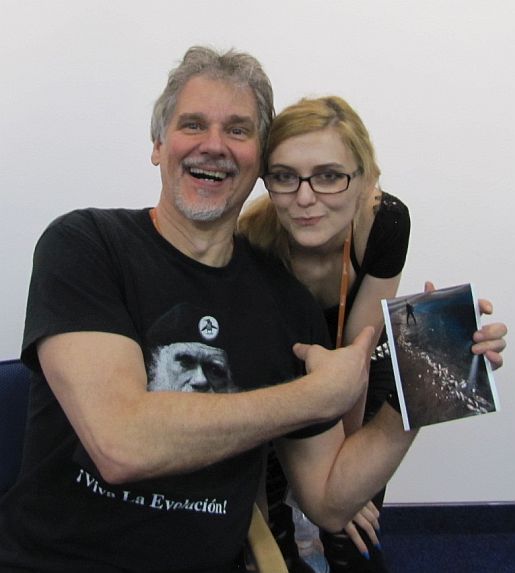 There was at least one person, however, who I asked for a photo. Frequent visitors to the Rifters gallery may recognize Karolina Cisowska, who so awesomely cosplayed Lenie Clarke for photographer Allan Rotter a couple of years back. This was an honor; the BUG and I wanted to hang out with Karolina and her partner post-con, but we couldn't make it work. Next time.
This is "Q&A with Peter Watts". I'm not exactly sure what I was finding so hilarious at this point, but it may have had something to do with my interrogator's claim that Blindsight has been a bestseller in Poland. I was not fooled. I've seen my royalty statements.

"Harnessing the Power of Ignorance: Worst-case Neuroscenarios from the Peanut Gallery" was one of my few events that didn't run late— ironically, since people in orange shirts kept waving signs at me telling me to wrap it up.  One of them even came up on stage and interrupted my climax; I told her in the nicest possible way to go away, and finished exactly on time. (It was, admittedly, a bit awkward when

she returned as the moderator of my next panel.)
| | |
| --- | --- |
| | This was weird. These "Free hugs" signs were everywhere at Pyrkon— generally carried by women, and almost always in English (although there were exceptions). I never did figure out what was going on. |
| Whatever it was, it had obviously been going on long enough for the inevitable backlash to kick in… | I'm pretty sure this was just blatant entrapment, though. (And count on the BUG to remind me of the pass phrase one must utter to get into the Mines of Moria.) |
Did I say I didn't eat on Saturday?  Not quite true. I had breakfast at 8a.m., and then supper at 11pm.
Supper consisted entirely of beer. This was Poland, after all.
| | |
| --- | --- |
| Nowa Fantaskyka. Interviewer and translator. | I first met these guys in Zielona Gora, back in 2011. They haven't changed much. |
*
Somehow we woke up in Berlin.
*
The BUG and I had a dual reading, a little place called "Otherland": Berlin's premiere SF store. (To give you a sense of how premiere, Ty Franck— half of James S. A. Corey, the duo behind The Expanse— read there just a couple of days after we did.) The reading served as an anchor for a couple of evenings' drinks, dins, and socializing with the local genre crowd— and as is usual at such paired appearances, it was all oooh, Peter Watts (and wife) when we arrived, and all OMG Caitlin is so awesome along numerous orthogonal axes by the time we left.
In between, though, we had a great time.
Names— at least, real names— will be thin upon the ground here, as we've been requested to keep them off the record for "the usual paranoid privacy reasons" which I, for one, don't find especially paranoid at all these days.
But first: before we get to the nameless community itself— remember how, some odd few-dozen pictures ago, I complained about how Cat Cafes were one of my two doomed get-rich-quick schemes of the eighties?  The other was a franchise of space-themed restaurants: places you could go where the windows open up on low-orbit planetscapes or glorious nebulae, where you ordered your food on a touchpad set into the table and had it delivered by robot arms running along rooftop rails. Where the food was crap but it was supposed to be crap, because you're on a space station, goddamnit, and everything's recycled.  That was my idea.
Guess what we came across while heading to Otherland:
We didn't patronize the place, since we were already on our way elsewhere.  Just stuck our faces up against the glass long enough to get really pissed off, then grabbed these interior shots off the web.
But all was forgotten and forgiven when we finally arrived at Otherland, to discover this in the back room:
I've been searching for this toilet since before my very first trip to Germany: the one they described in the Germany for Dummies guidebook, the one that has the little flat dry platform for shit to land in, the better for these proud Teutonic people to poke and prod their feces for parasites and abnormalities before finally— after intensive examination— flushing it away into the mighty Havel. For years I searched in vain. I was beginning to think it was the stuff of myth. But here it was, in the back of a humble genre bookstore.
After that, the evening would have been a success even if no one had showed up for the reading.
We approach the shop like timid nervous animals in the night.

These are the guys who run the store.

This is Luke Burrage, World-Class Juggler and book-review podcaster. I've been waiting to meet this guy for years.

This is me reading and the BUG looking skeptical before she blows me out of the water.

This is me barely winning a back-t0-back height contest with Saruman's evil twin.

Saruman and I, discussing the things we would do with sexbots. (This is actually a moving gif, but I think you have to click on it or something.)

We totally avoid this shop like our lives depend on it.

This is Birgit, my awesome German translator. She said it took her two tries to see what I was getting at in Echopraxia, how finally everything clicked and she could see how everything fit together.  "You tried so hard," she said.

I want that carved on my tombstone.

Also she didn't know that BUG stood for Beloved Unicorn Girl— she thought I meant some kind of microbe— so German editions of Echopraxia are dedicated "To the BAZILLUS. Who saved my life."

Which, if anything, is better than the original.

This is the napkin upon which the cognitive neuroscientist in the crowd (there always is at least one) jotted down his contact info (blurred to protect the educated) and his areas of specialization. I will be calling on him by and by. Oh yes I will.

The crowd enters a place to drink, and talk about the ethics of sexbots.

I converse with a woman who has an advanced degree in Mathematics, on the ethical implications of sexbots.
After the Otherland Affair, we gave ourselves a day to relax before heading back home. My ambitions were modest; I wanted to see "Guardians of the Galaxy Vol 2". Caitlin set her sights a bit higher; she wanted to finish writing a novel.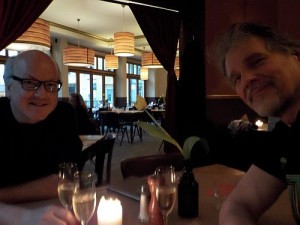 She's not in this picture because she took it. That's Henry, her life-long friend and the dude we stayed with, to the left. Those are our glasses of celebratory champagne there in the middle.
So we both accomplished what we wanted to on that last day. I guess that makes us even.
And now I have less than a month before I have to turn around, go back to Bulgaria, and do the whole damn thing all over again.
This entry was posted on Wednesday, May 10th, 2017 at 2:34 pm and is filed under
On the Road
,
public interface
. You can follow any responses to this entry through the
RSS 2.0
feed. Both comments and pings are currently closed.