Blight Gallery
OK, so it isn't cancer. Also not myocitis. Apparently that would've shown up in the several liters of blood they already sucked out of me over the past couple of weeks.
Lyme? "Well, we could test for Lyme. If you really want. You do have the symptoms, I guess…"  Not quite sure why I sensed such reluctance given that I actually meet the criteria— I felt as if she was indulging some dotty old hypochondriac— but the bottom line is, even as I type they're testing for several strains of Lyme.  Including, apparently,  a time-traveling European variant which might be to blame even though this whole thing manifested two weeks before I went to Greece. I'm not complaining: the more comprehensive the better, far as I'm concerned. If there's anything to this late-onset stuff I suppose I could have picked it up when I was overseas in 2014.
Neuro, though. My GP agrees that a lot of these symptoms— the weakness and tingling, sure, but even the stiffness and joint pain— are consistent with something neurological. An appointment with a specialist is in the offing. And on the one hand, Cool: neuro. I get to have my brain scanned. I get to see my own CNS mapped out like a subway system. I owe a big chunk of my career to neuro. Neuro rocks.
On the other hand, fuck: neuro.
Some really bad shit falls under that particular umbrella.  Let's hope for Lyme. Or even something psychosomatic— after all tests to date haven't turned up anything, beyond (presumably) the acute anemia that results from having half your blood volume siphoned away.
Anyway. Holding pattern until I see the neurologist. And of course I've fallen behind on The Freeze-Frame Revolution, so not a lot of time to invest in depthy blog posts right now. (Although if you read Polish, I'm thinking the next column is probably going to be about these recent Russian claims of a dolphin language. It was similar claims, after all, that got me interested in the whole marine-mammal field back in the seventies.)
So here's some simple eye candy to plug the gap for the next little while (all available in the Gallery too, of course, at higher rez).
*
I can't honestly claim that this new reissue of Starfish (by way of Paul di Filippo) improves on Bruce Jenson's original cover art in any technical or aesthetic sense. I do, however, expect that it will result in much higher sales. At the very least, it adds a new dimension to the term "wet dream":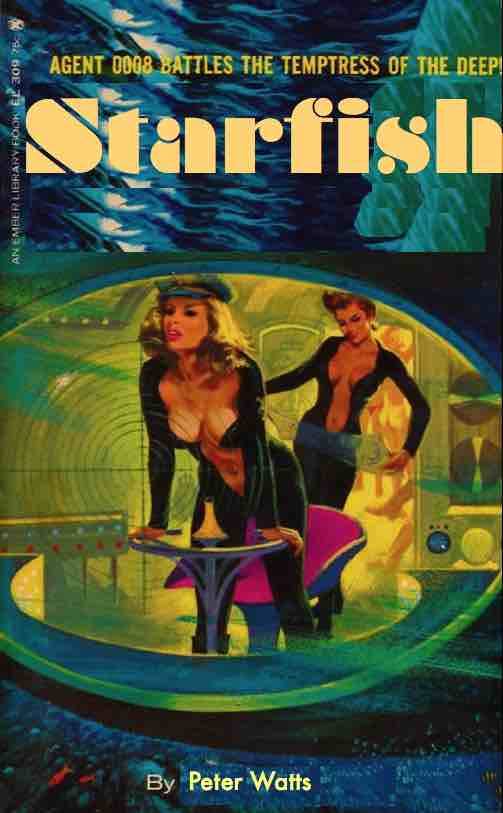 In contrast, a little nightmare fuel: Rifters as Greys, courtesy of a Russian Deviant Artist going by the handle "Hokapk" (which probably translates phonetically as "Hieronymus Bosch Does Pointillist Woodcuts").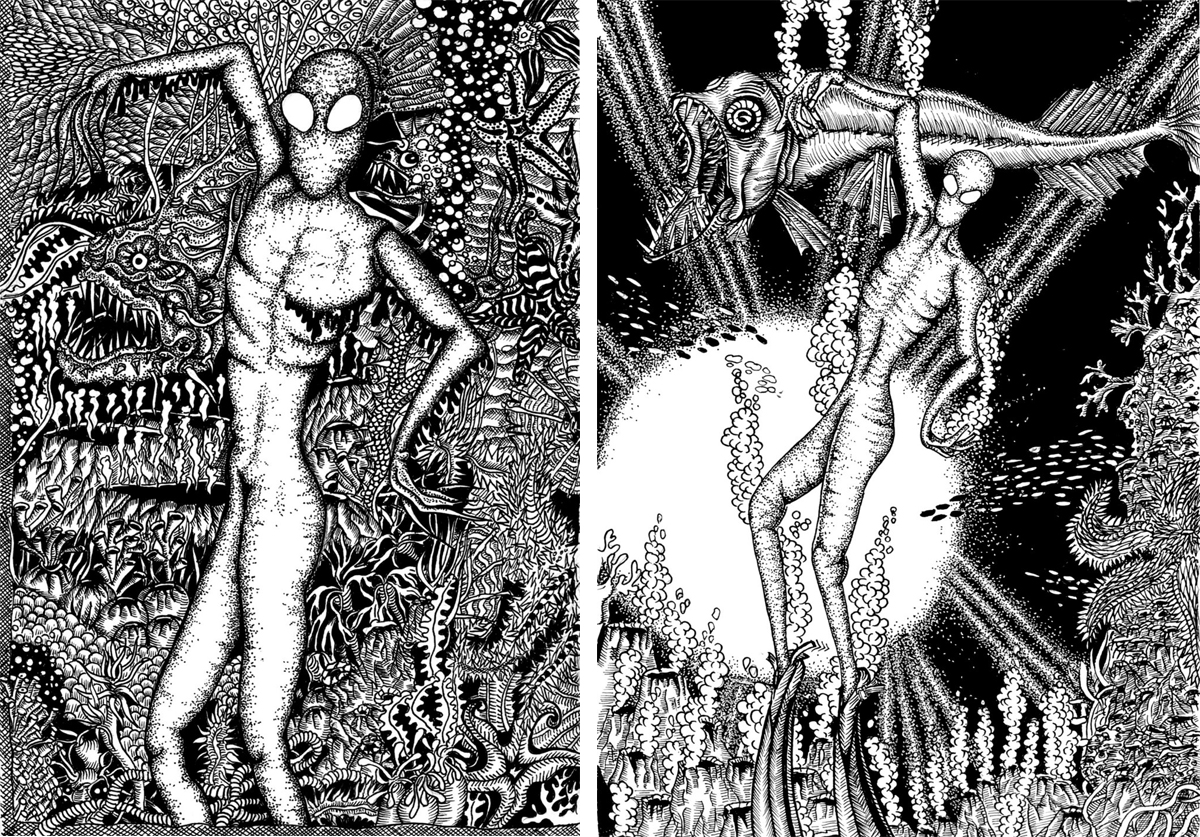 Finally— although it can't quite compete with the transcendent inspiration of the di Filippo piece— here's the definitive cover art for Le Bélial's upcoming French edition of Au-Delà du Gouffre (aka Beyond the Rift), for those of you who didn't catch the earlier draft that showed up on facebook a few weeks back. By the legendary artist "Manchu".  At least, I assume he's legendary; the man's portfolio certainly warrants it.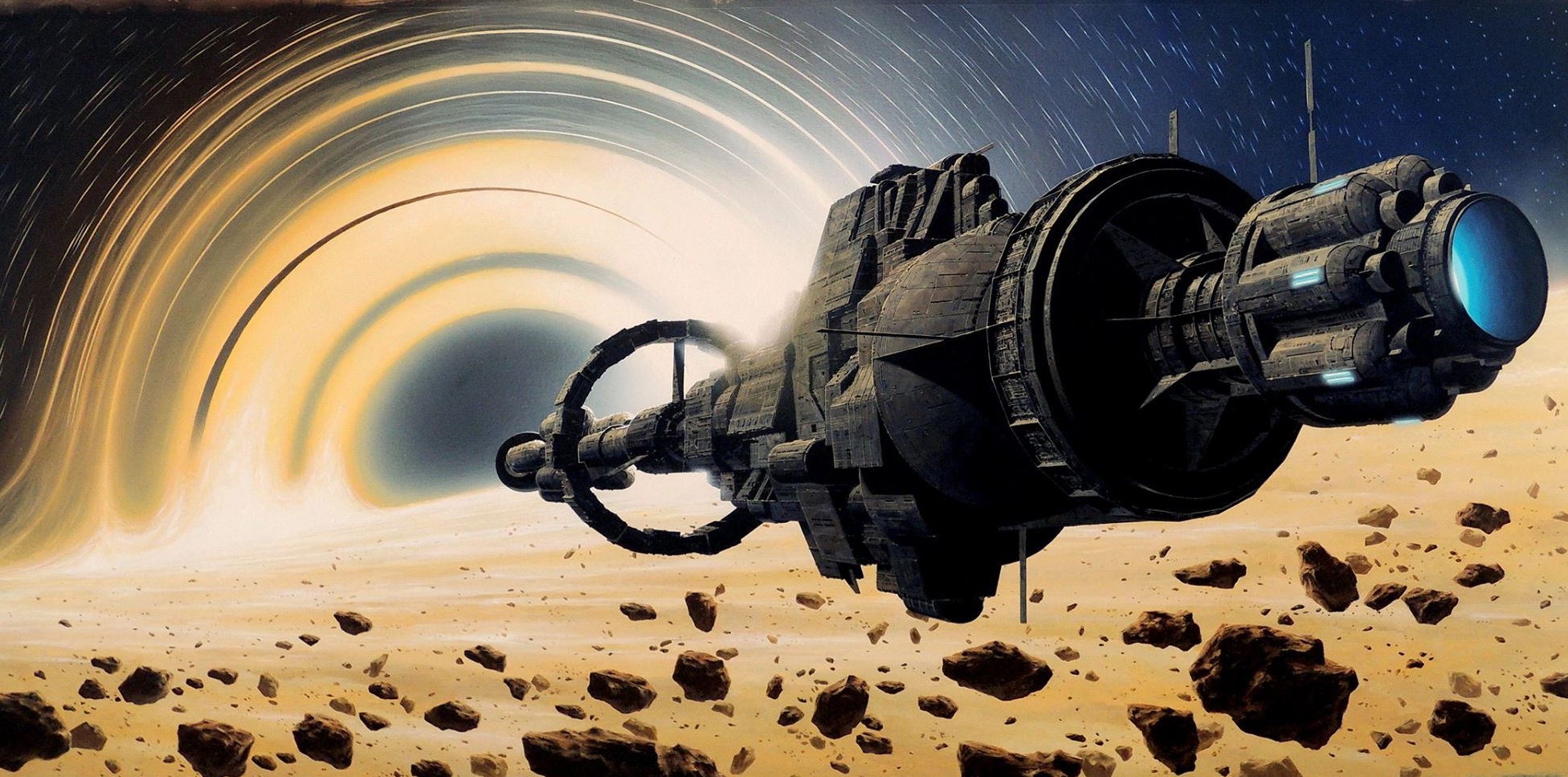 I like this enough to be using it as my desktop wallpaper; the design of the ship doesn't really map on to anything  in my own oeuvre, but in a moment of prescience Manchu seems to have nailed the setting of Freeze-Frame's climax.
At least, I hope it was a moment of prescience. Otherwise I'd have to conclude he was channeling "Interstellar". Which would carry, well, less-pleasant connotations.
This entry was posted on Thursday, September 29th, 2016 at 8:25 am and is filed under
art on ink
,
misc
. You can follow any responses to this entry through the
RSS 2.0
feed. Both comments and pings are currently closed.