Dumb Adult.
We didn't have "Young Adult" when I was your age, much less this newfangled "New Adult" thing they coddle you with. We had to jump right from Peter the Sea Trout and Freddy and the Ignormus straight into Stand on Zanzibar and Solaris, no water wings or training wheels or anything.
Amazingly, I managed to read anyway. I discovered Asimov and Bradbury and Bester at eleven, read Zanzibar at twelve, Solaris at thirteen. I may have been smarter than most of my age class (I hope I was— if not, I sure got picked on a lot for no good reason), but I was by no means unique; I only discovered The Sheep Look Up when a classmate recommended it to me in the tenth grade. And judging by the wear and tear on the paperbacks in the school library, everyone was into Asimov and Bradbury back then. Delany too, judging by the way the covers kept falling off The Einstein Intersection. Back in those days we didn't need no steenking Young Adult.
Now get off my lawn.
I'll admit my attitude could be a bit more nuanced. After all, my wife has recently been marketed as a YA author, and her writing is gorgeous (although I would argue it's also not YA). Friends and peers swim in young-adult waters. Well-intentioned advisers, ever mindful of the nichiness of my own market share, have suggested that I try writing YA because that's where the money is, because that's the one part of the fiction market that didn't implode with the rest of the economy a few years back.
But I can't help myself. It's not that I don't think we should encourage young adults to read (in fact, if we can't get them to read more than the last generation, we're pretty much fucked). It's that I'm starting to think YA doesn't do that.
I'm starting to think it may do the opposite.
Hanging out at last fall's SFContario, I sat in on a panel on the subject. It was populated by a bunch of very smart authors who most assuredly do not suck, who know far more about this YA than I do, and whom I hope will not take offense when I shit all over their chosen pseudogenre— because even this panel of experts had a hard time coming up with a working definition of what a Young Adult novel even was (beyond a self-serving marketing category, at least).
The rules keep changing, you see. It wasn't so long ago that you couldn't say "fuck" in a YA novel; these days you can. Back around the turn of the century, YA novels were 100% sex-free, beyond the chaste fifties-era hand-holding and nookie that never seemed to involve the unzipping of anyone's fly; today, YA can encompass not just sex, but pregnancy and venereal disease and rape. Stories that once took place in some parallel, intercourse-free universe now juggle gay sex and gender fluidity as if they were just another iteration of Archie and Betty down at the malt shop (which is, don't get me wrong, an awesome and overdue thing; but it doesn't give you much of a leg up when you're trying to define "Young Adult" in more satisfying terms than "Books that can be found in the YA section at Indigo").
Every now and then one of the panelists would cite an actual rule that seemed to hold up over time, but which was arcane unto inanity. In one case, apparently, a story with an adolescent protagonist— a story that met pretty much any YA convention you might want to name— was excluded from the club simply because it was told as an extended flashback, from the POV of the protagonist as a grown adult looking back. Apparently it's not enough that a story revolve around adolescents; the perspective, the mindset of the novel as artefact must also be rooted in adolescence. If adults are even present in the tale, they must remain facades; we can never see the world through their eyes.
Remember those old Peanuts TV specials where the grownups were never seen, and whose only bits of dialog consisted entirely of muted trombones going mwa-mwa-mwa? Young Adult, apparently.
Finally the panel came up with a checklist they could all agree upon. To qualify as YA, a story would have to incorporate the following elements:
Youthful protagonist(s)
Youthful mindset
Corrupt/dystopian society (this criterion may have been intended to apply to modern 21rst-century YA rather than the older stuff, although I suppose a cadre of Evil Cheerleaders Who Run The School might qualify)
Inconvenient/ineffectual/absent parents: more a logistic constraint than a philosophical one. Your protagonists have to be free to be proactive, which is hard to pull off with parents always looking over their shoulders and telling them it's time to come in now.
Uplifting, or at least hopeful ending: your protags may only be a bunch of meddlesome kids, but the Evil Empire can't defeat them.
Accepting these criteria as authoritative—they were, after all, hashed out by a panel of authorities— it came to me in a blinding flash. The archetypal YA novel just had to be— wait for it—
A Clockwork Orange.
Think about it: a story told from the exclusive first-person perspective of an adolescent, check. Corrupt dystopian society, check. Irrelevant parents, check. And in the end, Alex wins: the government sets him free once again, to rape and pillage to his heart's content. Admittedly the evil government isn't outright defeated at the end of the novel; it simply has to let Alex walk, let him get back to his life (a more recent YA novel with the same payoff is Cory Doctorow's Little Brother). Still: it failed to defeat the meddlesome kid.
So according to a panel of YA authors— or at least, according to the criteria they laid out— one of the most violent, subversive, and inaccessible novels of the Twentieth Century is a work of YA fiction. Which pretty much brings us back to 11-year-old me and John Brunner. If A Clockwork Orange is Young Adult, aren't that category's boundaries so wide as to be pretty much meaningless?
But there's one rule nobody mentioned, a rule I suspect may be more relevant than all the others combined. A Clockwork Orange is not an easy read by any stretch. Not only are the words big and difficult, half of them are in goddamn Russian. The whole book is written in a polygot dialect that doesn't even exist in the real world. And I suspect that toughness, that inaccessibility, would cause most to exclude it from YAhood.
In order to be YA, the writing has to be simple. It may have once been a good thing to throw the occasional unfamiliar word at an adolescent; hell, it might force them to look the damn thing up, increase their vocabulary a bit. No longer. I haven't read a whole lot of YA— Gaiman, Doctorow, Miéville are three that come most readily to mind— but I've noticed a common thread in their YA works that extends beyond merely dialing back the sex and profanity. The prose is less challenging than the stuff you find in adult works by the same authors.
Well, duh, you might think: of course it's simpler. It's written for a younger audience. But increasingly, that isn't the case any more, at least not since they started printing Harry Potter with understated "adult" covers, so all those not-so-young-adult fans could get their Hogworts fix on the subway without being embarrassed by lurid and childish artwork. The Hunger Games was first recommended to me by a woman who was (back then) on the cusp of thirty, and no dummy.
All these actual adults, reading progressively simpler writing. All us authors, chasing them down the stairs. Hell, Neil Gaiman took a classic that nine-year-old Peter Watts devoured at age nine without any trouble at all— Rudyard Kipling's The Jungle Book— and dumbed it down to an (admittedly award-winning) story about ghosts and vampires, aimed at an audience who might find a story about sapient wolves and tigers too challenging. It may only be a matter of time before Nineteen Eighty Four is reissued using only words from the Eleventh edition of the Newspeak Dictionary. We may already be past the point when anyone looking to read Twenty Thousand Leagues Under the Sea looks any further than the Classics Illustrated comic.
I know how this sounds. I led with that whole crotchety get-off-my-lawn shtick because the Old are famously compelled to rail against the failings of the Young, because rants about the Good Old Days are as tiresome when they're about literacy as they are when they're about music or haircuts. It was a self-aware (and probably ineffective) attempt at critic-proofing.
So let me emphasize: I've got nothing against clear, concise prose (despite the florid nature of my own, sometimes). Hemingway wrote simple prose. Orwell extolled its virtues. If that was all that made up Young Adult, even I would be a YA writer (at least, I don't think your average 16-year-old would have any trouble getting through Starfish).
But there's a difference between novels that happen to be accessible to teens, and novels that put teens in their heat-sensitive, wallet-lightening crosshairs. I know of one author who had to go back and tear up an adult novel, already written, by the roots: rewrite and duct-tape it onto YA scaffolding because that's the only way it would sell. I know a very smart, highly-respected editor who once raved about the incredible, well-thought-out plotting of the Harry Potter books, apparently blind to the fact that Rowling— her claims to the contrary notwithstanding— seemed to be just making shit up as she went along.[1]
A long time ago, a childhood friend named Stuart Blyth gave me the collected tales of Edgar Allen Poe for my tenth birthday. I loved that stuff. It taught me things— made me teach myself things, in the same way a Jethro Tull song a few decades later forced me to look up the meaning of "overpressure wave". I have to wonder if YA does that, if it improves one's reading skills or merely panders to them. I doubt that your vocabulary is any bigger when you finish Harry Potter and the Well-Deserved Bitch-Slap than when you started. You may have been entertained, but you were not upgraded.
Of course, if entertainment's all you're after, no biggie. The problem, though, is that it acts like a ratchet. If we only allow ourselves to write down, never up— and if the age of the YA market edges up, never down— it's hard to see how the overall sophistication of our writing can do anything but decline monotonically over time[2].
Who among you will tell me this is a good thing?
---
Late-breaking edit, 22/03/2016:  Courtesy of "Damon", about whom I know very little except that he's chosen an awesome ISP, Teksavvy, which puts him somewhere in my end of Canada. Apparently his buddies in the local bookstore have taken my insights to heart, and rearranged the YA section thusly: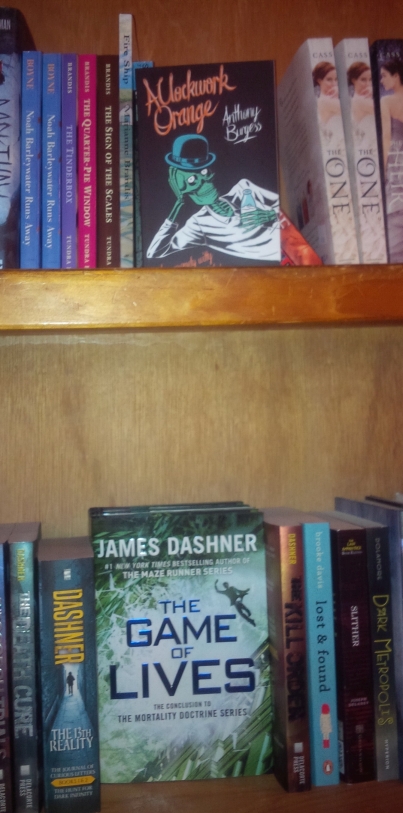 My work here is done.
---
[1] I mean, think about it: we have a protagonist whose central defining feature is the murder of his parents when he was an infant. And when he discovers that time travel is so trivially accessible that his classmate uses it for no better purpose than to double up her course load, it never once occurs to him to wonder: Hey— maybe I can go back and save my parents! This is careful plotting?
[2] This was one of the points I was trying to make a few weeks back when I announced my retirement from the word of adult fiction, and my new career as an author of stories written exclusively for preschoolers. That post was satirical, by the way, although I'm grateful to all of you who wished me well in my new endeavor.
This entry was posted on Tuesday, March 15th, 2016 at 9:33 am and is filed under
ink on art
. You can follow any responses to this entry through the
RSS 2.0
feed. Both comments and pings are currently closed.
171 Responses to "Dumb Adult."