And they call it… Puppy Love…
"It is not your business to determine how good it is, nor how valuable it is, nor how it compares with other expressions. It is your business to keep it yours clearly and directly, to keep the channel open."

—Martha Graham, as cited by Orphan Black's Tatiana Maslany in today's NY Times.
So as you all know, the Hugo noms are out. My first reaction was relief.
As reactions go, it was selfish even by my standards. I wasn't on the ballot, and I wasn't expecting to be: I expected to be crushed by better works in a year that was full of them. Gibson's first SF novel since the turn of the century. Leckie's much-praised followup to last year's home run. Scalzi. Liu. Walton. Weir, if they ever figured out the eligibility thing.
Vandermeer. Dear sweet Jesus, Vandermeer: I can't remember the last time something exploded across the landscape like that.
There was no way I was going to make it against those guys. Hell, Blindsight wasn't up against that kind of a slate back in '07, and it came in dead last even then. So I knew Echopraxia wouldn't come close; and further, that it didn't deserve to.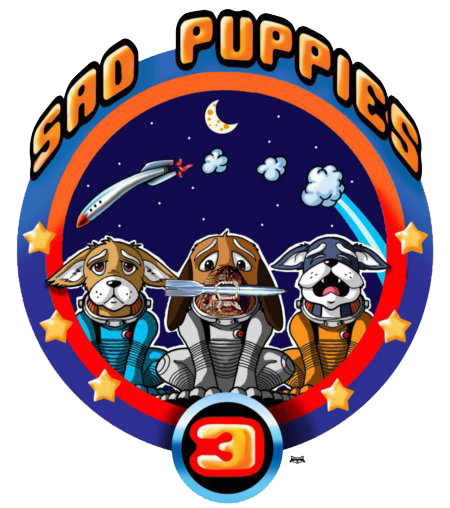 And then a funny thing happened; with Leckie as the lone exception, none of those other contenders made it to the finals either. Something to do with this Sad Puppies campaign I'd caught the occasional whiff of, but never really paid attention to. A bunch of right-wing Baen types, apparently, campaigning for a return to good ol'fashioned meat-and-potatoes SF in a world where all the awards were apparently going to noodly boring literary crap. I'm not sure I buy the puppies' analysis— a Harry Potter novel won a Hugo not so long ago, and you'd be hard-pressed to describe that as "literary"— but whatever.
The outcry was immediate and deafening. My Facebook feed continues to erupt with outrage and despair (Twitter too, I'm told, although I don't twit). Essays and post-mortems sprout like mushrooms across the blogosphere. The Hugos are all about politics now. The Hugos have lost all credibility. The barbarians are at the gate.
And yet, like I say: relief. It's one thing to know that you washed out because you flubbed the jump— but that ache of inadequacy vanishes like morning mist when even the superstars miss the same bar. The Sad Puppies have neutered the Hugos, turned them into the genre version of CBC's Bookies: awards, sort of, but hardly meritorious. I beat out Emily St. John Mandel for one of those; Caitlin beat Margaret Atwood. Does anyone think that actually means anything?
(On the up side, Leckie must be feeling pretty smug now; she's all-but-guaranteed another Best Novel rocket. And it's grand to see Mixon make the finals for Best Fan Writer on the strength of her RequiresHate takedown, especially since that particular troll is already spawning a new brood of brain-dead minions only too happy to outsource their critical faculties to L4.)
And yet, the more lamentations I read, the more I start to wonder if people doth protest too much. Have the sad puppies really done anything that hordes of authors don't do as a matter of routine, albeit on a smaller scale? Are we talking a change of kind, or merely of degree?
We all know the needy guy who opens every con panel he sits on by arranging copies of his books on the table before him, urging the audience to the merch room. During awards season it sometimes seems as if the only way to escape an endless barrage of FOR THE CONSIDERATION OF THE HUGO COMMITTEE and !!!THESE ARE MY ELIGIBLE STORIES!!! and ONLY TWO WEEKS LEFT TO VOTE FOR ME! is to rip your modem out of the goddamn wall. If you've taken a creative-writing night course taught by some hard-up midlister, you might even have come across an Aurora nomination form on your desk at the start of your last class, while your teacher smiles disingenuously and murmurs Technically I'm not supposed to do this but… Such incidents are legion, and every one of them reflects an attempt to get friends, fans, and strangers to vote for a work whether or not those folks have actually read it.
The thing is, we're encouraged to act this way. We're expected to: by agents, by publicists, by publishers who can no longer be bothered promoting their own authors. I know of one case where an agent explicitly refused to represent an author simply because that author wasn't pimping herself on Twitter. It's now considered unprofessional to eschew constant tub-thumping. Nobody takes you seriously if you don't stand out from the crowd— and the only way to do that, apparently, is by doing exactly what everybody else is doing, only louder. Which is how someone who markets herself as a Fearless Progressive Speaker of Truth to Power can beg off boycotting an event over a clear matter of principle by saying "Nah, I've got a book to hustle" with a completely straight face.
Pimpage comes first, ethics run a distant second, and the Sad Puppies are not the only gang to run under that flag.
In fact, if you squint a certain way you can almost see how the Sad Puppies' campaign is actually more honorable than the relentless self-promotion that's somehow come to be regarded as de rigeur in this business. Put their reactionary motives aside for the moment; at least the puppies were, for the most part, advocating for people other than themselves. All other things being equal, whose opinion generally comes seasoned with less conflict-of-interest: the foodie who raves about the little hole-in-the-wall she discovered last Friday, or the chef who praises his own bouillabaisse to the heavens?
Which is not to say, of course, that self-promotion doesn't work. It obviously does. (I don't know if anyone in the genre has won more awards than Rob Sawyer, and offhand I can't think of a more relentless self-promoter.) Then again, no one's really questioning the effectiveness of the strategy that's riled up the current teapot. It's the underlying ethics that seems to be at issue.
So, sure. If you're an end-justifies-the-means sorta person, then by all means decry the block who stacked the deck and got-out-the-vote in pursuit of their antique right-wing agenda; praise the more progressive folks who try to get you to eschew straight cis white male writers for a year. But if the road matters to you as well as the destination, don't lose sleep over the fact that the bad guys played a better game this time around.
Give a thought to the rules that promote such strategies in the first place.
This entry was posted on Sunday, April 5th, 2015 at 7:31 pm and is filed under
ink on art
. You can follow any responses to this entry through the
RSS 2.0
feed. Both comments and pings are currently closed.