Bedlam and the Bookies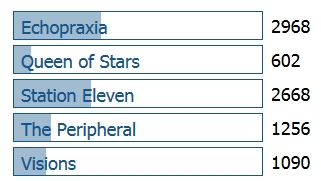 So it's official. As of Tuesday— and as most of you probably know already— Echopraxia won the CBC's "Bookie Award" in the "Best SciFi, Speculative Fiction, or Fantasy" category, beating out Emily St. John Mandel's Station Eleven by (as of the close-to-midnight screen grab to the right) 300 votes. It was a much closer race than it should have been, and— judging by all the accolades heaped on the runner-up— it probably went to the wrong novel in terms of literary merit.
Of course, the CBC makes no claims of literary merit on this thing; they refer to the Bookies as a "People's Choice" award, which is a different thing entirely. Even by that metric, though, I don't see Echopraxia beating out an honest-to-God best-seller with over a thousand reader reviews on Amazon. What the Bookies really measure is total fan effort, with no attempt at per-capita parsing. A thousand votes represents the effort it took to click through an arcane menu one thousand times, and the algorithm makes no distinction between a thousand fans doing that once or one really dedicated fan (or author, for that matter) doing it a thousand times. A number of you voted more than once, which might give one ethical qualms if only the folks over at the CBC weren't so obviously okay with that. I always said my fan base was small but fierce. Echopraxia's win is Exhibit A, delivered with my thanks. When the certificate arrives, I will stick it next to Caitlin's.
But while we're on the subject of Things With Questionable Credibility That Are Nonetheless Nice To Have, I'd like to take this opportunity to share a few glimpses of a birthday gift I recently received from someone who obviously appreciates my interest in the neurological sciences. I'm talking about Mental Medicine and Nursing by Robert Howland Chase A.M., M.D.: a century old,  yet so seminal a work that it's still available as a Classic Reprint (which probably puts it ahead of any recent Bookie winner you could name in terms of street cred, although I suppose we'll have to wait another hundred years to be sure). Chase was both a skilled wordsmith and an informative teacher, as you can tell from some of these diagnostic illustrations:
I had not realized, for example, that the difference between religious and erotic paranoia scaled to beard length.  It's also interesting to note that alcoholics always keep one hand in their pockets, while victims of delirium can be diagnosed by being women. And the illustration of that poor soul in the throes of "maniacal excitement" is downright scary.
Not that Mental Medicine limits itself to diagnoses, mind you. It also describes some truly remarkable remedial techniques:

I'm especially impressed by the therapeutic applications of knitting.
Of course, all of this stuff was written before the Singularity, and all the advanced knowledge we have today.
Kinda makes you wonder how hard they'll be laughing at us a hundred years from now.
This entry was posted on Thursday, February 26th, 2015 at 11:46 am and is filed under
misc
,
writing news
. You can follow any responses to this entry through the
RSS 2.0
feed. Both comments and pings are currently closed.