Blurbs and Bufo
Blurbs are Reborn.  Looking at about a dozen advance reviews so far, all pretty glowy except for the Register piece which found Echopraxia plotless.  Even they used the word "brilliant", though.  Fingers crossed.
Just last night, the LA Review of Books posted an insanely detailed review— more of an essay, really, the kind of thing you might find in the NY Review of Science Fiction if that's still around— by Steven Shaviro. I think he may have coined the phrase "ferociously intellectual pulp", but even if he stole it, it's gold.
Also Alyx Dellamonica sings the Hallelujah Chorus over at Tor.com.  There's mastodon-sized conflict-of-interest when Tor.com reviews Tor releases, and it swells to cachalot-sized when the Tor.com reviewer is bound to the Tor author by years of friendship and a mutual love of cats, so I felt obligated to point out the relationship on the Blurbs page where I posted the quote. And yet, the synopsis Lexus lays out is so engagingly wry that I can't read it without seeing her sitting across the barroom table from me, drink in hand, one corner of her mouth tugged into a sarcastic little half-smile. Her précis might be better than the book.
Anyway: off now for a shave and shower, well-deserved after all these days of nonstop motion, and time to catch a breath before the AMA starts over on Reddit. Let me just leave you with his: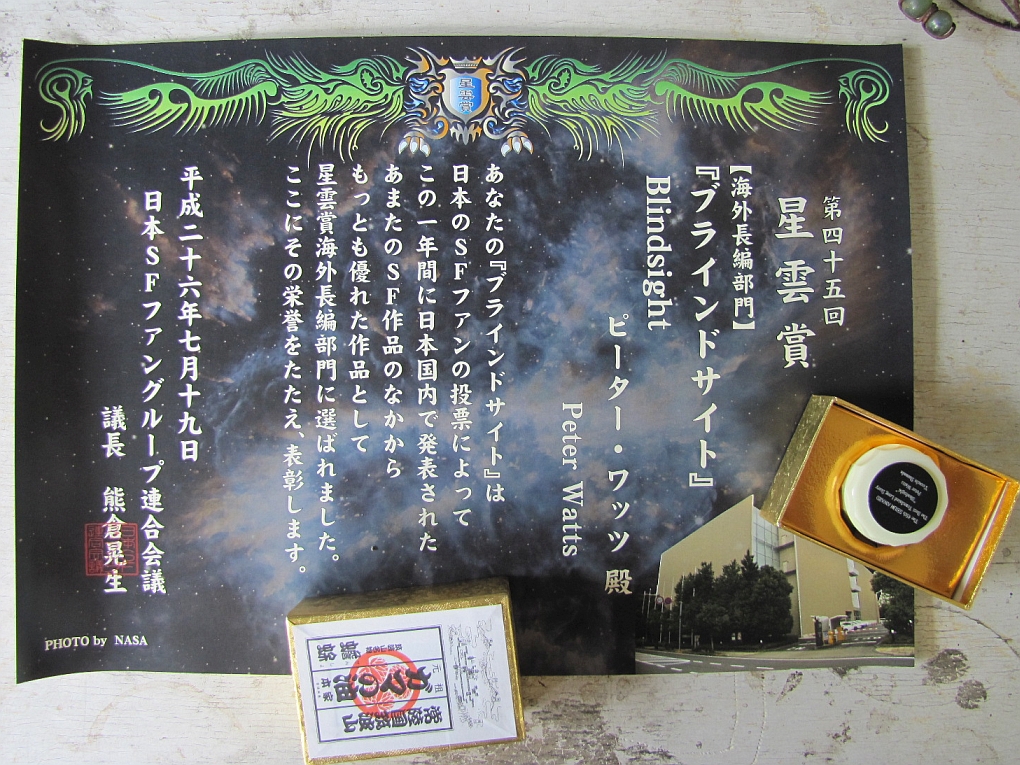 It's my Seiun for Blindsight, collected at Worldcon on my behalf by Patrick Neilson-Hayden and Caitlin Sweet. The certificate is pretty self-evident.  But it came equipped with that little vial in the box— which, I am told, is "toad grease".  Apparently it's a product of the local economy in the Japanese town hosting the con at which the award was originally bestowed. I believe it's supposed to have medicinal properties.
It is definitely grease of some kind. I do not know if it actually contains toad, or if it is truly medicinal. Perhaps, the next time we have uninvited guests, we can try it out.
This entry was posted on Tuesday, August 26th, 2014 at 2:10 pm and is filed under
public interface
,
reviews
,
writing news
. You can follow any responses to this entry through the
RSS 2.0
feed. Both comments and pings are currently closed.
57 Responses to "Blurbs and Bufo"