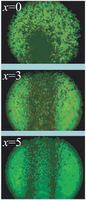 Okay, now here's a paper to kick your paradigms a little off-kilter: self-replicating, mutating complex structures built from inorganic dust, kick-started into a form of rudimentary "metabolism" by charged plasmas.
For want of a better word, Life. Inorganic life. Spawned from starting conditions reasonably common in deep space, if I'm to believe the commentary.
Of course, the results are just out, and so is the jury. We don't want to get too carried away; lots of nonliving structures superficially resemble life in a variety of ways (ball lightning, Fox's microspheres from the fifties — I even wrote a children's story once premised on the thought that fire might be considered a life form under the right circumstances, although the logic of that argument was about as feeble as the story itself). And for every thought-provoking Hoyleian thought-experiment into sentient clouds, there are ten third-rate episodes of Star Trek and Space: 1999 that trotted out the ol' energy-being trope for no better reason than that a blob of blue light was even cheaper to render than a guy in a rubber mask. There's a certain hokey taint to the whole concept.
Still. Those of you who read Maelstrom may remember the definition "Self-replicating information shaped by natural selection", based on (and slightly mutated from) a line I stole out of Dawkins's Blind Watchmaker. Tsytovich et al's "inorganic living matter" seems to meet that standard, at least. And since I'm presently gearing up to build a deep-space lifeform or two of my own, I for one welcome the arrival of our new dustbunny overlords…
6 Responses to "We Don't Need No Steenkin' Carbon"