Goodreads Giveaway; ActuSF Interview; Ponies in Pith Helmets.
So I'm back, and only slightly jet-lagged, and there are a million things to do and a proper look back at Nantes would take more time than I'll have for the next day or so.  If you don't want to wait to check out the Great Elephant, drop in on Caitlin's facebook album. If you can stomach being on facebook.
Meantime, the pub date for Beyond the Rift kinda snuck up on me; I got back into town to discover that i09 gave it another boost in it's November reading list, and Tachyon is doing some kind of ARC giveaway thingy over on Goodreads. I don't know what exactly  happens when you click the "Enter to Win" button, but as of this writing you've got about 18 hours to find out.
One thing I do have time to mention about Utopiales is that I spent a couple of weekend hours in a little cubby doing interviews. I'm not sure when or where they'll all be appearing— a couple of days back someone went on twitter to deliver the Peter Watts quote "All animals are assholes" with the promise of More To Come, so at least one of them is still in the works— but ActuSF has already Youtubed their interview with me. The last installment of the rifters trilogy has just come out in France, so the interview deals more with those early works than you might expect for 2013.  Some of you might be interested, if for no other reason than to see how goofy my hair looked last Sunday.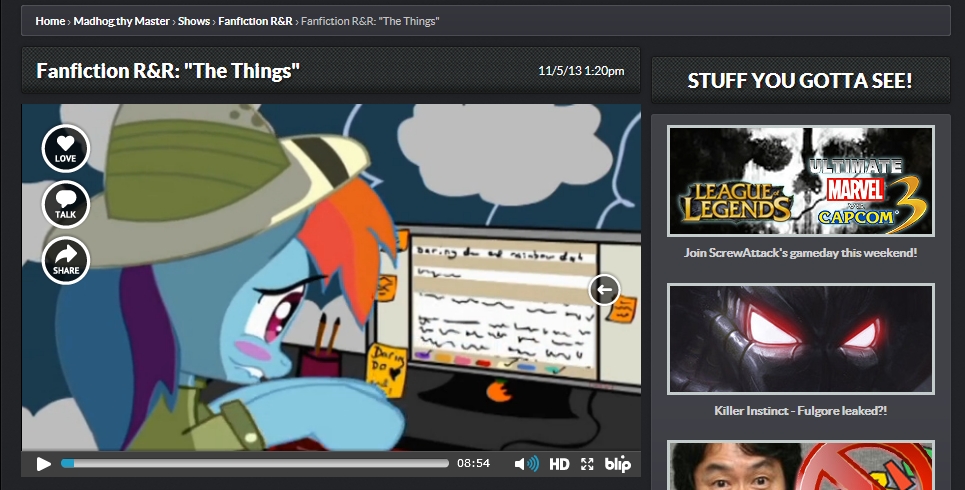 Finally, I stumbled across something called Fanfiction R&R, a site at which an animated blue pony in a pith helmet devotes eight minutes to a combination critique/analysis/performance of "The Things", while clips from Carpenter's movie play on screen. Features a  bonus a capella performance of Ennio Morricone's soundtrack.
I don't know if it's art, but I like it.