A Hot Time in the Ol' Town Tonight.
Going over the galleys for Beyond the Rift. Most of these stories I haven't read since I first wrote them— which means I'm revisiting some of them for the first time in almost a quarter century. Some stand up.  Others, not so much.
"Flesh Made Word", for example. Third story I ever got published. Got nominated for some dickass Canadian literary award. My earliest neuropunk, and not a bad thematic punchline in principle— but yuck. Overwrought and emo. Like Lisa Simpson's Meditations on Turning Eight, but without the funny or endearing bits. And the neuro elements were — clunky, to say the least. Anyone interested in tracking my development as a writer through the years might find it valuable as a kind of Wattsian proto-story, containing the crudeiments of themes later explored with greater sophistication.  Revisiting it after all these years, though, I have to wonder why Tachyon chose to include it in a collection presumably meant to be read for pleasure.  I console myself with the thought that Everyone's gotta start somewhere. ("Nimbus", on the other hand, dates from about the same time and is also kinda emo— but fares a lot better, IMO.)
In contrast with the past, the future is somewhat brighter. Behold the cover art for Echopraxia, courtesy of one Richard Anderson: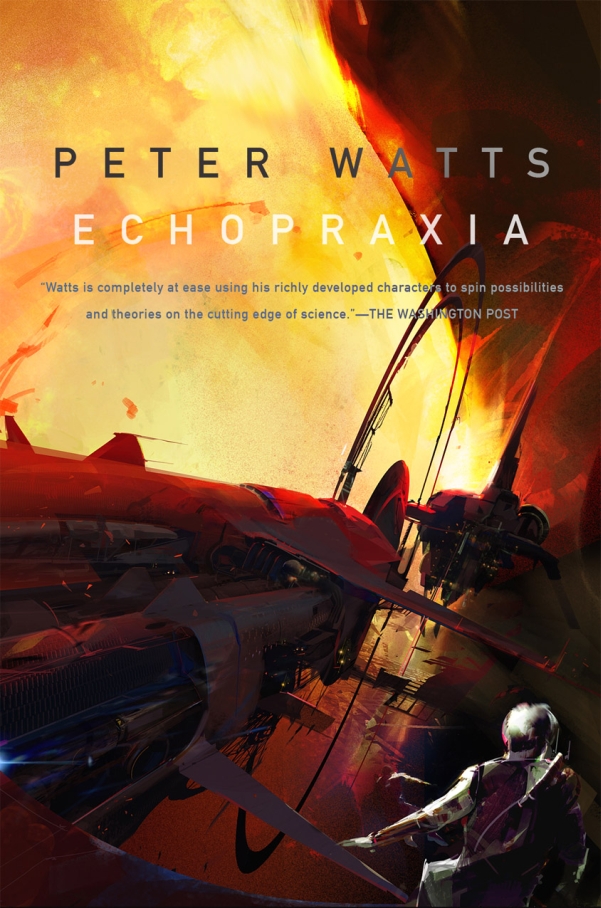 I could quibble over matters of technical consistency— whether a guy in a spacesuit could survive that close to the sun without frying, whether the ship in the painting looks like the ship in the book— but you know what? The ship in this painting looks better than the ship in the book. And I couldn't care less about anal-retentive nuts and bolts when the overall aesthetic of the cover works so well. We are going to the Sun, rs and Ks.  Whereas the last time out we froze in the infinite Lovecraftian darkness of the Oort, now we are diving into the very heart of the solar system— and man, there's gonna be a hot time in the ol' town tonight. That's what this cover says.
I love it.
This entry was posted on Friday, September 27th, 2013 at 4:06 pm and is filed under
Dumbspeech
,
ink on art
. You can follow any responses to this entry through the
RSS 2.0
feed. Both comments and pings are currently closed.