A Terminator with Training Wheels
So I was going to treat you to another fiblet today, but when you intersect previously-unposted excerpts with spoiler-free excerpts the overlap drops down into the single digits and the piece I wanted to post still needed a bit of work anyway (too many colons).  Which is what I was working on before this happened: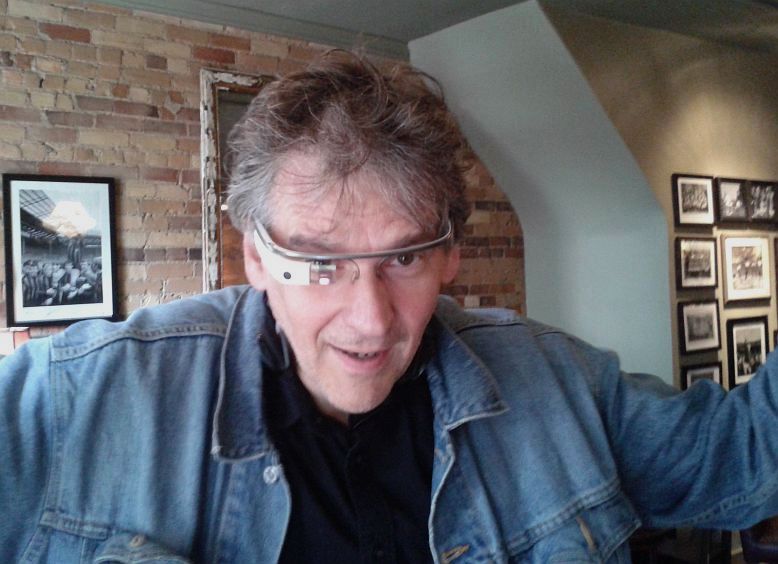 Yes, that is the Queen & Beaver in the background. Yes, that is a Glass from Google clinging to the bridge of my nose. I am told that they are not yet available in Canada.  It was just my fine luck that Brad Templeton happened to bring his up from the states and wear it to our lunch date.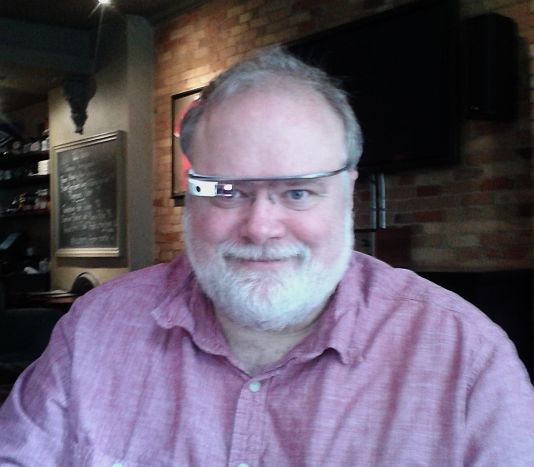 It was a mixed experience. The display itself was wonderfully crisp — it felt a little like being a terminator on training wheels — but the Queeve has the self-proclaimed Worst Internet Connectivity In The World, so any tactical intel beyond Brad's own life-log amounted to an icon of a Cloud with a sad face lamenting "WiFi Unavailable".  On the other hand, it was kind of nice to know that we were lunching in one of the few spots on the planet where the NSA's grabby grimy fingers couldn't quite reach. And the control interface, one you got used to sweeping forward to go backward, was a joy.
For all the hype and hate this thing has garnered, though, Brad's thumbnail description of Glass's functionality was refreshingly modest: it is, he says, something you use when it's too much trouble to dig out your cell phone. There's nothing GG can do at this point that a phone can't do better (except actually cling to your face, I suppose— and even that advantage would be lost the moment Glass went up against a phone with a bit of duct tape stuck to its back).  There's a whole volume of commentary embedded in that description — in the implication that we'll happily spend hundreds of dollars to avoid the onerous inconvenience of actually reaching into our pockets — but then again, that's just the kind of wry insight you get when you hang out with this guy. (Another example,  less welcome but more necessary, is that something I read in Discover magazine about driverless cars back in 1992 was probably bullshit.  Which means I now have to rewrite a chunk of my Finncon talk for next month. Great.)
Lunch was about four pints long (all mine, surprisingly; how can Brad Templeton not like beer?). After which I had to move up the street to the Duke of Somerset, where the BUG and I have our weekly Writing-and-Wine Thursdays. I was planning on selecting a fiblet during that interval, but somehow we ended up getting drawn into an extended tearful reminiscence over Flea the Raccoon. Then we went home and watched Game of Thrones until we passed out.
So here it is, Friday morning, which means I barely have time to finish the "Golden Showers: Forbidden Lust"  slide for Finncon before I start my final passthrough on Echopraxia.  So let me leave you not with a fiblet, but with an image Fata Libelli just posted to "capture the spirit" of their Peter Watts Interview, Part One:
I previewed one of those questions a couple of weeks back, here on the crawl.  It was about life.
You can see the connection.
This entry was posted on Friday, June 14th, 2013 at 6:38 am and is filed under
interviews
,
public interface
,
relevant tech
. You can follow any responses to this entry through the
RSS 2.0
feed. Both comments and pings are currently closed.