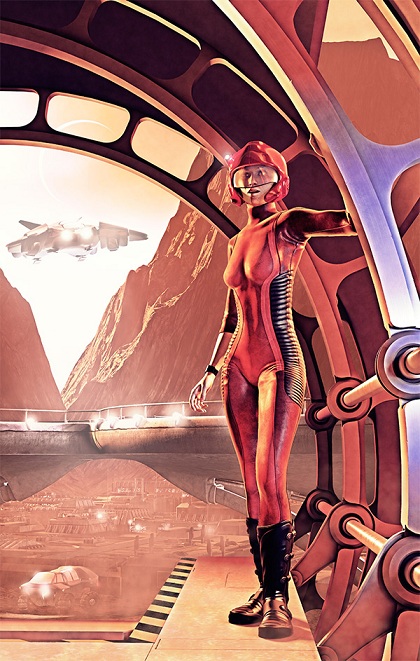 Okay, I can come up long enough for this. Pimping and tub-thumping never takes more than a few minutes.
You know that new Eriophora story I've been fibletting recently?  I'm now free to announce that it'll be making its appearance later this year in an anthology entitled Extreme Planets: A Science Fiction Anthology of Alien Worlds edited by David Conyers, David Kernot and Jeff Harris. The whole production is an Anglointernational effort: the editors are Australian, the cover artist is English, and the publisher is USnian (Chaosium, out of California, and evidently one of the Grand Old RPG companies).
The official announcement is over here. The cover art is to the right (although one assumes that the planets behind the cover are a bit more extreme than the one on it, what with the apparent earth-type gravity and nitrox atmosphere). And the Table of contents is below:
"Banner of the Angels" by David Brin and Gregory Benford
"Brood" by Stephen Gaskell
"Haumea" by G. David Nordley
"A Perfect Day off the Farm" by Patty Jansen
"Daybreak" by Jeff Hecht
"Giants" by Peter Watts
"Maelstrom" by Kevin Ikenberry
"Murder on Centauri" by Robert J. Mendenhall
"The Flight of the Salamander" by Violet Addison and David Smith
"Petrochemical Skies" by David Conyers and David Kernot
"The Hyphal Layer" by Meryl Ferguson
"Colloidal Suspension" by Geoff Nelder
"Super-Earth Mother" by Guy Immega
"Lightime" by Jay Caselberg
"The Seventh Generation" by Brian Stableford
Thanks to my own limited awareness of such things, I'd just kind of assumed that this was a small-to-middling project featuring small-to-middling names.If I'd known it was going to feature the likes of Brin, Benford, and Stableford I would have been a lot more scared about getting involved.
Too late now.
16 Responses to "Going to Extremes"