When Mirror Neurons Go Bad.
A brief, totally context-free excerpt from "Hive Minds and Mind Hives", the talk I'll be presenting this Sunday at the SpecFic Colloquium. I'm told that as of several days ago only four tickets remained unsold, so anyone who hasn't already signed up is probably SOL: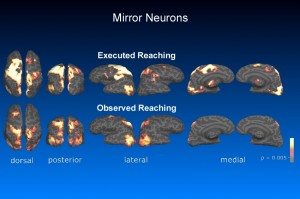 Mirror neurons think outside the skull by definition. They're a kind of monkey-see-monkey-do circuit: they fire both when you do something, and when you see someone else doing the same thing. I drink a beer, certain mirrors fire. I watch you drink a beer; the same neurons fire, even though I'm not moving. It's been suggested that mirror neurons are essential to developing a theory of mind, to empathy, to consciousness itself — Ramachandran's all over them in that last context.
But sometimes mirror neurons go bad. Normally they just fire quietly to themselves when they see someone else doing something. In victims of echopraxia, however, those signals run right down the motor nerve to the muscles and force the body to follow suit. Echopraxiacs are compelled to mimic actions they see others performing.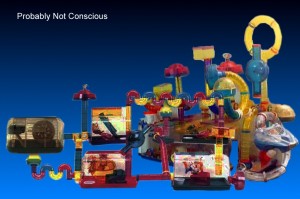 Interesting implications follow from this. If you want to kill someone suffering from Echopraxia, lure him onto the roof of a skyscraper and get him to stand ten meters from the edge. You stand twenty meters back, then run fifteen meters forward. What you've done — beyond turning your victim into street pizza — is send an instruction set along an optical channel. He receives it through his eyes, but it might as well be fiberop for all the difference it makes. He processes that packet, and executes it; if another echopraxiac happens to be standing nearby, the very act of executing the instruction set also serves to pass it on.
What you've done, in other words, is turned the poor bastard into a node in a wireless network.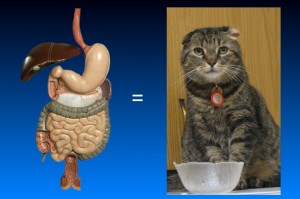 Now hang on, you're saying. Echopraxia is very cool and all, but how is this any different from what any of us do when we read the instructions on how to fill out our tax forms, or submit to an anal probe at the hands of your friendly neighborhood border guard? You're receiving external commands then too — and you have about as much choice in the matter as echopraxia would give you — but nobody tarts up such routine activities in network jargon. The difference is, again, latency. It takes time to read and process written instructions, time for the guy with the truncheon to describe how he wants you to drop your pants and bend over. Echopraxia's a lot faster than that; the packet transmits at lightspeed. The bottleneck step is the rate at which your motor nerves fire.
Echopraxia is proof-of-principle that we can not only become nodes in a network, but that such a meat-containing network might be fast enough to start doing things on its own, independent of the wishes of the meat itself.
This entry was posted on Friday, October 26th, 2012 at 1:51 pm and is filed under
neuro
,
public interface
. You can follow any responses to this entry through the
RSS 2.0
feed. Both comments and pings are currently closed.