Sealing Fate
I've got a soft spot for seals. Back in the day I built a fair bit of my truncated biology career on the little beach maggots; Pacific harbor seals formed the very heart of my doctoral thesis, in fact (Attila, Thalidomide, and Strangway: I salute you, wherever you ended up). They even netted me a modicum of unwarranted international recognition when New Scientist, covering a paper I'd put out in the Canadian Journal of Zoology, misplaced a decimal point and attributed unto me the discovery that a harbor seal's core temperature can rise by 15°C in ninety minutes. (I subsequently wrote a paper on spontaneous combustion in harbor seals, but for some reason it never got past peer review.)
The next time I rose to any kind of prominence, it was over my involvement in a documentary on the seal-fisheries conflict on Canada's east coast.  I'm not going to name that documentary, because it was cheesy and one-sided:  I was free to call bullshit on the Canadian government, but forbidden from doing the same to IFAW's Brian Davies (who was no less full of shit, but who happened to be holding the purse-strings). I nearly quit my post-doc over that.  Still, it won a couple of awards and the usual government stamp of "antiCanadian Propaganda", which was especially delicious in light of the fact that one of those awards had been bestowed by the Canadian gummint (albeit a different branch than the guys running the seal hunt).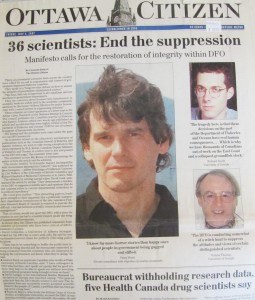 A few years after that I signed a scientists' petition publicly calling on the Canadian government to stop censoring their own biologists; mine was but one name of many but I ended up on the front page of the Ottawa Citizen anyway, which got me a hushed phone call from a civil servant friend in Ottawa telling me not to expect anyone out there to answer my calls for the foreseeable future. (No skin off my nose: I'd already moved on to more overt forms of science fiction by then.)
Bottom line, I've had a fair bit of experience both with phocid seals and with the federal institutions that claim to "manage" them.  So when I read that a new strain of mutated avian flu took out 162 harbor seals along the New England coast — and that that interspecies jump massively amps up their threat to Human health — let's just say I'm not primarily worried about what H3N8 is going to do to the citizens of Maine. I'm not even worried about what H3N8 is going to do to the seals.  I'm worried about what people are going to do to the seals, using H3N8 as a pretext.
A bit of context.  As early as the nineteen seventies, Canadian fisheries biologists were warning anybody who'd listen that the North Atlantic cod stocks had been massively overfished and were in danger of imminent collapse if fishing quotas weren't cut back. One of those listening was a bellicose fucktard by the name of John Crosbie, who would later go on to become Minister of Fisheries and Oceans: his response to said scientific expertise was to dismiss it as "demented". (Although to be fair, at least he responded; most of his fellows in Cabinet just hummed real loud and pretended not to have heard.)
Of course, with the turn of the nineties the bottom dropped out of the North Atlantic cod population. Suddenly half the Maritimes were out of work.  The politicos swung into immediate action looking for someone to blame: foreign overfishing (although foreign interests only had access to a negligible 2% of the Grand Banks); the scientists, who really should have raised some kind of warning (in his autobiography Crosbie blamed federal biologists for "playing God" and assuring their blameless political masters that there was nothing to worry about); and those safest of scapegoats, seals, whose ravenous depredations had obviously driven the Atlantic cod population to commercial extinction. Something really had to be done about them.
It was (and is) certainly true that seals eat fish.  It was not true that they consumed significant quantities of cod. Cod made up only about 4% of their diet; the rest was trash fish of little or no commercial value. (One government study which purported to show a greater impact proved to have been founded on a misplaced decimal point which overestimated seal consumption by an order of magnitude. You'd be surprised how often that happens.) Of course this was besides the point, which was that seals can't vote, or even talk back1. Unemployed Newfoundlanders, on the other hand, can do both: and what pandering politician has the balls to tell his constituents that they've really got no one to blame for this mess but themselves?
Scapesealing was especially welcome insofar as Canada's traditional whitecoat hunt was seriously on the rocks after decades of being hammered by Brigitte Bardot and Loretta Swit and all those inconvenient cameras on the ice showing seal pups being skinned alive. If you couldn't justify a hunt to supply a nonexistent European market, you could always justify it by citing Nature itself — which had been "kept in balance for hundreds of years by the seal hunt" as John Crosbie pointed out, and which was now in danger because the hunt had been so radically scaled back.  (Let us give thanks that the Europeans showed up when they did; it's a wonder the cod hadn't been utterly destroyed by all those tens of millennia of phocine rapacity that preceded our intervention.)
Anyway. The cod were commercially extinct. The feds belatedly put a moratorium on a species that nobody could catch anyway, and waited a few years for the stocks to rebound. The stocks hadn't done that by the mid-nineties, when our Minister of Fisheries emerged from a conference on the plight of ol' Gadus with a smile on his face and happy news on his tongue: the cod were well on their way to recovery, and there was no reason not to lift the moratorium and get back to business as usual. (A friend of mine, a fisheries biologist out of Memorial, shook his head when he told me that: "We'd  just gone through three days of research talks all saying that the cod were still on the rocks," he said. "We were all, like, What conference was he at?")
Good times, the nineties — or at least, interesting ones. An FoI request tendered by a group I was working with yielded an internal government memo acknowledging that their own data showed no evidence of  a significant seal/cod impact, and emphasizing the importance of keeping such information out of the public domain.  Fisheries and Oceans decided to stop referring to the cod worm by its real name and rechristen it "seal worm" instead, to increase the villainy quotient of harps and greys. (The seal huggers responded with a brilliant judo maneuver in which they threatened an ad campaign warning consumers away from worm-infested Atlantic cod — an inevitable corollary of the Feds's seals-infect-our-cod schtick.  Don't remember how that one shook out; I think maybe both sides stood down.)  Somewhere in there, responding to public outrage over the fact that the harp seal hunt killed "baby" seals, the feds reclassified any harp greater than two weeks old as an "adult".  And so on.
Keep in mind, though: these were the good old days. This was a time when politicians were merely indifferent to science, not actively hostile to it. This was before we had an evangelical Christian Prime Minister who systematically dismantled scientific institutions not out of convenience but as a matter of  basic principle; before we had a Minister of Science & Technology who regarded evolution as a religious belief (and who then, backing down on the issue, cited Humanity's use of sunscreen, running shoes, and high heels as examples of Evolution In Action). In the nineties, only the shameless opportunists ran the asylum: now it's the fucking lunatics.
So when I see a paper that blames grey seals for increased cod mortality showing up in the National Post before it's even gone out for peer review, I know that happy days are here again. When industry flacks use that to advocate for a bigger cull even as more-qualified folks (i.e., actual marine mammalogists) point out the flaws and biases in such research, I know they've never left. And when some new killer flu jumps from birds to seals, I don't just see the usual concerns about human vulnerability. I see a brand-shiny-new excuse to scape the same old goat:  a kill not predicated on the Balance of Nature this time around, but  on that safest, most inane, and most effective of political slogans.
Won't someone think of the Children?
If the Tories haven't already seized on this, it's only because they don't read the science columns.
21 Responses to "Sealing Fate"