Award, Artefact, Apparition

Two things on the agenda today, the first being a brief announcement: apparently Crysis: Legion has made the finals for some kind of award called the Scribe. It's handed out by the International Association of Media Tie-In Writers, in categories that include original works and adaptations, general fiction and speculative.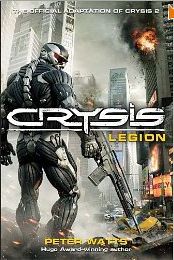 Legion's been nominated under the "Best Adaptation/General or Speculative" category, and it's the only game adaptation in the running. It's up against three movie novelizations (Conan the Barbarian by Mike Stackpole, Transformers: Dark Side of the Moon by Peter David, and Cowboys & Aliens by Joan D. Vinge). I rather suspect this kills my chances, or at least kicks them into a coma. All those other guys been doing this tie-in thing for bloody decades, for starters, while I am the merest noob. Also it's trivially easy to weigh a movie tie-in against its source material; just sit back and watch the movie. Can't really expect the jury to play an FPS for twenty hours just to figure out which parts of the book are invention and which are mere dictation. Which is a minor shame, since there is a fair bit of original stuff in C:L , and — while I wouldn't have described it as an award-winner — given the constraints of the form, I was pretty happy with the way it turned out.
Given that I didn't think of it as an award-winner, though, the fact that it's at least an award nominee is tres cool. I am pleased.
*
Don't get the wrong idea: the following images are for reference purposes only. They are not presented with any erotic intent:
A few weeks back, pursuant to an ongoing investigation into which of the cats was leaving pungent little puddles o'pee outside the litter box, I installed a motion-sensitive webcam down in the laundry room. Although I identified the culprit in short order (it turned out to be Caitlin, surprisingly), I never got around to uninstalling the little gizmo. There's something curiously compelling about watching various felines taking their respective dumps up in the corner of your monitor; something about it reminds me of the writing profession in general, perhaps. At any rate, the camera remains active and alert; which is how it collected the following top-to-bottom infrared sequences when, well, whatever-this-is came calling:
| | | |
| --- | --- | --- |
| May 20, 0716 | May 22, 0838 | May 22, 2136 |
| | | |
This is not a cat. Even if a couple of these shots look like they might be cat tails in motion, it's pretty obvious that none of the Gang sport a tail consistent with these images. (I might have written them off anyway, if not for that full-body shot on the left)— and that one in the middle was taken when all the cats were upstairs snarfing anyway. Also the camera saves images at 1-sec intervals, before and after it detects motion; when cats show up they hang around in frame for anywhere from five seconds to five minutes. The bogie just suddenly appears one frame and vanishes the next, boo-bang-bye.
A few details of setting: one small window across the room, facing north, in constant shade. This is not a lens flare or any kind of reflected sunlight (at least, not unless someone's sneaking into the back end of the back yard with a parabolic mirror in hand). No one else downstairs during the events. So far the unknown has shown up in the morning and at night (we've never caught it in real time; I don't find out about it until I open Thunderbird and see the snapshots Littercam has e-mailed to me after the fact). I'd be tempted to think that we're dealing with the tortured spirit of a sheet of Bounce, torn violently to shreds by some playful cat and now haunting the laundry room, except for the fact that a) we don't use Bounce, and b) anti-static dryer sheets don't have immortal souls.
So, what do you all think? Anybody seen anything like this on a webcam before? Is this an artefact, or an apparition?