The Least Unlucky Bastard.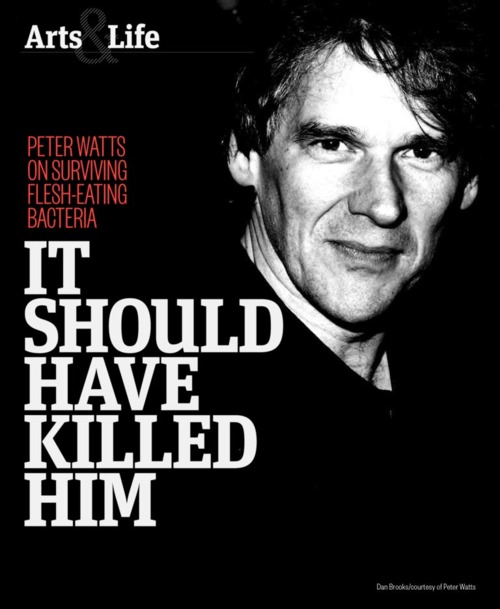 That was my choice of title when The Daily ("a first-of-its-kind daily national news publication built exclusively as an application for tablets and other emerging digital platforms"—who knew?) asked me to dig up FleshFest '11 for another kick at the can — the difference being that I'd get paid for it this time around. Aimee Copeland has put necrotizing fasciitis onto the public radar with the kind of profile usually reserved for shark attacks. It appears to be on some kind of North American tour: it played South Carolina earlier this month, made a surprise appearance in Galveston just yesterday. The current frenzy seems to be a largely US phenomenon, but I remember a couple of other cases up here in the GTA over the past year or so. One ended in death; the other left its victim a quadruple amputee. And Aimee Copeland? The last I'd read, they might still be cutting pieces off of her.
Me? I got a sexy scar on my leg and something to talk about at parties. Not lucky, I wrote for The Daily; none of we flesh-eaten are lucky. But I've got to be the least unlucky bastard alive.
Which I thought would make a good title; barring that, I suggested "Vagina Boy". But the title they went with was
I SURVIVED FLESH-EATING BACTERIA
One Man's Near-Death Experience With The Disease Of Your Nightmares

which, okay, certainly gets the point across.
So check it out. Download the tablet edition if you can (for some reason all the italics got stripped from the web version — which dilutes the impact a bit — but I'm told they survived in the iPad iteration). It's not precisely what I wrote (the occasional phrase has been turned by the editors here and there), but it's pretty damn close. And at a buck a word, they could have rendered it in Sanskrit for all I care (turns out I can be bought). There are pictures, although most of you will have seen them before. There's even a video; they webcammed me for twenty minutes as I rambled about everything from beers to base-pairs, then somehow managed to whittle it down to a tight minute-and-a-half that actually makes me look coherent. (Maybe a bit sensationalistic there at the end, but then again maybe that was just me.)
Anyway. There you go. Everything old is new again.
Moving on, here's another title I'd have liked for the current Mind Meld over at SF Signal:
BLAMING THE VICTIM:
Why It's Our Fault That Science Sucks
except it doesn't really work because we're not actually being victimized, except maybe by one scientist who (according to Neal Stephenson) attributes a perceived dearth of scientific innovation to a lack of sufficiently inspirational SF. (I myself might be more inclined to attribute that to the fact that science is increasingly funded by corporate interests rather than public ones, but whatever.) So the actual title they went with — Is SF Still the "Big Idea" Genre? — probably makes more sense, even if it isn't quite so inflammatory.
Anyhow, my answer's in there along with those of Alexis Latner, Allen Steele, Charlie Stross, Daniel Abraham, Maurizio Manzieri, and Alastair Reynolds. Have fun.
Now I have to go and hunt a poltergeist in the basement litter box. It only shows up in infrared.
This entry was posted on Wednesday, May 23rd, 2012 at 8:49 am and is filed under
public interface
,
writing news
. You can follow any responses to this entry through the
RSS 2.0
feed. Both comments and pings are currently closed.