Pole Dancing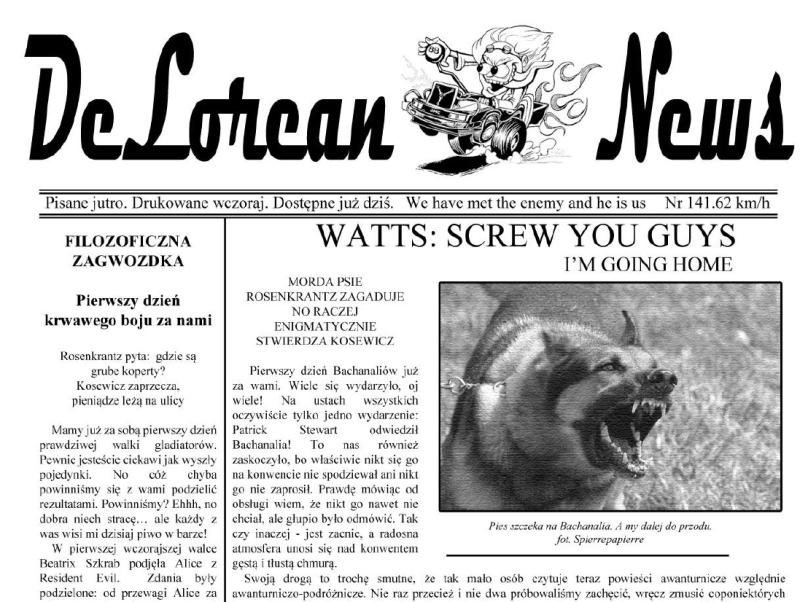 When you go 28 hours without remembering to eat, it's a safe bet that something's going right.
Just got back from Poland last night.  From Zielona Góra, specifically: a city of 120,000 embedded in the woodlands near the German border. I was there for Bachanalia Fantastyczne, one of perhaps twenty cons held in that country every year — and perhaps the only one whose official logo is a representation of Jesus Christ preparing for a gun duel with a killer robot.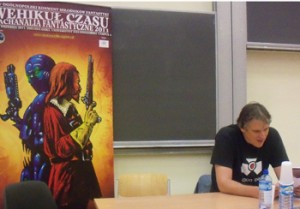 There was also a "wine festival" being held in town at the same time, although the related marketing tie-ins did not seem especially geared to a wine-drinking crowd. Poland seems to have an ambiguous relationship with its own wine industry. They have this week-long wine festival, but it is illegal to actually sell local wine commercially; apparently you have to be Steve Balmer to afford the licensing fees. The basement of the local museum (curated by  SF fan and artist Igor Myszkiewicz — think of H.R. Giger by way of Edward Gorey) is entirely devoted to wine and torture devices. The juxtaposition is not accidental; apparently the locals used to kill people by strapping them into a chair, intubating them, and forcing wine down their gullets until they exploded. The whole historical ambience of the culture might be best summed up by a quote from Frederick II, former King of Prussia: "Fortunate indeed are those who have never tasted Polish wine."
But I digress. We're here to talk about the con.
Let's get the bad stuff out of the way first: the town has apparently been infiltrated by Cylons, or at least by those Cylon viruses that shut down all electronics less than forty years old. Within less than a day, my camera, my flash drive, and my laptop all had catastrophic breakdowns (only the laptop has come back, and even it is still inclined to die without warning unless plugged in). The trip home had not one but two babies in the next row, screaming in shifts; and the little brown jug of mead in my luggage shattered somewhere over the Atlantic, so now all my socks and underwear smells of fermented honey. (Fortunately the wine and the whiskey — also of Polish extraction — made it across okay.)
That's the bad stuff. The good stuff was — well, pretty much everything else. Paradoxically, the EU's classification of commercially-manufactured Polish wine as hazardous waste has driven a marvelous preCambrian explosion of more intimate alcoholic operations on a local scale, homegrown wineries and meaderies and distilleries which make the North American ethanol-industrial complex look pallid in comparison. I was treated to a 70% coffee vodka (at least, that was what the label said; I've been told not to trust those things) that went down like a milkshake and hit me like a jackhammer ten minutes later. I tried some local wine — kind of a sweet white machine oil — that was a lot better than you'd think. On my last night there was even an official mead-tasting, courtesy of a local producer whom I'd be happy to recommend by name except he hasn't actually sent me his name just yet (I will update this entry when he does). Even the local honey doesn't weigh in at less than 40% alcohol. Not to mention the specialty drinks synthesized solely for the con (I grew especially fond of the Sonic Screwdriver; think of marshmallows and antifreeze).
Also there is "thumb-partying", which involves dipping your thumb in the nearest bottle, setting it alight, and swallowing the flame. (It is a blue flame, more often than not, which led me to think for a few minutes that I was actually engaged in "thumb farting".)   And there was dancing.  I think.  At least, I remember someone not being torn limb-from-limb after putting on Aqua's "Barbie Girl"; such unwarranted clemency only seems to happen when dancing is involved.
Here's an interesting fact about Poland: apparently they value the written word so highly that it is considered gauche to deface a book even with an autograph. Instead, they tend to collect their autographs on body parts. I find this custom both quaint and endearing, but you'd think that they'd have come up with some kind of sweat-proof ink by now. Sometimes the ink was so faint on the skin I had to resort to carving my name into the very flesh.
And yet I can't help thinking I might have missed something, something fairly — oh. Right.
Science fiction.
I didn't actually sit on any panels — that whole language barrier thing. I did spend an hour or so talking about the Crysis novelization on Friday, and discovered after the fact that my translator had censored my answers. I knew something was off; I'd say something, the English speakers in the audience would laugh, the translator did his thing, crickets from the rest of the audience. Turns out the fucker was refusing to translate any sexual content: any mention of genitals — even use of the word "genitals" — just disappeared from the transcript. A comment about the Crysis aliens wearing armor that left "their dicks hanging out": lost in transit. A reference to the US's scrotal torture of prisoners at Abu Ghraib: vanished into the ether. Fortunately, most of the folks in the audience understood me just fine without the intermediary (which is how I learned of his perfidy in the first place).
The organizers had disposed of the troublemaker by the next morning, and the translators who appeared in his wake — Dominik and Magda Gosia — were far less queasy about private parts. Also they were fun to drink with.
Bottom line, I had a blast and very little sleep. I was treated to exotic drinks by a woman who credits Blindsight with inspiring two postgraduate degrees; she and her husband gave up a chance to see Jason Webley1 to drive cross-country and see me instead. (She is also proficient at creating drinks out of "medical spirits"). I broke barley with a man who played video games for two solid days for the chance to die a horrible death in an upcoming novel. I just about passed out filling a glass oil drum with precious bodily gases that was apparently a prize for some other sick and twisted competition. I wrote an entire story, on stage, in the space of two minutes and thirty seconds (the brain of thirteen-year Alvin Katz gets holed by a micrometeorite during his bar mitzvah). I toured a dungeon and set myself on fire and was tricked into a bit of Cthulhu porn; I may yet go blind, but it will have been worth it. About my only real regret was that the museum tour and the breakdown of my laptop kept me from catching the Blindsight LARP that ran throughout most of Saturday afternoon; a surrealistic-sounding affair written on the fly by three "screenwriters" (one blindfolded, one deafened, one gagged), a director, and handful of actors improvising three of the main characters both during the Theseus mission and in childhood. It sounds wild, and I'm sorry to have missed it; but hopefully I'll catch it in Lublin (apparently it's on tour).
I was prodded into saying something that last night up on the stage, when I paid my respects. I didn't quite know what to do. I resorted to quoting a snippet of a poem I once wrote for a lady heading off to Australia back in 1985. She had a mild fear of flying, and to calm her I passed her an envelope to be opened during take-off. I've long since forgotten most of it, but the essential stanzas read:
But I don't wish to frighten you
Or give you reason to forebode
For planes are very safe, it's true
And only rarely do explode

And plummet down, while spewing flame
And belching smoke into the aisles
And passengers (or bits of same)
Are splattered over many miles…
I recited this to the revelers, a bit unsteadily, and admitted that there was a small but quantifiable chance that I might suffer the same fate on my way home; but if I did, I would at least die happy. I'm pretty sure I was telling the truth (in fact, when those fucking babies started screaming in the next row I found myself almost longing for such a fate). Now I am home.
And in two months I get to turn around and do it all over again.
————————————————————————
1 Any Amanda Palmer fans in the audience probably knows what a sacrifice this was.
This entry was posted on Tuesday, September 20th, 2011 at 7:20 am and is filed under
Uncategorized
. You can follow any responses to this entry through the
RSS 2.0
feed. Both comments and pings are currently closed.