Nuclear Proetry*
Remember this guy? The dude who's reprogramming the Deinococcus genotype with a free-verse poem in nucleotides, which in turn code for a protein that decompiles into another poem that replies to the first?
He and I, we've been in touch. And among the latest tidbits I am authorized to reveal is the fact that he's added a fluorescent marker to the sequence, so that microbes containing his art will glow red. And that said poems (which together form a rumination and a rejoinder on the futility of life, poet and germ in conversation) also make reference to something that is rosy of glow. I have seen these poems. I have seen the DNA and amino-acid sequences that code them. I have even seen something approaching the poem in its native form, which I am permitted to show you…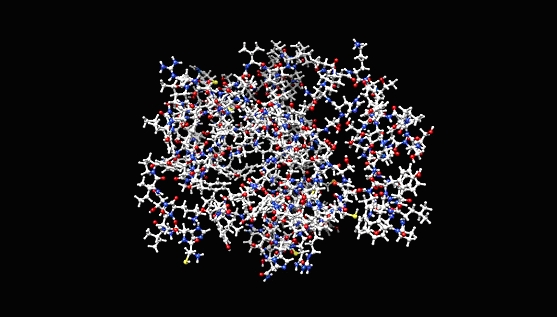 … and I am increasingly blown away by the amount of recursion and self-reference this dude can pack into a measly 192 codons. (Also, I am increasingly pissed-off by the fact that Christian Bök can do all this stuff armed with a PhD in bloody English— whereas I, with all my degrees in biology, couldn't get a single readable genetic sequence out of two years of effort. If there is a moral here, I refuse to acknowledge it.)
I am further tickled to report that one of Christian's favourite movies is John Carpenter's The Thing, and that he is a fan of my own fanfician homage to that movie. (Which yes, as some of you have noticed, got a Black Quill Award (Editor's Choice, Best Dark Scribble) over at Dark Scribe, as well as coming first in the Reader's Choice poll over at Clarkesworld, and being a current finalist for a best-short-fiction BSFA Award. I was waiting to roll these announcements in with a couple of others, but Tor.com is running silent on one front and I bet none of you have heard of the Mir award on the other, so what the hell.)
And yes: Christian Bök's monstrous microbial poem will be making an appearance in State of Grace. A shame my protagonist will have become too schizophrenic by then to properly appreciate it.
---
*Not a typo.
This entry was posted on Sunday, February 6th, 2011 at 2:08 pm and is filed under
Dumbspeech
,
ink on art
. You can follow any responses to this entry through the
RSS 2.0
feed. Both comments and pings are currently closed.