One last miscellaneous grab-bag before oblivion, folks:

Parsec:
As in, the award. This is old news (it was announced late last month, I think), but "The Things" — or rather, Kate Baker's wondrous, melancholy performance of "The Things" — has been nominated for the Parsec Award under "Best Speculative Fiction Story (Short Form)". Kate squeed like someone who's just had her first date with the Lolcat Bible Translation Project until I sat her down and introduced her to my history with award nominations, aka the "Vortex of False Hope". She pretended to listen, then countered by introducing me to her so-called "Abyss of Belief". We have agreed that our differences are irreconcilable, and have gone our separate ways. However, if Kate wishes to come crawling back to me after we lose at DragonCon on Sept 4, I may be willing to forgive her. In time.
(And speaking of "The Things", this would also be a great time to mention Jesus Olmo's wonderful Online Coffee Table Book of the same story — yes, you read that right, and I know of no better way to describe it — but I'm still not sure if things like reprint rights and noncompete clauses have been settled to Clarkesworld's satisfaction, so we'll leave that unveiling for another time.)

Pictures:
Look what came for me in the mail the other day. All the way from Hong Kong, thanks to the tailoring artistry of Jeff Arychuk: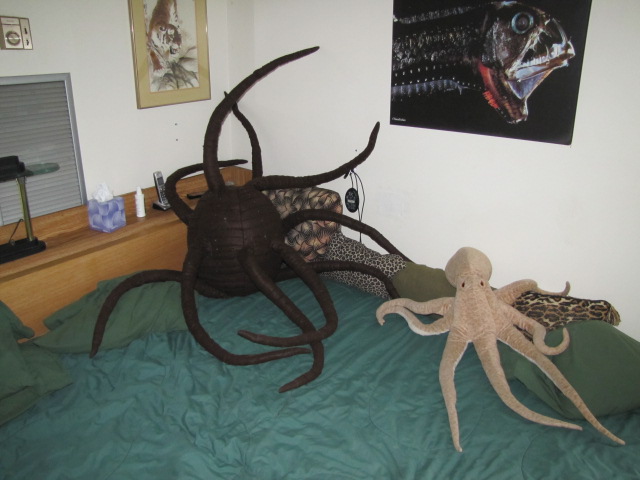 An especially nice touch is the tentacles themselves, which are stiffened with enough coat hanger wire to open my own abortion clinic.
This would also be a nice time to show you where Andrew Chase's absolutely stunning movie-quality model of Theseus has ended up for the time being. The setting is temporary, and does not do it justice; but I have my eye on a nifty glass display case I saw at Ikea the other day (although that is sadly going to have to wait until the fall, when certain deadlines have passed and I am moved into my new office).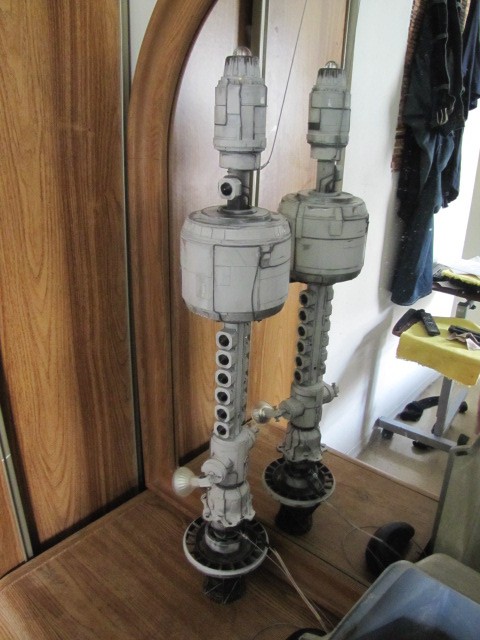 This is the front-and-back jewel-case art for the upcoming straight-to-DVD movie adaptation of Blindsight to be directed by Uwe Boll: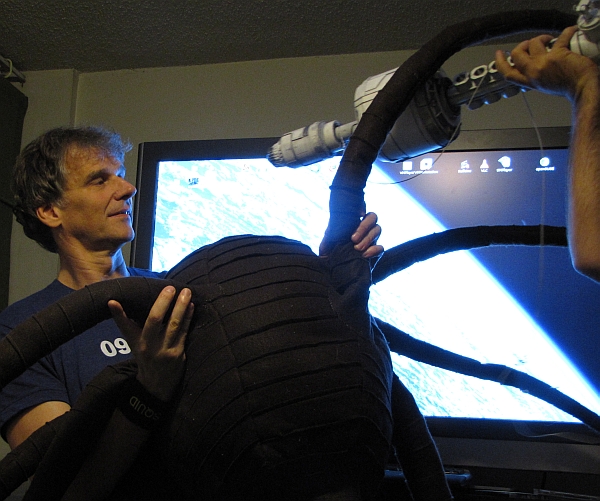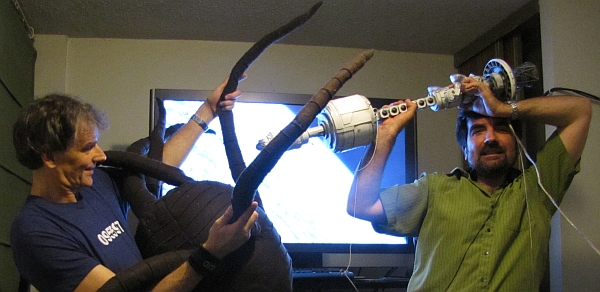 Steven Saus tells me that Lenie Clarke has been seen wandering around the more steampunkian ghettoes of Second Life.  Or if not Clarke herself, at least one of those rifter-chic faddists who were all the rage in Maelstrom: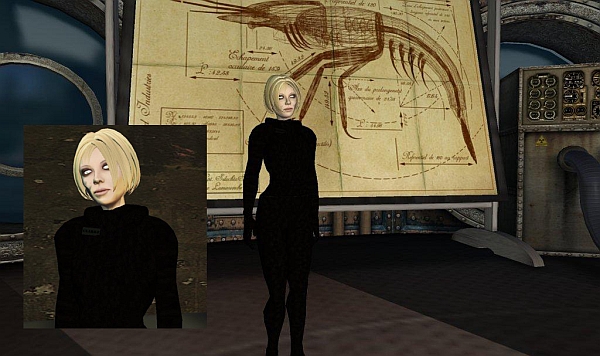 I'm told you can see the electrolysis intake in the thorax if you kinda squint.
And here, in an abrupt shift of gears, are a very few of the friends who stood by me when the thugs and assholes of the world once again took the upper hand: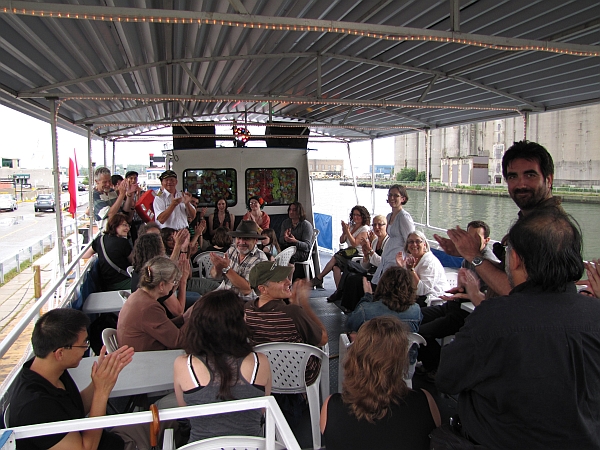 I took them on a dinner cruise a couple of weeks back, and felt awful because I could only afford to treat local folks who I actually knew1.  So many more helped out who were complete strangers; so many more from out of town than in.  Still.  It was something, it was an open bar, it was a blast.
If you looked away from your friends and back from the bar, you could see where we'd come from.  This is where I live: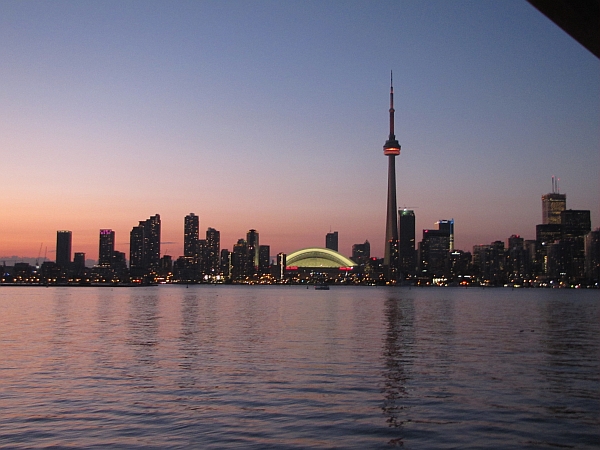 And, finally,

Pause:
Being what the 'crawl is about to do for a while. I have taken on a new project which I don't think I'm supposed to talk about just yet but which involves a shitload of work in a very short period of time, and something — actually, several things — are going to have to give. I am refusing new social engagements. I am avoiding pubs. My morning runs are increasingly sporadic. I am still reading e-mail, but unless the correspondence is vital I am not generally responding to it. (Some of you may feel that this policy has already been in place for some time; the difference is that before, I at least deluded myself into thinking that I'd get caught up on the backlog any day now.)
And the crawl is being put into a therapeutic coma, probably until mid-October.
There will doubtless be galvanic twitches in the meantime; I'll raise the periscope in Australia/Worldcon/Dudcon, maybe from Vancouver en route, maybe even from Pearson Airport in Toronto if I've ended up on Harper's Tewwowist Watch List and am denied boarding privileges. But the heart of this blog (which hasn't been beating nearly as strongly as I would have liked over the past few months) has always been the crunchy scientific and philosophical issues that the bleeding edge serves up daily. It takes hours to properly sink my teeth into those things and say something worthwhile (or at least, something different), and even two or three such posts a week would devour an entire working day. I simply don't have that time to spare right now.
It's times like this I regret never having set up an actual forum where you guys can play amongst yourselves. That would probably be a better spot for some of the discussions I've been following in the Comment streams anyway. But of course, now I don't have time to set up a forum either.
What you could do, I suppose, is follow me on facebook (I'm here on there). Facebook sucks in oh so many ways, but I'll probably be updating my status there more frequently over the next little while. And I'm insecure enough to friend pretty much anyone who asks. Or you could just keep talking in the Comments. I also understand there are a couple of facebook fan pages out there, although they might be pretty moribund. There are options, is what I'm saying. We will make it through this. I promise.
But even now, in these dark and desperate times when even the briefest contact is to be treasured and held like a ragged-eared cat with a half'n'half addiction, one rule remains sacrosanct:
Anyone who even suggests Twitter gets thrown off the train. We won't even bother to slow down first.
————
1And no, in case anyone's wondering: this did not come out of the Squidgate Fund.
58 Responses to "Parsec. Pictures. Pause."