Smokin' in the Girl's Room
This whole writing retreat thing is stranger than I remember it. This is the approach to my bedroom.  My bedroom door is the pale green thing with the poster taped across it: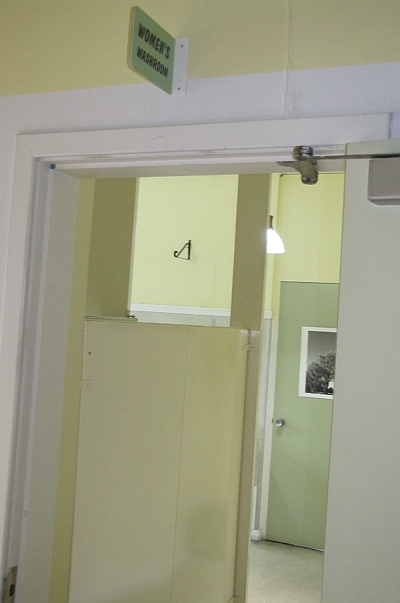 For those of you with teensy monitors, here's a closeup of the sign outside said approach: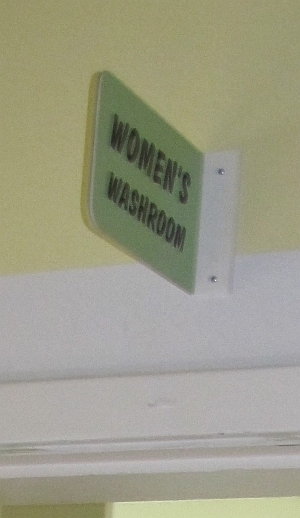 Yes, you read that right.  My bedroom is inside the Gibraltar Point Women's washroom.
Lest you think (quite reasonably) that I'm bullshitting you with a nondescript picture of a nondescript door, here is a picture looking back out through the women's washroom from inside my bedroom: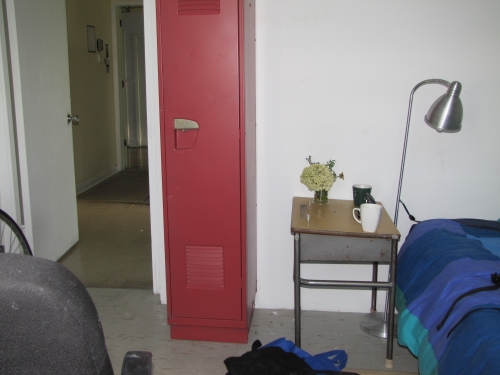 It gets weirder.  The bank of industrial flourescent lights on the ceiling over my bed is hooked into the washroom circuit, and at least one female artist in this establishment has a weak bladder.  At 2a.m. this past morning, all the lights in my room went on without warning.  (Actually, there may have been warning, but being sound asleep prior to that point I could have  missed it.)
The local women artists also seem to be early risers.  Starting at 5:30 this morning, my lights started  turning on and off at 15-minute intervals, just enough time to let me drift back to sleep before reawakened by broad-spectrum white light and the sound of fecal pellets dropping into toilet bowls.   By 6:45 I'd discovered that the switch in my room also controlled the lights in the women's washroom.  I had about 15 minutes to savor the experience of waiting until these thoughtless XXs were firmly planted over their toilets and killing their lights before I had to head off on the morning run.
I can only assume that one of the people currenting residing at the GP Arts Center is working on a postgraduate degree in psychology.
————
Title credit Dave "I Made Up The 900 Years Thing" Nickle
This entry was posted on Wednesday, July 21st, 2010 at 6:28 pm and is filed under
misc
,
On the Road
. You can follow any responses to this entry through the
RSS 2.0
feed. Both comments and pings are currently closed.
31 Responses to "Smokin' in the Girl's Room"