Coincidence? I Think Not.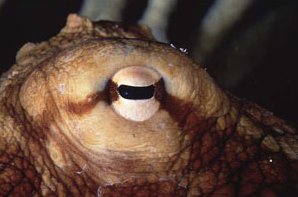 So, I see that some of you have noticed the endearing footage of the kleptopus making off with some hapless diver's video camera. (For those who don't follow the endlessly proliferating comment threads from previous posts, the smoking-gun is here.1) Oh yes, how cute.
But how many of you have noticed how closely this act of industrial espionage followed on the heels of other, supposedly "independent" octopi discovering the wonders of hi-def technology? (Apparently standard video wasn't up to their standards.)2
Octopi learn of the existence of human video tech. Other octopi start making off with human video tech. Why am I the only one to be connecting these dots, people? Why am I the only one to see the conspiracy for what it is? (Well, I suppose Glenn Beck will raise the alarm once he figures out how to pronounce "octopus"; but what about the rest of you?)
You cannot trust the octopus. The octopus is a coward by nature, a creature of night who fears the open spaces, who lurks unseen in the complex topography of benthic habitats. Not like its forthright pelagic cousin, the Squid: noble denizen of the open water, proud and honest and fearless. Squids have nothing to hide. You won't catch them snatching up some ill-gotten bit of technology and scuttling for the shadows.
Oh, and apparently "The Island" is now up for the Locus award, as is the Dozois & Strahan anthology in which it appeared. This is good news.
I will have more good news later this week. Assuming the octopi don't get me first.
———————
1Thanks to David Held, who first alerted me to the camera-theft footage; and to
2Sheila Miguez for alerting me to the lab work.
This entry was posted on Wednesday, April 21st, 2010 at 7:14 am and is filed under
biology
,
marine
,
misc
,
writing news
. You can follow any responses to this entry through the
RSS 2.0
feed. Both comments and pings are currently closed.