Post Human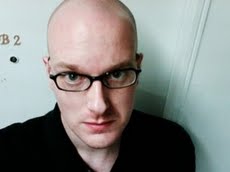 There's this guy I almost knew, Mac Tonnies. A fan of my books, a writer of his own (I never read After the Martian Apocalypse, his book about the "Face on Mars", but I read some of his short fiction), and a paradoxical amalgam of UFO buff and skeptic: someone who embraced the phenomenon while rejecting the usual extraterrestrial interpretations. He was more of a those-among-us type; I understand there's a completed book in the wings that leans heavily towards the Cryptoterrestrial model (much of his interest in my own stuff hailed from his interest in alternate types of consciousness). Mac seemed to regard his place on the fringe with wry humor, and the habitat itself with tonnes of salt.  He didn't let any of that cramp his propensity for wild speculation. I never really knew whether he was a flake or not; I'm no expert on UFOs. But I checked the rss feed for Post-Human Blues pretty much daily, with a mixture of eagerness and trepidation: eagerness because the dude always had a shitload of cool links to cutting-edge nuggets ranging from robotics to psychoactives, and trepidation because the fucker posted so many links that I could have easily spent a couple of hours every day just following the rabbit-holes planted on Mac Tonnies's blog. I never met the man face to face: we came within a couple of provinces of each other when he was up in Halifax a while back, but there was never really any rush because we were bound to end up at the same con at the same time at some point. I run into all of you paranormal types eventually.
Except I won't be running in Mac Tonnies, because he's dead. Last Thursday, in his apartment, "natural causes".
Natural causes? The dude was thirty four.
I don't know how to feel about this. It would be presumptuous to feign grief; as I say, I never met the man. For all I know he could have been a slick AI  instead of a sentient mammal. But whatever sat at the other end of that line, I enjoyed talking to it. I liked its attitude. And I would have been honored to sit its chassis down on a barstool some night, and buy it a couple of pitchers, and present it with the considerable challenge of convincing me that Cydonia isn't just a pile of rocks on Mars's northern hemisphere. And knowing now that that's never going to happen — it changes something, somehow. Something's wrong. Something's missing.
Thirty four fucking years old.
I hope it wasn't natural causes after all. I hope it was a government conspiracy. As far as I could tell, Mac never believed in that shit.
Update 25/10/09: Sentient Developments has a fitting tribute to Mac's exuberant balancing act between the flakes and the empiricists.