An Offense Against Nature Itself.
So this happened.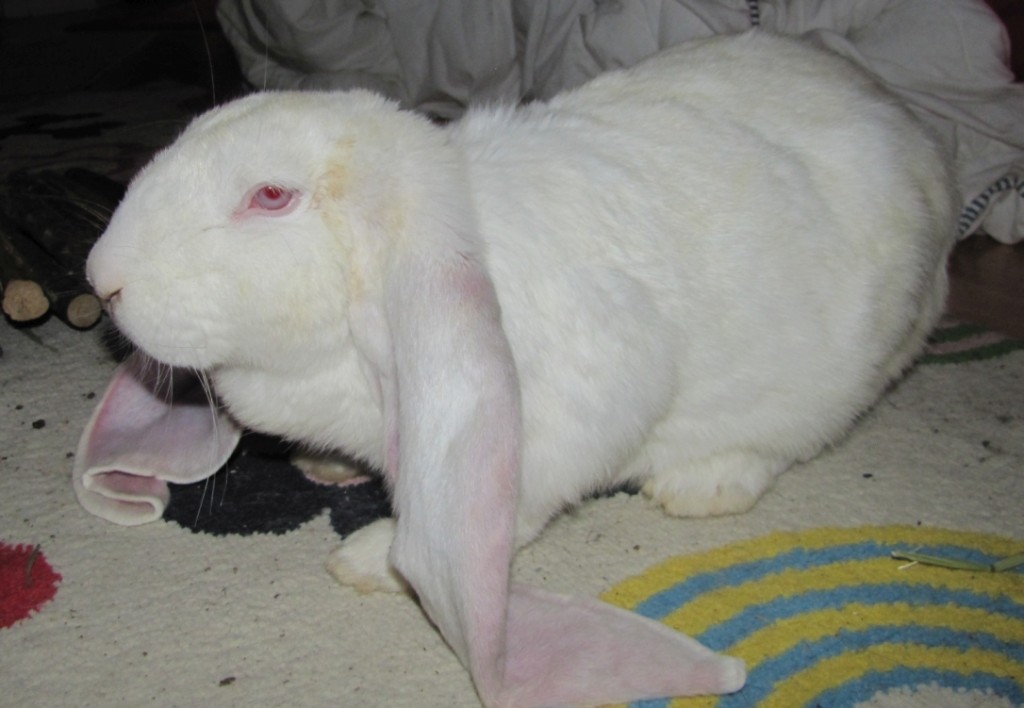 I'm not even exactly sure what that even is, actually. It  has obviously been engineered, but by some agent lacking even the vaguest grasp of natural selection. Its continued existence hinges on actions that would be described as "Extraordinary Measures" had it landed in a palliative care ward instead of my basement. Drinking water must be provided in a special bottle, for example, because its ears would fill a conventional water bowl, soaking up liquid like a sponge. All vacuuming within a 50-meter radius must be performed without the use of any rotary rug-beating attachment, for fear the ears could get slurped up into the gears and jam the mechanism. Anyone approaching within fifteen meters must affix themselves to a ceiling-mounted track harness and keep all body parts at least 10 cm off the floor.
The only practical use I've been able to discover for this thing is as a platform to practice my seamanship skills on.
Its biography, and the circumstances of its arrival, remain unclear and not entirely consistent. Evidently it is a purebred something, and would have had significant stud value but for the fact that it had only one descended testicle. Its original host loved it so much on account of its "sweet disposition" that he could not bring himself to kill it until the weekend; other parties had until then to find alternate accommodations. However, it clearly had two descended testicles when I first encountered it, leading other parties to reassure me that no, the original breeder was not incapable of counting past "1", and that the creature must have simply "got better". We are awaiting the results of further tests to ascertain whether it has ever been turned into a newt.
I have repeatedly suggested surgery to reduce these deformities to a size that might be less maladaptive, or at least to allow someone to walk down the hall without tripping over them. I have been shouted down on each occasion, and informed that the removal of birth defects is somehow "cruel" and "mean".
Attempts to decide on a name are ongoing. "Dumbo", "Obama", and "Hideousness II" have all been voted down. I wish I could remember the name of the blue chick with the floppy (and equally nonfunctional) tentacles growing out of her head from Return of the Jedi. Or even the species.
Its eyes are a hideous, gelatinous, Lovecraftian red. (Like Lovecraft, this creature is very white.) Its nose twitches constantly, as if the larvae of some horrific ichneumon wasp writhe within the sinuses, verging on eruption.
Suggestions are welcome.