Wolbachia cronenbergium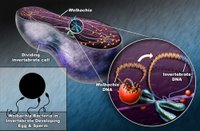 My, the folks over at the Venter Institute have been busy lately. First they changed one microbe species into another by physically replacing its entire genome. They did this in their quest to create a synthetic organism, basically a chassis with the absolute minimum number of genes necessary for life, which could then be loaded up with other customized genes designed to act for the betterment of humanity and the environment the good of Venter stockholders. Now they've discovered that Nature herself has done them one better, by incorporating the complete genome of a parasitic bacterium called Wolbachia into the code of fruit flies: two complete genotypes for the price of one (original article here: much more accessible press release over here).
Some of you may remember ßehemoth, from the rifters books: it was basically mitochondrion's nasty cousin, and like mitochondria it brought its own genome into the host cell. This is a big step further: Wolbachia's code isn't just hanging out in the cell, it's been incorporated into the nuclear DNA of the host itself. The host is not infected with Wolbachia; there are no bacteria cruising the cytoplasm. Rather, the complete recipe for building the bug has been spliced into the host's code— and since the odds of such a big chunk of data (over a megabyte) getting thus incorporated without playing any functional role are pretty small, chances are that this embedded genotype is doing something for the host organism. This is assimilation: the dicks of Borg drones everywhere should be shriveling with collective performance anxiety.
Two major implications come immediately to mind. The first is that conventionally-derived genotypes sequenced to date might be all washed up, since bacterial DNA is routinely scrubbed from such results as "contamination"; but if this new phenomenon is widespread (and Wolbachia is one of the world's most abundant parasites of invertebrates), a lot of the bathwater we've been throwing out might actually be the baby. And the second implication, well —
Anyone remember David Cronenberg's remake of "The Fly"…?
(Illo credit, as far as I can tell, goes to the University of Rochester.)
12 Responses to "Wolbachia cronenbergium"