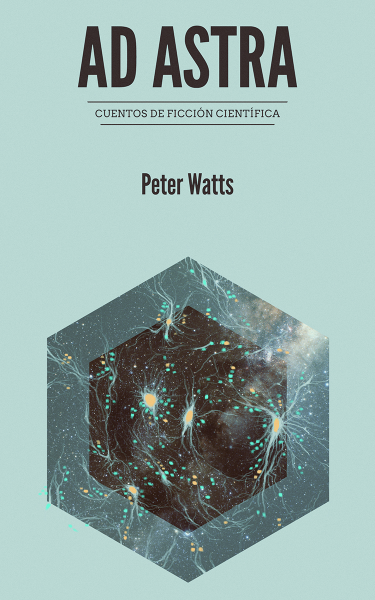 This appears to be Collection Season. Over in Spain Ad Astra is just out (including a nicely unconventional introduction by Manuel de los Reyes, the translator of Blindsight); that's the cover to the right, and I rather like the whole outer-space/inner-brain riff contained therein. Meanwhile, in the lead-up to the official release date for  Beyond the  Rift (which was what, last week?) Tachyon has been posting daily excerpts from the various stories in that collection. But since all those stories are reprints (albeit bound together in a single attractive skiffy package), most of the regulars on this 'crawl will have seen them before.
But there is one original, never-before-posted piece in Beyond the Rift: "Are We There Yet?", an extended essay that touches on the  lack of villains in my fiction, the abundance of villains in reality, and a number of things in between.  And since most of you have probably already seen the rest of the Rift, I thought I'd give you a taste of something you haven't. So, enjoy:
I'm still quite a cheerful guy in person. Apparently people are surprised by this.

Especially now.

I've been asked if recent experience has altered my worldview, if my tango with the US justice system might birth even darker visions to come. I don't think so. After all, it's not as if I was unaware of this stuff before it happened to me; one or two journalists have even highlighted parallels between my real-life experiences and the things I've inflicted on fictional protagonists, as though my imaginings of police brutality were somehow prescient because they happened to occur in the future.

If anything, though, my perspective has brightened. I came out of it relatively unscathed, after all; I was convicted, but despite the prosecution's best efforts I didn't go to jail. I'm not welcome back in the US any time soon—maybe not ever—but at this point that's more of a badge of honor than a professional impediment.

In a very real way, I won.

Most would not have. Most people, up against an enemy bureaucracy with deep pockets and only the most token accountability, would have been swallowed whole. There would have been surrender regardless of guilt; desperate plea-bargains to avoid crippling court costs. If the accused did somehow summon the audacity to fight back there would have been a lopsided battle and captivity and years of debt. Michigan bills you for your time behind bars: thirty bucks a day, as if you were staying at a fucking Motel 6, as though you'd chosen to bunk up for the room service and free cable. The longer you're incarcerated, the higher the bill they shove in your face when you get out.

I've stopped getting those little yellow cards in the mail. Maybe they gave up, maybe they lost track of me when I moved, maybe the fact that I'm on the far side of an international boundary makes me not worth going after for the price of one measly night in the clink. Those poor bastards I shared beans and Kool-Aid with, though: no protective borders, no sanctuary, no breaks for them. A year in jail and they walk out ten thousand dollars in debt. And even they have it pretty damn easy next to a family friend whose activist husband was disappeared in Latin America, who was gang raped and gave birth in jail; conversations with such folk leave you a bit less inclined to whinge about the injustice of Michigan's legal leg-hold traps.

I had so much help. Half the internet woke up on my behalf. Thanks to Dave Nickle and Cory Doctorow and Patrick Nielson Hayden and John Scalzi—thanks to all the myriad folk who boosted the signal and chipped in to my defense fund— I walked away no poorer than when it all began. I walked away heartened: look at all those friends I didn't know I had. See how obviously corrupt the authorities were shown to be in the court of public opinion. See what outrage and anger can accomplish, when the rocks are kicked over and their undersides exposed to the light (Port Huron now posts signs warning travelers of upcoming exit searches; that's something, at least). So many reasons for a white middle-class guy with influential friends to have hope.

And a lot of folks in this privileged demographic do seem to have hope. I once attended an event in which Cory Doctorow and China Miéville chatted about the inherent goodness of humanity, about their shared belief that the vast majority of people are decent and honorable. Another time I was the one on stage, debating Minister Faust on the subject of whether science fiction could be "a happy place," and the same sentiment resurfaced: Minister attested that the vast majority of people he'd encountered were good folks. The problems we face as a species, he said—the intolerance, the short-sighted greed, the accelerating threats of climate change and strip-mined ecosystems and floating islands of immortal plastic garbage the size of the fucking Sargasso—are thanks to those few despots and sociopaths who sit atop the world's power structures, shitting on the world for their own profit.

I concede the point, to some extent at least; even in the depths of the system arrayed against me, bright spots ignited where I least expected them. That one border guard who refused to fall in line with her fellows, who testified that she didn't see me committing the acts of which I stood accused. The jurors who, having voted to convict, spoke out publicly on my behalf (one of them stood at my side during sentencing, in a show of support that netted her an extended ordeal of police harassment and home invasion). A judge who set me free with a small fine, admitting that I was the kind of guy he'd like to sit down and have a beer with.

Reasons to hope. The anger remains, though, even if all those other folks are right about the goodness of grassroots humanity. Especially if they're right; because what do you call a world of decent folks ground beneath the boot-heels of despots and sociopaths if not dystopia? You can trot out your folksy tales of good hearts and personal redemption, your small hopeful candles flickering down at street level; I can't help noticing the darkness pressing down from overhead, the global dysfunction that throws the world on its side despite the angels of our better natures. I don't even entirely believe in those angels, not really, not even down here in the happy realm of the little people. Zimbardo and Milgram didn't create thugs and torturers with their infamous experiments; they merely uncovered them. And it's not just psychos and sickos who level the forests and flush their shit into the ocean and fire up their dinosaur-burning SUVs for a two-block drive to the local Target. Those plastic islands in the Pacific have grass roots all over them.

Down in the basement, my anger never goes away; and that's informative in a way you might not expect, because I don't believe true misanthropes generally feel that way. Bitter, sure. Cynical, deeply. But angry?

You may not think much of tapeworms, but you don't generally get mad at them. You might wipe cancer off the face of the earth if you could, but not because the thought of cancer leaves you spluttering with rage. You don't blame something for doing what it does, what it's always done, what you expect it to do.

You only get mad if you expected better.
---
36 Responses to "Collection Agency."