Guest Stars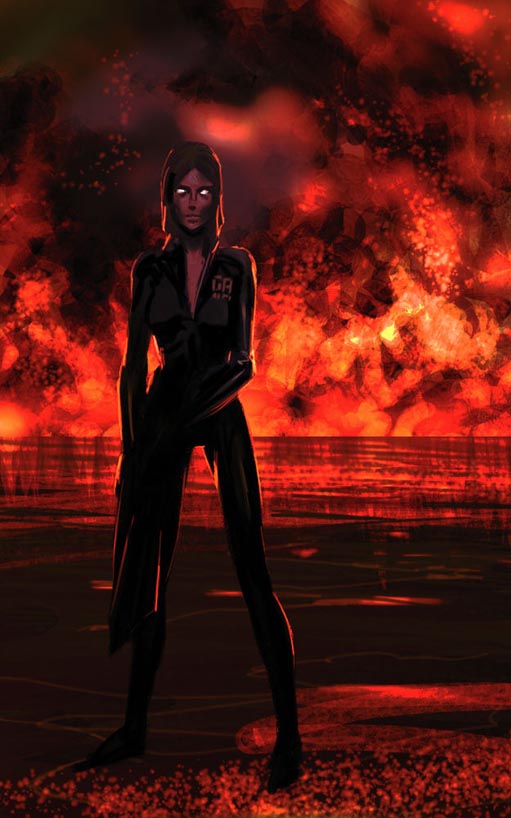 Today we take time to honour the works of others, especially when such works reflect well on me in some way. First up is this cool rendition of Lenie Clarke, rendered by one Brian Prince (who quite needlessly apologises for its "hastiness"). I love the look and the apocalyptic mood of this piece. I even like the not-exactly-according-to-canon cleavage, and have given it a permanent home over in the gallery.
Next up, a very effective short-short from my journo/horrorfic buddy Dave Nickle, to whom I have commended you all in the past: "The Mayor Will Make A Brief Statement And Then Take Questions". Go read it; it's barely longer than the title, but it packs a nice little icepick just the same.
Finally, to any Toronto readers waiting for a copy of Blindsight to become available at the local library (and I was surprised to hear how many people have it on hold): if you should open your long-awaited loaner only to find the words
Thanks for reading my words the sweat of my brow without paying anything, you cheap and heartless bastards.
Best, Peter Watts
Well, yes, that really was me, and no, I don't really mean it. It just seemed like a clever thing to write at the Jersey Giant last night, when someone slipped the book between me and my Rickards. (And in my own defense, the rest of the beer-swilling crowd seemed to think it was pretty clever at the time, too.)
This entry was posted on Monday, July 16th, 2007 at 6:34 am and is filed under
fellow liars
,
misc
. You can follow any responses to this entry through the
RSS 2.0
feed. Both comments and pings are currently closed.