Banana Does Not Look Like This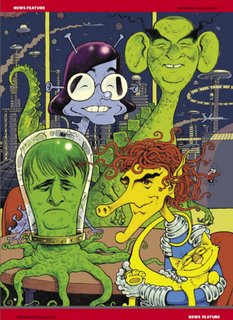 Banana's a brown tabby with gloriously misshapen ears. This actually looks more like my first-ever cat, The Cate. (Except for the nose. The Cate had 63 dots on an otherwise flawlessly-pink nose.)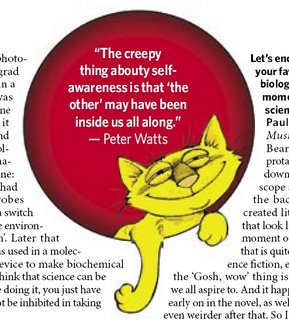 But there are many good things about the illustrations for this Nature interview. For one thing, Banana makes two appearances, the second in the pull quote (which contains a typo, but then again, cats always were agents of chaos). For another, I alone of the four of us retain some semblance of humanoid/porcine ancestry. And last but not least, I'm the only one who isn't naked.
Here's the article itself. URL for the director's cut is contained therein — it's not up yet as of this writing.
This entry was posted on Sunday, July 1st, 2007 at 6:41 pm and is filed under
fellow liars
,
interviews
,
writing news
. You can follow any responses to this entry through the
RSS 2.0
feed. Both comments and pings are currently closed.