This is the Way the Year Begins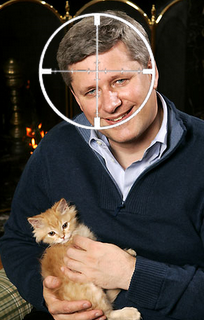 …Not with a Bang but with a Rant.
Christmastime in the Watts household has always been a time for impotent fury. It is a time to reconnect with old friends seen only during this special season, career biologists who stuck it out and stayed the course and got good steady jobs at universities and federal labs. It is a time to be reminded anew of the price these people pay for their steady paycheques: principles hammered into compromise, compromise flattened down to mushy unmitigated defeat, that grad-school spark of pure delight and scientific curiosity extinguished like a cigarette flushed down the john. It is a time to give thanks, to remember that there are worse fates than poverty; a time to look into the mirror and grin, because baby, you haven't changed.
But it is also a time to raise your voice and rant, because what good is science if its practitioners are forced to wear ball gags, lest they discover things our rulers don't want to hear?
Not so long ago, journalists in this country could actually communicate in a meaningful way with federal scientists. It would work something like this: a reporter would call up a scientist and ask about their research. The scientist — pleased beyond measure that someone else in a global population of 6.5-billion might actually be interested in the lachrymal secretions of herring gulls — would answer. The interview would appear in some newspaper or magazine. David Suzuki would get to be condescending on The Nature of Things. Everybody won.
Then we had an election, and a significant number of Canadians — not a majority by any means, but enough to make the difference — did what people en masse have been doing the world over since history began: they proved to be a bunch of fucking morons. So it came to pass that a sweaty, pallid, insecure, and not-especially bright politician of the neocon variety ascended to the throne. His name was Stephen Harper, and holy shit did he ever change things in a hurry.
For one thing, he tried to dismantle the Canadian Wildlife Service: that part of Environment Canada charged with wildlife habitat, endangered species, a whole gamut of conservation issues. He didn't succeed completely — historically the CWS has quite the international rep, and the Tories weren't expecting the backlash that resulted. So Harper settled for mere emasculation. Henceforth the CWS would no longer be allowed to conduct "research". It would only be allowed to "monitor" wildlife. Real research would occur under the purview of — wait for it — "Wildlife and Landscape Science" (which is presumably also responsible for the topiary at the Prime Minister's residence, if not the actual Interior Decorating within it)1.
For some time now, federally-employed biologists have been given a script to read when approached by journalists in search of a story: "Thank you for your questions. I will be working with our media relations section and we will respond to you as soon as we can. Please direct any further inquiries to media@ec.gc.ca or call 819-934-8008/1-888-908-8008". Journalists are then required to send their questions to the Ministry of Truth Media Relations, who forward those questions they deem admissible on to the actual scientific authority. Said authority's written answers are then reviewed and edited by MR before being sent back to the journalist. On those rare occasions when the scientist is actually permitted to speak directly with his interviewer over the phone, Media Relations monitors the call, one restless finger on the kill switch lest their bitch stray too far from her assigned script.
This is what passes for scientific openness in the Harper government. And just last fall, we the people once again proved what idiots we are by reelecting this brain-dead shit-sack by an even bigger margin than we did the first time.
Of course, the censoring of science is hardly an exclusively Harperian, or even an exclusively Conservative activity. Canada's previous Liberal government also had a fondness for suppressing politically-inconvenient findings2. But while you'd expect all politicians to mistrust any endeavor based on fact-based empiricism, Harper's naked ideology crosses the line from pragmatic indifference to outright vendetta. The Clintons and Chretiens of the world merely bristle at research which impedes their political agendas. The Harpers and the Bushes, in contrast, seem to abhor science — seem to abhor intelligence — on general principles, unless it feeds directly into the engineering of petrochemical tech.
This is not news. It has, in fact, been going on for some time, and anyone familiar with the sad history of the U.S.'s Environmental Protection Agency is probably singing me a chorus of Cry me a river of tears, beaver-boy even as they read these words. But it is something we should be aware of, and stay aware of, until someone rids us of these troublesome priests.
Harper and Hallmark hope that you spent the past few weeks contemplating the birth of some mythical martyred bastard-child whose primary contribution to western civilization included such tyrant-friendly platitudes as Turn the other cheek and Render unto Caesar. I would ask you instead to think of more important matters. Friends in the machine visit me like the Ghosts of fucking Christmas Past, and remind me of the way we really do "science" in this benighted excuse for a civilized country. They won't object if I remind you in turn.
Just so long as I don't call them by name.
1You might wonder where one would draw the line between "research" and "monitoring". If so, you've got a better grasp of such concepts than Harper's own bean-counters, at least one of which tried to eliminate field work from the CWS's BC offices on the grounds that "You collected field data last year, and the year before. Why do you need to do it again this year?"
2I actually signed a petition protesting one such event, back in the mid-nineties. It was the only time my picture ever appeared on the front page of a major daily— front and center and above the fold, no less— and may have marked the most significant impact I ever made as a biologist. Think about that: scrawling my name on a piece of paper raised a louder noise than two decades of actual research on a variety of threatened, soon-to-be-threatened, and downright endangered species. Either the quality of my research was downright Palinesque or there's something seriously fucked about the way conservation issues are dealt with in this country.