A Plague of Angels (or, Rorschach in your living room!)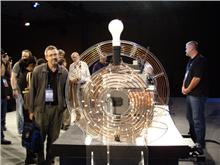 Well, this is interesting. Intel has leapfrogged MIT on the whole magnetic-resonance schtick. They can wirelessly light a 60-watt bulb from almost a meter away, wasting only 25% of the broadcast energy in transit. This is a good thing, because "…the human body is not affected by magnetic fields," Josh Smith from Intel reassures us. "It is affected by electric fields. So what we are doing is transmitting energy using the magnetic field not the electric field." And I have to admit, it's heartening that the whole zapped-by-the-arc problem that electrocuted so many early-adopters seems to be a thing of the past.
I just have two teensy, niggling questions.
First up, in a world in which Peak Oil also seems to be a thing of the past — and in which the inextricably-linked issues of energy security and climate change grow increasingly troubling to anyone who isn't a) Michael Crichton and/or b) convinced that the Rapture will spirit them away and save their asses before the bill comes due — do we really want to be celebrating a technology that wastes a quarter of its kick before it even reaches its destination? Yes, the technology will improve over time; yes, efficiency will increase. But we're still talking about an omnidirectional broadcast here; even if the bulk of the signal strength passes in one direction, there's still going to be at least some wasted energy going out along the whole 360.
More to the point though, is Smith's confident assertions that "the human body is not affected by magnetic fields". Maybe he's talking about a different model of human body. Maybe the model he's talking about comes with a Faraday cage built into the skull, and is not susceptible to the induction of religious rapture1, selective blindness2, or the impaired speech and memory effects3,4 that transcranial magnetic stimulation can provoke in our obsolete ol' baseline brains.
Or maybe, once Intel gets its way and this "worldchanging" technology saturates our living space with directed magnetic fields, we'll all just start seeing things, bumping into chairs, vomiting from inexplicable bouts of spontaneous nausea, and freaking out at the sight of angels and aliens5 swarming through our living rooms.
Granted, so far you have to sit down in a lab and wear a magnetic hair-net to experience the effects I've described. But I wonder how many appliance-feeding magnetic-resonance transmitters we'll be able to load into our apartments before hallucinogenic hotspots start spontaneously appearing in our living rooms. At which point our local utility will reclassify these side-effects from "bug" to "feature", and add a small additional charge for "multisensory entertainment" onto our monthly power bill.
I'm actually kind of looking forward to it. It's bound to be cheaper than cable.
(Photo credit: Australian PC Authority)

1Ramachandran, V.S., and Blakeslee, S. 1998. Phantoms in the Brain: Probing the Mysteries of the Human Mind. William Morrow, New York.
2Kamitani, Y. and Shimojo, S. 1999. Manifestation of scotomas created by transcranial magnetic stimulation of human visual cortex. Nature Neuroscience 2: 767-771.
3Hallett, M. 2000. Transcranial magnetic stimulation and the human brain. Nature 406: 147-150.
4Goldberg, C. 2003. Zap! Scientist bombards brains with super-magnets to edifying effect. Boston Globe 14/1/2003, pE1.
5Persinger, M.A. 2001 The Neuropsychiatry of Paranormal Experiences. J Neuropsychiatry & Clinical Neuroscience 13: 515-524.
This entry was posted on Friday, August 22nd, 2008 at 2:12 pm and is filed under
neuro
,
relevant tech
. You can follow any responses to this entry through the
RSS 2.0
feed. Both comments and pings are currently closed.