I, Steampunk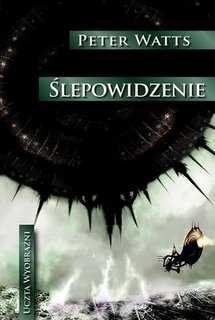 Ślepowidzenie is out in Poland. The cover makes it look kinda like a Jules Verne retread, and I mean that in a good way; in terms of literal, technical detail it gets pretty much everything wrong, but in terms of thematic ambience (and basic artistic skill) it rules.
This is just as well, because I was never consulted on this cover despite a clause in the contract stipulating that I would be (a clause I have insisted on, for obvious reasons, in every contract subsequent to the Tor edition). Once again I am reminded of how fucking impotent authors are, and how utterly meaningless contracts are. Over the past year, various contracts have promised me input on cover art; interest payments for late advances; consultation on audio performances; and unabridged transcription of text. And whenever these commitments have failed to solidify, I've always been told that there's fuck-all I can do about it; the contracts contain promises but no penalties. They're universally described as essential things for authors to have, yet there doesn't seem to be any recourse when a publisher breaks them.
But I digress; I'm very happy with the way this cover turned out. And initial reader reaction seems to be pretty positive too; Google translation software isn't all it might be, but this nine-star rating is pretty unambiguous. And others seem to be using words that port over as "best book published this year" and "deserve the highest praise".
So overall, a good start in Poland. I just wish there were more than fifty people in that country.
This entry was posted on Tuesday, August 12th, 2008 at 3:20 pm and is filed under
writing news
. You can follow any responses to this entry through the
RSS 2.0
feed. Both comments and pings are currently closed.