Postcard from Purgatory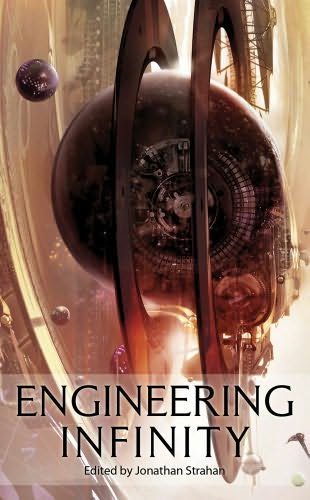 Dear Subject_Name_Here:
No, I'm not back.  Yes, I'm still working my ass off.  No, I still can't talk about it. Yes, when I can talk about it you will doubtless be disappointed, because it'll be  pretty anticlimatic (in the dramatic sense, not the global-warming-denier sense).  But I'm going to come up and gulp a breath of air because we're only six days away from the SpecFic Colloquium at Hart House, right here in Toronto.  A bunch of us locals — Dave Nickle, Karl Schroeder, Bob Boyczuk, Julie Czerneda among others — are going to be giving talks on a variety of sf-nal subjects.  Mine  is entitled "Gods, Jackboots, and Rule 34:  How Pornography Could Save the World", and it's about pretty much exactly what it says.  I expect to get started on it any day now.
I think I may also be reading "Malak", which is evidently the lead-in story in  Jonathan Strahan's upcoming Engineering Infinity (speaking of which, that is a glorious cover).  "Malak"  hasn't been out much;  I read it at the tail end of Polaris earlier this year and a snippet appeared on the 'crawl a few months back, but it'll be new to most of you.  Anyway, check out the SpecFic website for the particulars, and drop by if you're in the neighborhood.
A few miscellaneous reprint notices, while I'm up here.  "The Island"'s Hugo win got noticed overseas (well, duh, it happened overseas — I mean over other seas):  it's now being translated into French, Italian, Russian, Hebrew, and just possibly Portuguese.  Also "The Things" is making it into Polish.  So that's all cool.
Just before I disappear again, let me apologize once again for the lack of crunchy science stuff lately.  It's not from lack of interest, I assure you; it's entirely due to lack of time.  Please keep the links coming even though you get the brush-off from my autoresponder; I'd rather grind my teeth because I don't have time to read 'em all then not even know what's going on out there, and I save everything for future reference.
Back to the grind now.  Wish you were here.  And I wasn't.
P.
This entry was posted on Monday, October 18th, 2010 at 6:01 am and is filed under
public interface
,
writing news
. You can follow any responses to this entry through the
RSS 2.0
feed. Both comments and pings are currently closed.