Packing now, to spend a month at a field research station in the so-called "Tornado Alley" of Nebraska — which is a nice coincidence, as those at last Thursday's reading will attest to the presence of a strong tornadoey element in the opening of the new novel. But I'm mainly just heading out to do some writing in a bona-fide desert environment (which also figures prominently in said novel), and to hang out with a buddy who's doing research for a nonfiction book of his own. (And oddly enough, even buddies doing research for nonfiction books of their own factor into the plot of the new novel.) (Yes, it's true. This new novel is really going to suck.)
I will be at the Cedar Point Biological Station, somewhere around here: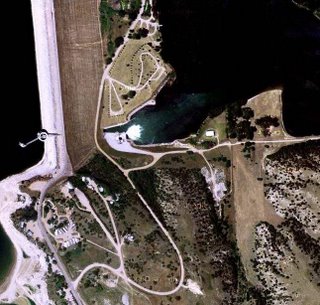 I think I'm even supposed to give a talk or something. If your plane happens to crash in Lake Ogallala over the next month, drop on by.
8 Responses to "Gone to Ground"