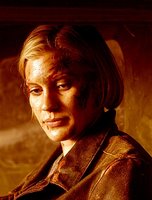 I dreamed last night that I kept hitting on Katee Sackhoff, and she kept turning me down. That's right: Starbuck, the antiMikey of sexual cereals, wouldn't even give me the time of day in my dreams.
But I'm not going to go with the obvious subtext here, because I am desperate to give my imagination credit for more subtlety. What it's really telling me to do, I think, is to start collecting Return-of-Starbuck theories, and to do it soon before IO9 ruins all the speculation with one of their spoiler strafing runs.
So. Starbuck theories. Place them here.
31 Responses to "I am a Sad Pathetic Man"