I've Just Handed My Pinball Crown To Him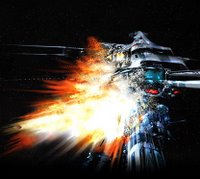 I may have mentioned a fellow by the name of Dave Williams (maybe not here — I know I've mentioned him in interviews, at least). The guy came at me out of the blue a few years back via a mutual friend, and asked me to check out some skiffy prose he was working on1. His descriptions were great; his mood and atmosphere were perfect. His pacing kind of sucked, and what's with these chains on a prison ship on Titan? We can ship our evildoers all the way to the outer solar system but leg-irons are the best we can do for prisoner restraint?
Anyhow, Dave was a diamond in the rough but a diamond nonetheless, so we got to hanging out and mutual critiquing. At the time he was one of those jet-setting corporate whores, and whenever he was in town he'd take me out and get me drunk and expense everything to The Man, which made us both feel good. And he never stopped writing. And he never stopped getting better at it. I really should have seen those signs, and stopped him while I had the chance.
Because then the fucker quit his high-paying job, started writing full-time, and right out of the gate sold a trilogy to Bantam Spectra for a figure that made me stop calling him "Dave" and start calling him "Fucking Bastard" (in the friendliest possible way, of course). The first volume is The Mirrored Heavens, it's coming out in May, and you'd never know by reading it that ol' FB ever had any kind of problem with pacing.
But I hate him even more now. Because he always liked the rifters.com approach to book promotion — the whole alternate-reality-fly-on-the-wall approach — and he decided to steal adopt it to serve up the insanely-detailed backstory that informs his own world. (The draft of MH that I read came backloaded with all manner of technical appendices and historical timelines — think Dune, or Lord of the Rings — but apparently they got cut from the final edition.)
Except Dave did it better than me. Hired professional artists and webweavers to implement his ideas, instead of cobbling everything together in self-taught html. I note, a bit defensively, that my interactive geopolitical map offers more in the way of arcane region-specific details than his, at least. And his pages all come with little Amazon links imploring you to buy the book, which kind of compromises the spying-on-reality illusion if you ask me. But man, it's so much cleaner, so much more professional-looking. The art is outstanding. The military hardware and technical specs take my breath away. And this is only the first incarnation of the damn thing; who knows how deep his world will go when he's had a decade to build it?
Anyhow, it's right here. Go and marvel. I am equal parts honored that FB took inspiration from my own efforts, and pissed that he surpassed them so, but the rest of you are more mature than me so you can just stand in awe at the thought and talent that went into that delivery platform.
And who knows? Maybe this is the kick in the ass I need to start contemplating my own upgrades…

1 Note to aspiring writers in search of feedback; the mutual friend was key. I obviously can't afford to invest time in everyone who might approach me with a manuscript in hand. (The only exceptions to this would involve unsolicited work that's distinctly better than my own, and then only because I'd appreciate the heads-up; it'll give me a chance to use my professional connections to crush the competition before it gets too strong.)
This entry was posted on Monday, February 25th, 2008 at 11:22 am and is filed under
fellow liars
. You can follow any responses to this entry through the
RSS 2.0
feed. Both comments and pings are currently closed.